I had a lovely weekend in Bolu. I experienced my first long-distance bus ride getting there on Friday, and believe it or not, the Turkish equivalent of a Greyhound bus has an attendant (or two) who serves tea, coffee, snacks, and water–free of charge. That's better service than we get from the airlines in the States!
We stayed at the Yurdaer Hotel, which impressed us with an amazing art collection, all originals by the hotel's owner, Yurdaer Kalayci, who keeps his easel set up in the hotel lobby. (Check out his art online–it's fascinating).

I made the trip with another teacher, Sibel Butterworth, to present English teaching ideas to 15 elementary and middle school English teachers. The Bolu teachers were enthusiastic about the teaching strategies we shared with them, some fun classrom activities to enhance their grammar-focused state curriculum. We shared ideas for speaking, listening, reading, and writing that they can adapt to their classrooms.

We learned, too, that they have no supply budgets for English materials, so I plan to send them English picture books to use for reading and writing activities. Our teachers reported having 25 to 35 students per classroom, while teachers in Ankara have classes of 60 students. Can you imagine? We in America (and at the Koc School) have it good!
After the presentation, our hosts, principal Ahmet Kyrdemir and English teacher Fatih Ozcan drove us to a picturesque mountain lake perched high above Bolu before we caught our bus home.
Bolu is a city of 800,000 situated in the Mountains, a major potato-producing area known for its downhill skiing. None of the teachers in our seminar were skiers , though—teachers in Turkey are poorly paid. We enjoyed our lazy trek around the lake, reveling in the brilliant late-afternoon sunshine along with many Turkish families, friends, and couples (Muslims all) strolling, grilling, picknicking, and playing soccer around the lake. People are the same everywhere!
On Sunday I took the service bus into Istanbul

After a visit to the Pera Art Museum, my friend Cristi and I were walking up Istaklal (in the city) when we heard a demonstration ahead—something we've been warned to avoid. We backtracked and walked around the area , discovering a charming pickle shop en route.
In spite of our fascinating detour, we ended up in the middle of it anyway, since it had moved up the street. It was a peaceful but noisy demonstration by the CHP, the left-wing People's Republican Party. There's a movement in this country to promote religious (Isamic) governance rather than the current secular system, and it's disturbing to many who believe in Ataturk's dream (including the CHP and me). Turkey's secular democracy holds a strong position as a bridge between the Western and Arab worlds, and many Turkish citizens fear its secularism may be at risk. In May the parliament will select a new president, and a likely candidate is Recep Tayyip Erdogan, the present prime minister. He's a religious conservative whose appointment as president would assure a move toward Islamic politicalism. Hence, a demonstration.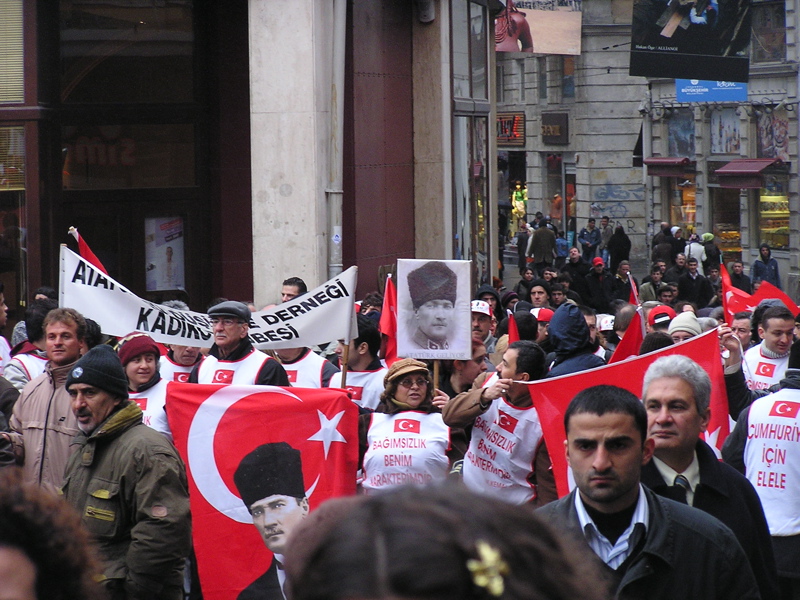 I hope the parliament hears these voices, as it seems giving more power to the religious right would be problematic. Turkey had a painful coup in 1980, and the military had to intervene. At the inception of the Turkish Republic, Mustafa Kemal Ataturk set up the military as a separate entity to assure the secularism of the government, and if secularism is at risk, the military will intervene once again.
I pray that it's not necessary.
Peace.