Never heard of a campus bar before (except at universities), but who's complaining? Actually, our social center on the Koc campus has been an important part of my life in Turkey. One of the highlights has been our distinguished bartender, Şakır Bey, as well as social events ranging from our weekly potato night to a variety of special events. So lucky we are!


Şakır Bey serves as a host for many of us on campus. (SHAH-kur Bey, which is like Mr. Şakır, only Şakır is his first name—that's how you address men in Turkey.) A retired naval officer, he has been the social center bartender for the past 11 years (after 25 years in the military). When I first arrived two years ago, I couldn't understand why everyone was up in arms about the possible termination of their bartender. I mean, really! How much difference can a bartender make?
Well, I didn't know Şakır Güner. He's one in a million, and he's made every single person on campus feel appreciated and important. "Benim genc arkadasim" he calls me, and I call him the same (gench arkadashEEM= my young friend). We're both retiring this year. Need I say more? Şakır Bey is friendly, professional, and efficient. He takes care of everyone without imposing himself, and he's always ready for a game of backgammon (tavla) with anyone who has time to spare. My friend Sue is coming for her second visit, and her first question was whether she'd get to see Şakır Bey again. That's how wonderful he is. Unfortunately, he'll be retired when she arrives.
I regret to admit that we leave Şakır Bey sitting alone in the social center too many nights. He's there five nights a week from 5:00 to 10:00, and we just can't get down there every night. When I do go down for a beer, we chat in my limited Turkish and his limited English, teaching each other as our conversation progresses. It's a real treat for both of us. Our favorite topic of conversation is retirement. I'm going back to my wilderness home in Grand Marais, and he plans to travel with his lovely wife, Meliha. They've purchased a summer home on the Black Sea, but their first travel excursion will be to the beautiful city of Antalya on the Mediterranean coast in July. His eyes glow as he speaks of it.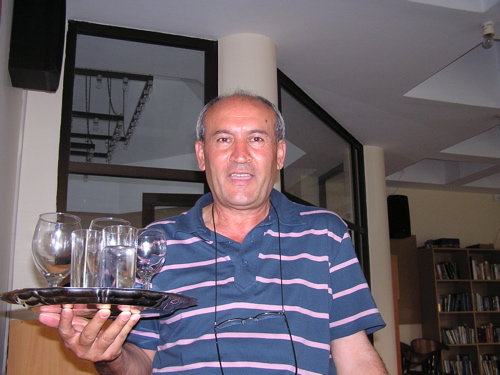 Back to the social center We just had what might have been the best event yet: last Sunday three very talented actors presented a production of The Love List, a hilarious Neil-Simon-like play by Canadian playwright Norm Foster. Take three gifted actors —Larry Bent, Dan Kapp, and Lisa Kapp—a snappy, intelligent script and mix them with an appreciative well-fed audience, and you've got a hit! The play is about a 50-year-old man who puts together a 10-point list for a dating service, then faces the reality of his choices. It's great!
(Especially in this era of computer dating, it's pretty on target). You have to see it to find out about item number four (which I'll leave to your imagination). I recommend it highly to our community theater for future production. At any rate, we thoroughly enjoyed our evening, many of us laughing until tears streamed from our eyes. I call that a successful event.
We've had other enjoyable events at the social center: a wine-tasting party (also organized by the Kapps), a Halloween party, numerous game nights, a Thanksgiving Dinner, a Christmas dinner, and a weekly gathering for baked potatoes and fixings—the famed Potato Night. It's been a great way to get an easy meal, to connect with friends, and to just get out of the lojman for a while.
Gotta love that social center—and especially Şakır Bey!
(play photos by Tony Paulus)