Oh, my goodness! Istanbul has burst into bloom, and my life is spiraling out of control. So what else is new?
A week ago I was invited to give a book talk on my Istanbul guide at Molly's Cafe (near the Galata Tower). It was a small but warm group, and they were more than enthused about the unique elements of Istanbul's Bazaar Quarter~Backstreet Walking Tours. I was also fortunate to reconnect with a former acquaintance, Bahadir, who spent a year as the AFS son of my friends Layne and Rolf.
The gang at Molly's Cafe
The next day I met my buddy David at Emirgan Park to see the tulips in their splendiferous glory. My favorite display was a stream of hyacinths, complete with "swimming" ducks and a walking bridge. Very sweet. We also treated ourselves to a sumptuous breakfast buffet in the courtyard of one of the park villas. Yum.
Hyacinth "stream" at Emirgan Park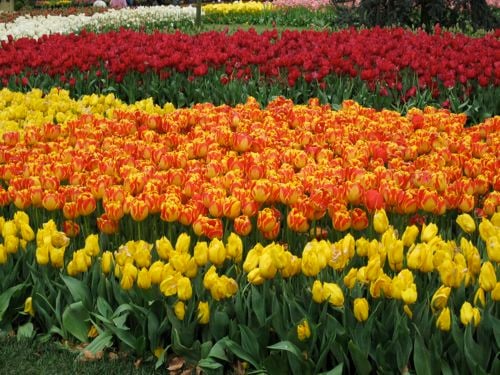 and the plain old tulips as well–all stunning!
Back at school, the wisteria are in bloom on Gould Hall, and Juliet was practicing for the upcoming outdoor Shakespeare Festival—calling to Romeo (waiting on the stairway below) from her perfume-laden balcony.
"A rose by any other name would smell as sweet…"
Another campus "bloomer"-Paulownia tomentosa (pre-leaf)
On Wednesday evening I attended a classical concert at Bosphorus University. Robert College teachers and students can attend for free, a golden opportunity. We were treated to piano pieces by Chopin, Schubert, Schumann, Lizt, and Rachmaninoff. As I listened from my balcony seat, I was (as always) amazed at the stunning architecture of Albert Long Hall, built in 1890 from stone quarried right there on what was then the Robert College Campus. The auditorium, originally used as the school chapel, still has the feel of a church sanctuary, complete with wooden seats. (I used my pashmina to cushion the "ride".)
The Albert Long Hall ceiling
A pianist's concentrated effort reflected in his piano's lid.
My daily walks with Libby these past weeks have been punctuated by the stunning Judas trees that thrive along the Bosphorus. The branches explode in brilliant pink-to-magenta blossoms before the tree shows its first leaves, and the effect is amazing. I shot a photo of Libby against a blanket of shed petals—a perfect match for her pink tongue.
The stunning Judas tree…
Libby in the tree's discarded petals

Thursday evening I met friends for an Arnavutköy fish dinner, then we went to the Kuzgun Bar to listen to fellow English teacher Michael Hayes play with his jazz/rock group. Such larks!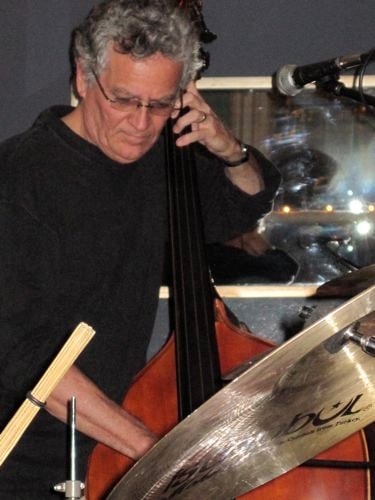 Mr. Hayes on bass–photo by Erdem
Friday was a national holiday, Children's Day. Imagine that in American, huh? We got the day off school, so on this long weekend I joined my friend Sandra at her new apartment on Burgazada, one of the Princes Islands. The ferry over there (one hour) was packed to the gills with spring revelers—I stood the whole way, but didn't mind. I love the ferries.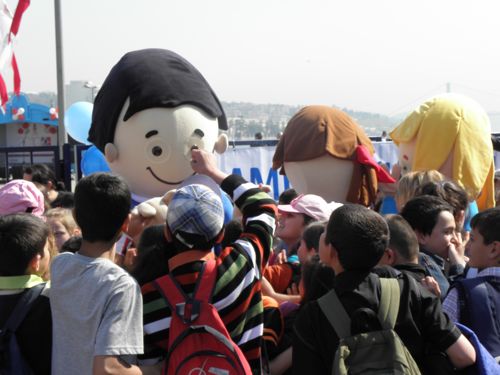 Special children's visitors at the ferry pier
Standing room only on the ferry to the Princes Islands
We couldn't have imagined more perfect weather for our lazy few days together. Sandra's friends joined us for afternoon lemonades, then we stopped at her friend's house for cappuccino and wine. After that we hiked down for a delicious dinner of baked poached fish down at their favorite seaside restaurant. YUM! Too much wine, but heck. You only live once. (AND-no one drove.)
Sandra's balcony view—not too bad.
Relaxed gulls considering a flight to the crowded mainland–NOT!
The Princes Islands are named for the princes and other royalty who were exiled there during the Byzantine and Ottoman Empires—just keeping them out of the way rather than killing them, I guess. The last prisoners were sentenced to death there after the 1960 military coup. The four largest (and best) islands are vacation havens for Turks, especially during the hot Istanbul summers. Motorized vehicles aren't allowed on the islands, so transportation is via fayton (phaeton—horse carriage), bicycle, or foot. Since I'm allergic to horses and have no bike, it was a weekend of foot transport. A pied, so to speak. Trust me, it was lovely.
Burgazada local transport—the Fayton
The taksi stand down on the harbor…
…and the standard fares (1.5 TL = $1)

I caught a fast ferry back to the European side on Saturday evening. It took me 30 minutes to travel 12 miles to Kabataş by ferry (24 mph—with a stop), and 75 minutes to travel four miles by bus (3.2 mph). Welcome to Istanbul traffic. No WONDER we prefer the ferries!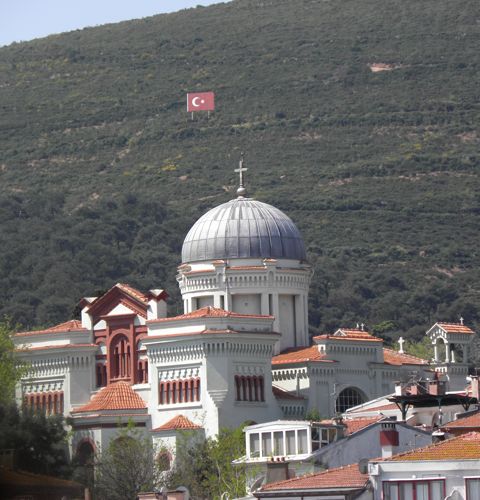 Farewell, peaceful Burgazada!
Sunday Bahadir and his sister Gülay drove over to Arnavutköy to pick me up for breakfast. We headed up the Bosphorus and when the traffic became unbearable, we turned up the steep hill above Rumile Castle. We breakfasted at the Bosphorus University Alumni Club, basking in the sun as we marveled at the view of the castle and the Bosphorus below. Oh, my goodness! A good time was had by all.
A cup of Turkish coffee to settle our meal (Gülay, Bahadir, and me)
The Rumile Castle, the Judas trees, the Bosphorus, and me.
I'm mighty thankful for my wonderful Istanbullu friends, for a stunning springtime, and for the endless supply of brilliant blossoms. Did I already say "Oh, my goodness"?
Oh, my goodness!