I spent the weekend in the city with my friend, Jamilah, and we experienced the best and the worst of Istanbul from the inside. After a relaxing few hours knitting in a coffee shop (I had promised Jamilah a knitting lesson), we trekked off to meet my Turkish friend Bilge for dinner. She met us with the horrifying news that an outspoken and well-loved Turkish-Armenian journalist had been murdered outside his office just hours before. "This is terrible news for Turkey," Bilge said with tears brimming in her eyes. "Murder is a terrible thing, but this one is bad for our whole country."
All weekend we discussed Hrant Dink's murder with both Turks and ex-pats, and it's clear that everyone is concerned. At a time when Turkey is clearly the most open and democratic country of the Muslim world, this casts a dark shadow over the country that Dink was attempting to unite. Turkey's constitution has a clause against "insulting Turkishness" which has brought many outspoken writers to the court system, including Hrant Dink and Orhan Pamuk, although recent court decisions have relaxed this rule in favor of freedom of speech. Now a rabid young nationalist has taken the law into his own hands to quiet Dink's comments with bullets. This is unconscionable. In a world where most people want peace, what is happening? Where has tolerance gone?
Enough of that. On to the brighter side of our weekend.
After a sunny Turkish breakfast in our hotel's terrace restaurant on Saturday, Jamilah and I headed off to meet Tania Chandler. She had promised us a visit to her artist/weaver friend, Musa Başaran. Tania goes to weave a few times a week in his studio, a building overlooking the Marmara just blocks from the Blue Mosque. Tania rang the buzzer and pushed open the heavy cast-iron door into a weaving wonderland.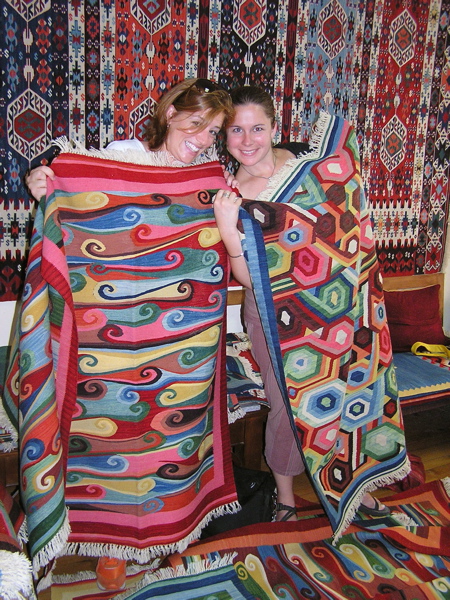 LESLIE AND MOLLIE MODEL MUSA'S KILIMS
Musa greeted us warmly with, "Come in and take off your clothes." Our astonished laughter revealed his mistake. Blushing and laughing along with us, he proffered the usual cup of tea.
I was entranced with the kilims hanging in his studio. His designs are both traditional and modern, but I was particularly taken with Ottoman Tulips embroidered in silk on textured wool backgrounds. Musa's colors are vibrant, and his designs captivating. I'd landed in kilim heaven.
He spent an hour sharing the vast array of kilims in his present stock, finishing, of course, with the silks. Silk is the ultimate in carpeting.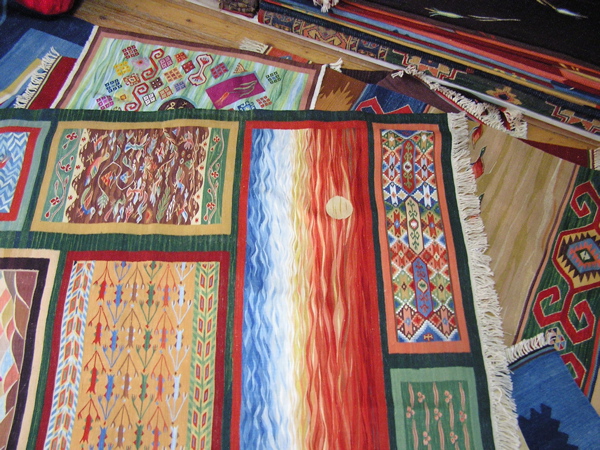 MUSA'S MAGNIFICENT SILKS
After sharing his work, Musa explained his process. He creates designs in his head, then weaves them himself. He dyes all his wool with natural dyes in stainless-steel vats, then stores it in a basement room, a weaver's dream. It reminded me a bit of the wall in my yarn shop where I displayed hundreds of shades of Persian needlepoint wool. "We can't make so many different colors with natural dyes," he told me, indicating the 20-30 bags of dyed wool yarns. "These are all the colors I can create."
MUSA'S WOOL PALLETE                                                                                                 MUSA AND HIS BROTHER HAYDAR POSE NEAR BAGS OF DYED WOOL
One feature of his weaving that fascinated me was a wavy techique that adds depth and texture to a weaving. Different shades of the same hue are woven irregularly through the weft, creating a stunning wave-like effect. It can be done subtly with very close shades, or in contrasting colors and shades for more drama. In any case, it's lovely.
TIPTOE THROUGH THE TULIPS–NOTE THE AUBRAGE TEXTURES
Musa shares his designs with rural village women, who weave copies of the patterns, some with slight variations. It takes from a few weeks to six months for a woman to weave a kilim (depending on the size and pattern), then Musa pays for and transports them back to his workshop. The next steps are to burn them (yes, burn), clean them, and press them. Musa and his brother Haydar comb out the fringe, then carry the heavy kilims up to the fifth floor terrace, where they use a blow torch to burn loose fibers and straw from the surface of the kilims. I must say, I was taken with the terrace's commanding view of the Marmara, a perk for hauling those kilims up that long spiral staircase. We could see all the way across to Yalova under the brilliant azure sky. My goodness, this winter has been like spring. Last year at this time we were buried in a blizzard.
A RUG READY FOR TORCHING OFF THE "CHAFF"
Back to work.
After burning, Musa's kilims are hauled back down the winding marble staircase and sent out to be cleaned and pressed before they're ready for sale. Musa sells at wholesale prices from his studio and does occasional rug shows; his clients come to him by word of mouth. "I don't sell to carpet shops," he says. He doesn't need to. Musa's doing just fine. I was surprised to learn that he started his career as a corporate economist, but he prefers this creative life, which gives him precious time with his family.
I'm impressed.