They say the Pukaskwa Peninsula (pronounced PUCK-a-saw) is the most beautiful stretch of Lake Superior as well as its most challenging. Yup, our adventure across 120 miles on the east side of Lake Superior's North Shore was both gorgeous and tough.
We seven youngsters (ages 61-73) headed off early on a Wednesday morning and arrived at the Pukaskwa Park campground in time to make dinner. Jerry and Jim (stalwarts both) crawled out of their tents at 5 AM to drive our vehicles two hours to the other end and caught a prearranged shuttle back ($600—not cheap). By the time they returned, the rest of us had broken camp, hauled the kayaks to the beach at Hattie Cove, and had everyone's gear ready to load. You wouldn't believe how much a kayak can hold—the contents of two large plastic bins, and then some.
Hattie Cove, our launching point near Marathon, Ontario:
Kayaks loaded and ready to launch by noon:
We launched into calm waters, the sun shining on our azure inland sea The shoreline's mammoth stone edifices were garbed in pines growing on no soil at all.
Dick & Jini head out of Hattie Cove to explore Lake Superior:
So began 12 days of paddling in every condition from calm water to 7-foot waves. Our 17-foot kayaks rode up and down rather than through the waves, so we got to surf a bit. But I'm getting ahead of myself. Our first campsite was 10K (6 miles) from our launch, which we paddled in less than three hours, marveling at the rocky coastline, picturesque inlets, and dancing waters.
The sun followed us the whole time—except for one rainy day.
We were all getting our "sea arms" but were happy to pull up onto the white sand beach of the Willow River, our first home.
Kayaks pulled up on the Willow Creek Beach, away from the big lake.
The campsite had plenty of space, an actual outhouse, and a suspension bridge just up the river.
Willow Creek's amazing suspension bridge that we couldn't even sway:
Dick went out fishing, and the rest of us set up camp, relaxed on the beach, swam in Lake Superior (which is usually far too cold, but not this year—global warming?). My friend Jerry was new to kayaking Lake Superior, and he dove into the experience with gusto. Susan and Jim served hors d'oeuvres, burritos, and dessert, a pattern repeated each night. We lived high, but decided on one-pot meals in the future (with hors d'oeuvres and dessert, of course).
Our first Lake Superior sunset:
We enjoyed eleven campsites, all pristine sand beaches a la Caribbean, some a thousand feet long. The water was aquamarine blue and amazingly warm, so we swam every day but one (rain).
The second night we were crowded on a SMALL pristine beach:
Wavelets were common, as streams often flowed near the beaches.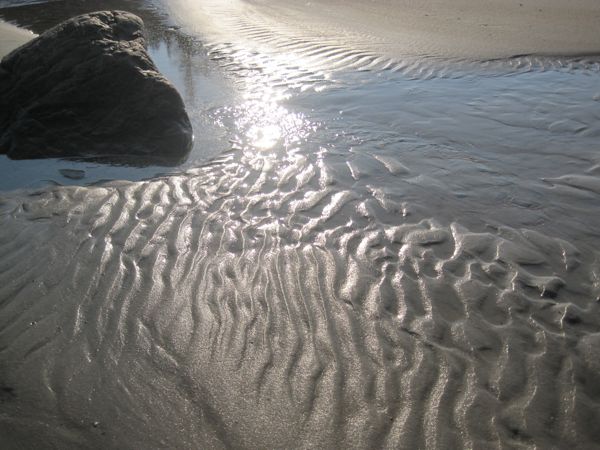 Then there were the waves. We had two days of flat water—well, one and a half.
One of our calmer mornings; Tom and Jerry peruse maps as a distant bluff watches over them.
Though a windless day was a rarity, it got darned hot without a breeze.
Sometimes the wind comes up out of nowhere on Lake Superior, particularly on the east side, which makes the Pukaskwa Peninsula a challenge. We paddled into the wind, with the wind at our sides, and with it at our backs. I'd thought I hated side winds the most, but at least you can see what's coming.
It was hard to take photos in waves, and we often completely lost our compatriots behind the swells.
On the fifth day after being wind-bound all afternoon in Bonamie Cove, we decided to give it another try around dinnertime. The waves were 8-10 feet high, and when Dick got pounded by a wave straight into his chest, he yelled at us all to turn around. Turning was difficult in such high winds, but we each waited for a set of smaller waves (under 5 feet) and turned as fast as we could before more big ones came. It was all I could do to keep my kayak on a straight line as the waves lifted me from the back, threatening to toss me aside. I make it sound scary, but it was also great fun. Jerry said he would have liked to go on, and Dick's comment was, "But you might not have made it." This was intended to be a safe trip.
Jini Jerry and Dick discuss our options after we're wind-bound by sudden winds behind Le Petit Mort Rocks.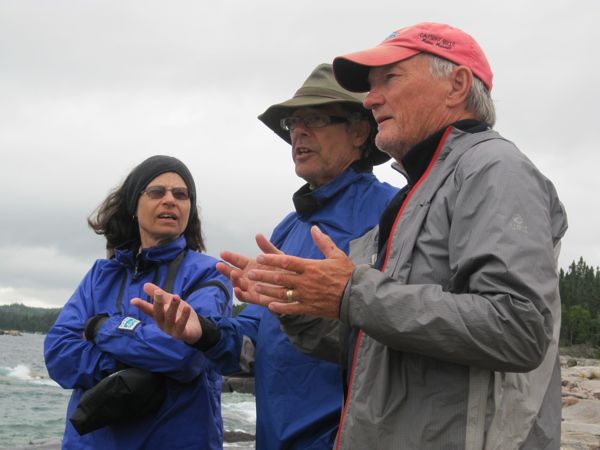 The next morning we launched into the waves from our sand beach.
Jerry helped Susan and Jim launch their tandem into the waves.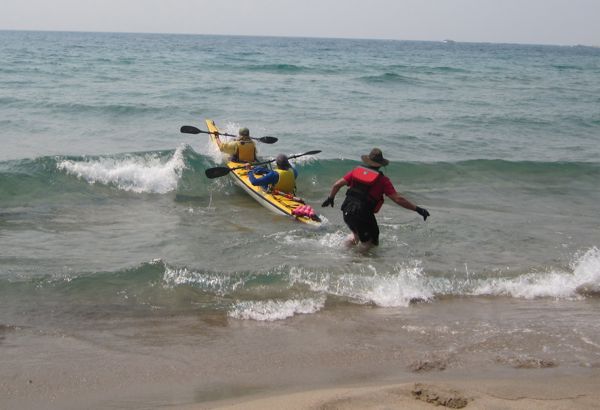 Another highlight of the trip was the Pukaskwa pits, which are nest-like formations of rounded stones in vast fields of lichen-covered rocks. No one knows what they are, how old they are, or what they were for, but they are clearly man-made, perhaps for food storage or some religious observance. Hunting, perhaps? We found one that was about 9 feet across and probably four feet deep, perfectly rounded.
Dick stands in a Puckaskwa Pit near the end of our trip.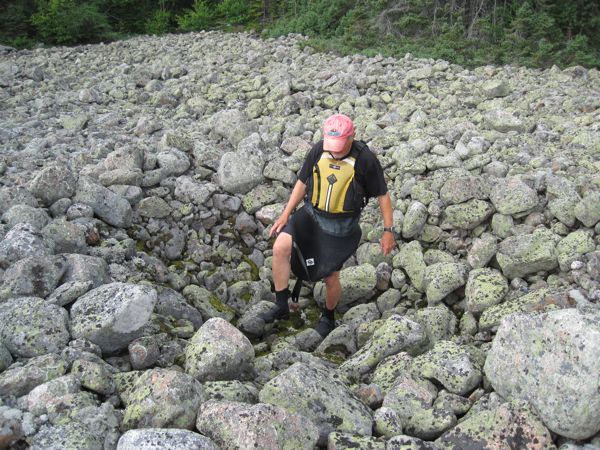 On our whole trip we only saw two other kayak groups, two sets of canoeists, a sailboat, and a solo kayaker. On our ninth (windy) morning we pulled into a small, protected cove for a respite from the waves and found a lone kayaker hopping around on the rocks like a mountain goat. Finn greeted us warmly, explaining that he was touring the Ontario coast of Lakes Superior and Huron to Georgian Bay, near Toronto. He planned to do it in a month, traveling about 70 K  (40 miles) a day. We were averaging about 12 miles a day. Needless to say, we were greatly impressed at our newfound hero. He used a Greenland paddle, less than four inches wide, and he could paddle circles around us.
Finn beams as Jerry shows off his Greenland paddle.
Finn is 70 years old and has circumnavigated Lake Superior twice. He grew up on the Faroe Islands, a tiny country in the Norwegian Sea midway between Great Britain, Norway, and Iceland. He regaled us with tales about his youth, his adventures, his wife, and his cabin in Michipikoten, our destination. He told us about the best campsites ahead, and as he paddled by our site at 6AM the next morning, he blew his horn to wake us. "Wind's on the water already—time to get up!" We got up early to beat the wind on our last three days.
We never saw a bear, but we often found bear and moose tracks in the sand.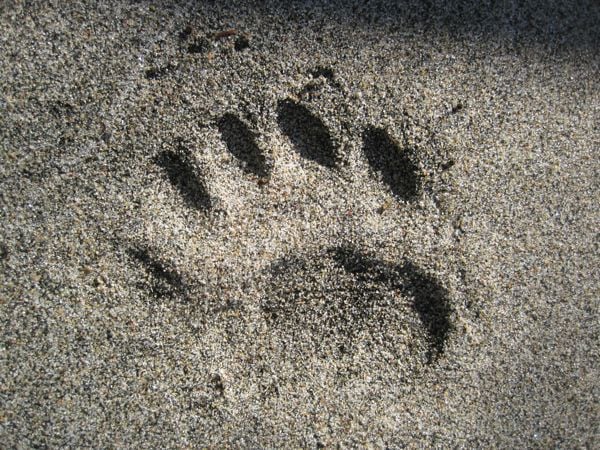 A stunning view from a stonefield where we hunted for a Pukaskwa pit.
Tom heads out early from a morning break on the rocks, halfway to our lunch destination.
I have many more stories to tell: Jerry leaving a pile of gear at a campsite, Jini and I sneaking off to skinny-dip, Jerry's kayak floating away at the Pukaskwa River, camping in the rain beside a 100-year-old chimney (great fire!), finding a rock carved with the name of someone who drowned on November 7, 1920, discovering three falling-down log cabins, and the list goes on.
We lucked out on our one rainy day with a concrete chimney in the woods. Jerry and Jim sawed wood and built a fire to warm us.
A trappers cabin Jini discovered in the woods near Trapper's Harbor, aptly named.
We had an amazing trip, and after being delayed again by high winds, we finally surfed our kayaks onto Indian Beach, thirteen days after we left Grand Marais. Let me tell you, paddling Lake Superior is a real rush, and the Pukaskwa is the bomb.
Of course, I sure didn't mind my cozy bed at home on Monday night.
The Stalwart Seven, Bottom row: Dick Swanson, Jini Danfelt, Susan Gulstrand. Back row: Tom Egan, Ann Mershon, Jerry Wilkes, and Jim Gulstrand