Sometimes I wonder if my life will EVER settle down. It's bound to happen some day—just not today. Here's my most recent adventure: After hugging Laura and Yvette farewell, I cast one last glance over the sparkling Bosphorus before I clambered into the car for the airport, bags and Libby in tow. The driver helped me in, and at check-in I arranged for wheelchair transport to the gate, which was slow coming, but well worth the wait. The flight was fine—I had three seats to myself, so I could prop my broken foot up beside me.
Wheelchair service bypasses lines, so although I was last off the plane, I was one of the first to the baggage claim. I heard Libby barking in her crate as we approached. Hops, wags, and hugs. Once my suitcase arrived, I used my crutches. Jana was waiting for me outside customs, and she had parked close. What a sweetie! We had three hours to enjoy hamburgers and marvel at little Max, who has grown since I saw him a month ago; his little hands have finally mastered grasping.

Jana and Max wait with me for the train to Oldenburg
Jana and Olaf helped me on the train, recruiting passengers to assist with my luggage at Bremen, where I was to meet my friend Deidre. But—no Deidre. I waited until the last minute, and a young disabled man helped get my luggage on the train. (Maybe he understood my dilemma better than most?) He called Deidre on his cell, but she didn't answer. Could she have missed the train? I thought she might be waiting for me in Oldenburg, but no Deidre there, either. I hobbled to a taxi and took it to her apartment, which was dark. We must have miscommunicated. Could she be in Bremen waiting for me? I knew we'd been clear about which train I'd be on. I tried the doorbell. No answer. It was nearly midnight. What to do? Libby and I sat out by the road waiting, to no avail. There was still a light on next door, so I went over and knocked.
Fortunately, they spoke English. Whew! Walter helped me get into Deidre's building, and we discovered a VERY ill Deidre. Oh, my goodness! He called the ambulance, and I joined her, leaving a confused Libby behind. How could this be? I was supposed to be the invalid, not HER! The long and short of it is that after spending a night together in emergency rooms, Deidre was admitted to the hospital. I went back to her apartment to e-mail her partner and her son, then collapsed into a long-awaited sleep.
Deidre's partner Laurie had immediately found a flight from London, so he and I got to know each other quite well. He's definitely a "keeper"—kinder than the average dude. Her son also flew down to visit, and over the week she gradually improved. We shared only one day together at her apartment before I had to leave for Hamburg again—meeting my sister and her family for Jana's wedding, the main reason for our trip to Germany.
My friend Deidre~feeling a bit better
No hospital photos, I'm afraid. Too stressful, although I enjoyed watching the bicycle traffic as it whizzed by the apartment balcony. Actually, I was more than a little jealous—DARNED broken foot!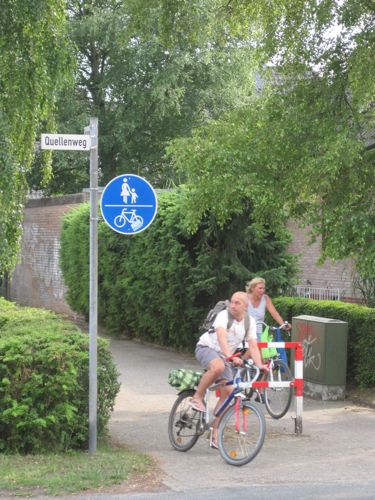 A walking and bike path across from Deidre's apartment (note the sign)
Teens heading off for a night on the town…or whatever.
I rode the train back to Hamburg with Deidre's friend, who helped me find a taxi for our hotel, and my brother-in-law met me in the parking lot. It was hot in Hamburg, but we were all excited about the wedding. I had my own room in this hotel—on the second floor. Sigh… I never really balked at stairs before, but I'm coming to appreciate the trials of the disabled.
Jana and Olaf's wedding was at the Schloss Ahrensburg, a lovely castle near Olaf's family home. 10:30 Friday morning—amazing! Friday is wedding day at the castle.
My sisters family pose in front of the castle
It was held in a baroque top-floor chapel (no elevator)—quite different from American weddings. We were a small group, and the bride and groom sat at a table across from the officiator. He chatted with them amiably, then their two sponsors joined them. My niece Erin sat off at the side, waiting to hand over the rings. Little Max was good, nearly the whole time. What can you expect of a 5-month-old?
Olaf and Jana were seated for this casual ceremony.
The newlyweds are greeted by bubbles.
Erin gets a big hug from Jana, who was her nanny 12 years ago.
Jana, Max, and Olaf–the newly-joined Tonn family
Afterwards we drove to Olaf's family home, where festivities were held for our group of close family and friends. First, Jana and Olaf had to cut their way through hearts painted on a banner across the entry to the yard, then climb through it.
Olaf and Jana cut through a heart ("Jana + Olaf"), then step through

Next they were confronted with a log on a sawhorse blocking their way under a floral arbor. On went the gloves, and in spite of the heat, they sawed through their log amid cheers from all of us.
Sawing away in the heat–only Jana has work gloves.
We toasted their success with champagne, then went to the back yard to chat, nibble, and swim (at least the kids). The yard at the Tonn house was incredible—lovingly landscaped by Olaf. The huge fish pond doubled as a swimming pool for everyone under about 35.
Check out the fish in the pool…
…which was well utilized for heat management activities.
The weather was HOT! The rest of us sweated and sipped beer or lemonade in the shade. At one point revelers appeared with scores of heart-shaped balloons, which were ceremoniously released into the atmosphere (a few were nabbed by children or caught in tree boughs).
Here's to LOVE!!!!
At 6:00 the caterers arrived with a spectacular meal, which we all enjoyed inside the glass-enclosed family room as we toasted Jana and Olaf. It might have been a hot day, but we were thrilled to see them so much in love—with each other as well as with their little Max. We guests all received ginko bilboa seedlings to plant in honor of the event. (No hope for getting THAT through customs. I'll buy one in Minnesota.) Even their cake was decorated with ginko bilboa—these two are DEFINITELY tree people (in fact, they met at a tree convention).
A truly unique wedding cake, a la ginko
After a full, fulfilling day, we collapsed into bed soon after returning to our hotel.
Saturday morning we woke early for a harbor tour with Jana's parents and cousin. Hamburg is the third largest harbor in Europe, in spite of the fact that it lies 100 kilometers from the North Sea. (Rotterdam and Antwerp are ahead.) The harbor is a maze, but we were duly impressed with its many huge docks and ships.
A container dock–the ship carries 10,000 containers.
A rather cheerful-looking cruise ship in the harbor
Particularly notable was a private cruiser being built for a wealthy Russian, Roman Abramovich. This ship, supposedly costing about 1.2 billion dollars, is reputedly the world's largest private yacht. Let's see. Am I impressed? I wonder how that money could have been put to better use, especially since he already had five huge yachts. Hmmm…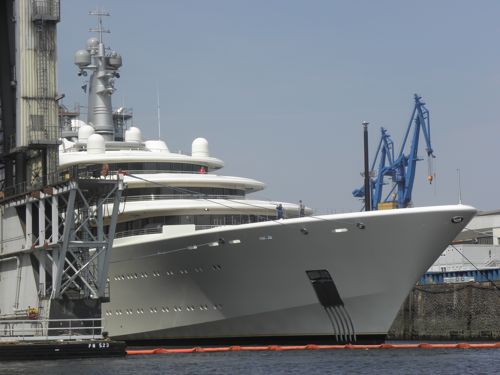 The Eclipse, Abramavich's yacht–the biggest in the world.
Musicians entertained us on the Hamburg Harbor docks.

We had a "wurst and weissen" lunch, then headed back to Olaf's parents' house to watch the world cup quarterfinal game, which Germany won handily over Argentina. That definitely created a happy crowd of revelers for the party. There were more fun activities, including a painter's canvas covered with penciled hearts and ginko leaves—for everyone to paint at their leisure. Very cool.
A group gift to remember the wedding weekend
Dancing started around 9:00, and we enjoyed a few dances before droopy eyelids dragged us back to our motel again. I tried to dance on one leg, but one song was enough. Sigh… Not long after we left, the party really got rocking.
Erin and Matt danced with Jana
True to German form, Olaf, Jana and their friends celebrated long into the night. Bless their young hearts