This past weekend I shared Istanbul with my brother Steve, who was easily the most enthusiastic guest I've hosted. He LOVED the city, probably as much as I do. Sharing my world with my big brother reminded me, though, how diverse and cumbersome transportation in this city actually is.
I started Sunday morning by taking our school service bus (no cost–hooray!) to Taksim. Though it's intended for church visits, we use it for everything, and on Sunday mornings it takes less than an hour. After coffee at Starbucks and breakfast at the Marmara Cafe, I hiked down Istaklal (a favorite form of transport) to the Tunel, a funicular that connects Istaklal Caddesi (Freedom Street) with both the ferry boat and the tramway to Sultanahmet. From the bottom of the Tunel I jaywalked to the tramway entrance. Transportation, by the way, is cheap here. A train, ferry, tunel, or ferryboat ride costs just over a dollar, and if you use an akbil (an electronic pass), it charges you for only one ride even if you use multiple forms of transportation.
I rode the tram (state-of-the-art, and ALWAYS crowded) to Sultanahmet, the historical part of the city, then visited the Museum of Turkish and Islamic Arts (free admission for Turkish school teachers). It's a museum I've always wanted to see but never had the time. Sunday I had time to spare. I chatted with an American who turned out to be an economics professor, just like my brother Steve. Small world!

I walked (free transportation) the five blocks to the hotel and checked in. It was a bit early to head for the airport, but I decided to go ahead and relax with a cup of coffee while I waited for Steve's plane. I took the tram to Aksaray, where I could catch a metro to the airport, and a friendly young couple guided me the five blocks to the metro station (not marked at the tram, of course. Welcome to Turkey). The whole trip took me about an hour (to go a whopping 21K).
Of course, Steve's plane was late arriving from Kiev, so I had coffee, then did laps between terminals for an in-terminable hour and a half. ARAUGHHH!!! What was I thinking! Once Steve arrived (BIG hugs!) we hopped a taxi for Sultanahmet. Mistake. It took us an hour to get to Sultanahmet, where the traffic was at a standstill, so we paid our kind driver, hopped out, and hiked the last seven blocks to the hotel, Steve exclaiming in amazement all the way along the steep cobbled street. As I said, walking is the most reliable form of transportation in this city.
We settled into the hotel for three minutes, then headed off to Ortakoy to friends for dinner at 7:00. We took the tram to Kabatas, then hopped on a bus to Ortakoy (after nearly a 20-minute wait), where they have a renowned Sunday bazaar. We were soon packed literally like sardines (one man kept getting his head klonked every time the back door opened), and the bus was moving at about a mile an hour. Finally, we hopped out and again took to our feet. We walked the rest of the way in about ten minutes, leaving our bus in the dust. Yup, feet work best in Istanbul!
We had a delightful dinner at the Sedir Restaurant, then wandered a bit, taking photos of the lovely Ortakoy Mosque against the night-lit Bosporus. Lovely!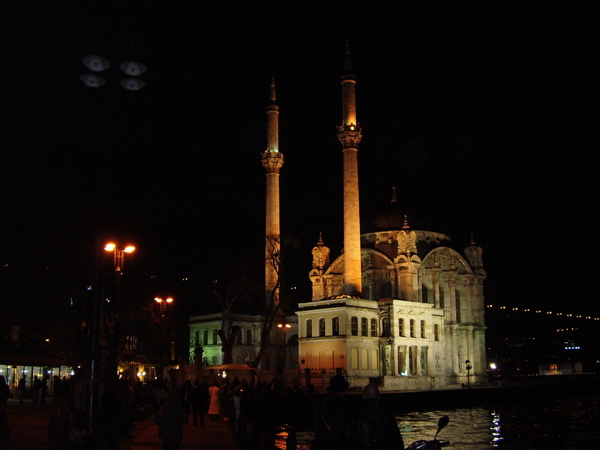 Monday we mainly just relied on our feet for Steve's whirlwind tour of Istanbul: the Basilica Cistern, the Blue Mosque, Musa's rug studio, lunch at the Sefa (on Musa), the Grand Bazaar, the Egyptian Spice Bazaar, the Rustem Pasa Mosque (lovely tiles!), and the Sulimaniye Mosque overlooking the entire city.
We were BUSHED by the time we found our way (on foot) back to the hotel to pick up our packs for the trek home.
The 3-hour, 5-transport trek home:
Tram to Karakoy: 20 minutes (10 minute wait)
Ferry to Hydarpasa: 20 minutes (10 minute wait)
Train to Pendik: 40 minutes (15 minute wait)
Mini-bus to Koc School gate: 40 minutes (20 minute wait)
Walk to my lojman: 10 minutes.
That means we left the Side Hotel at 5:20 and arrived at my lojman (to a very happy LIbby) at 8:30. Three hours. Steve was astounded, and a good sport the whole while.
So here's how the cost stacks up:
Tram to Karakoy: 1.5 Turkish Lira
Ferry to Kadikoy: 1.5 Turkish Lira
Train to Pendik: 1.5 Turkish Lira
Walking Istanbul with my brother: Priceless.