Life is settling down a bit, though I just made my sixth trek to Termal, my favorite little hot springs community on the other side of the Sea of Marmara. We were a small group, but we had a great time shopping, scrubbing, soaking, swimming, eating, drinking, laughing, and hiking, even in a light rain. A good time was had by all.
–
I've decided to share some smaller things from my life here–things I never think to write, things that tickle my fancy or get my goat.
–
Here goes…
–
Our non-winter well behind us, we already have about twenty types of wildflowers on campus, and I have no wildflower book to help identify them. Every daytime walk is an adventure if you keep your eyes on the ground–some of these flowers are wee things. The roses have bloomed here all winter.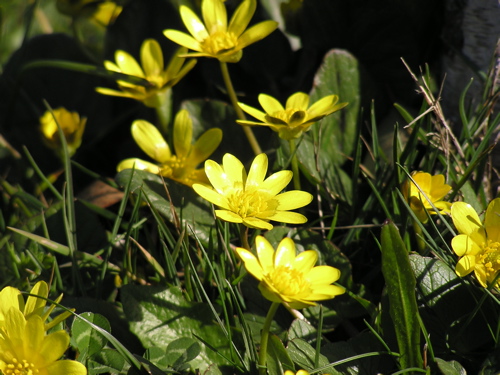 –
We took a trip to a new nearby sports and fitness facility last week, where they plied us with cocktails and hors d'oeuvres. Unfortunately, their fees were too steep. I was a little suspicious when I saw that they sell every brand of cigarettes at the front desk. Welcome to Turkey. (Did I complain about the cocktails?)
–
We have a new "No teacher left behind" policy with our service busses, which is a bit confusing, since the mysterious left-behind person hadn't signed up to ride the bus in the first place. Anyway, it means the bus schedules will be STRICTLY adhered to in case some errant teacher didn't sign up but wants to partake. Departure times will no longer be observed Turkish fashion (when it seems reasonable), but more in the German mode (ON THE DOT!) Whatever!

–
The sun is up for my morning walk with Libby and Leah–and Toby, lately. It's a joy to watch the sky painted brilliant shades of rose to peach. Spring is on its way! We'll lose a bit of light when daylight savings time comes, but I'm hoping my days of departing in darkness are behind me. Libby agrees.
–
My little twin buddies, Katrina and Carmen, helped me walk the doggie-dogs lastThursday after school, and we lost one. Two, actually: first a dog, then an almost-five-year-old. I'm some babysitter, eh? Katrina can't resist unhooking the leash, and little did she know that Toby would hotfoot it home. Oops! I was buying myself a beer to sip on while the girls played with the beasties, when I spotted Toby running by dragging his leash, followed by a panicked Katrina. I ran around the building but couldn't find either of them. Double oops. It all worked out though; Serge and Sue (Mom and Dad) had heard the ruckus and were most understanding. They joined me as I finished that beer.
–
Another campus couple, David and Elizabeth, added a fourth member to their family last week: Laura Terassa Deniz Cansu Lemoigne. All I can say is, someone is going to be sorry when she has to write out her name for kindergarten! Of course, chances are she'll be a genius.
–
When I go to the markets in Turkey, I'm amazed at how eager people are to have their pictures taken. I used to always ask, but I've learned that they don't mind. I wish my camera were quicker, but it's delightful to have people clambering to be included in the photo. Even the shyest women beam at my lens with toothless grins. If they seem uncertain, I just say, "Iyi gunler" (Good day), and they smile. Turks are always tickled to hear foreigners attempt their language.

–
Though the Turkish people are easily the kindest in the world, their personalities change dramatically when they're on the highway or standing in line (and I use the terms "standing" and "line" loosely) for a ferry or bus. They are masters at "butting", both figuratively and literally. Their generosity disappears in any race for entry or exit. Sometimes I miss "Minnesota Nice".
–
My seniors will be done with school on April 6th. Unbelievable. They get the last two months off school to study for their big college entrance exam, the OSS. Turkey has a LOT of young people and not enough slots in their universities, so only about 15 percent of them will qualify. It's a big deal here, the highest of high stakes exams. Most seniors have OSS workbooks in their laps during class, and it drives us all nuts. I love my seniors, and I'm sorry to see them so stressed. It's absolute cruelty to give them homework, but sometimes we have to.

–
The good news about that is that I'll only have to teach 14 periods a week for the last two months (that's down from 20). My friend David will only have 7 periods–poor guy! He'll be so BORED! 🙂
–
I'm thinking about retirement a lot these days–freedom is only months away. I can't believe I'm that old, though I'm always reminded when I look in the mirror. Hi, Mom.
So…that's my weekly meander. Have a good one!