Since my computer fiasco put me a bit behind in my weekly missives, I decided to share a piecemeal look at the past few weeks. I've been exploring the area, connecting with old friends, and making new ones. All in all, life is good here in Istanbul.
I joined a group trek to the Halk Art Copper Factory (my third visit) a few weeks ago and came away with some exciting finds. After exploring the entire three stories of new and antique copper wares (thousands of items), the salesmen carried our finds down to their showroom, which displays just one or two of each item. My favorite find was a project for the future. I purchased 40 assorted tempered copper squares that will become a mirror frame once I get home. The copper factory's ready-made mirrors are gorgeous, but they weigh a ton (serious shipping expense). My other purchases (mostly gifts) were less heavy, but nearly as beautiful.
Copper warehouse shelves of antiques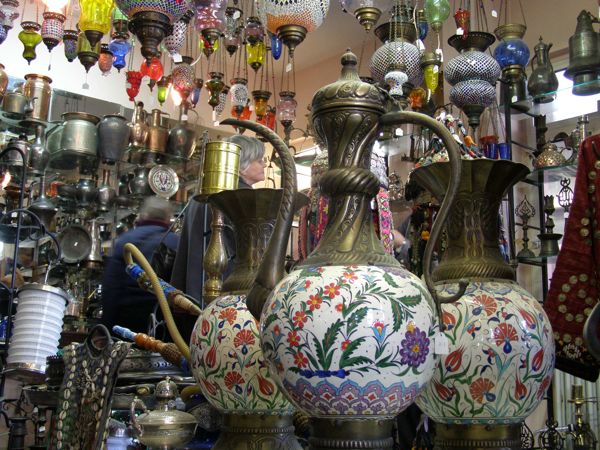 Halk Art wares in their showroom
Let's see—I've also been doing daily hikes with Libby, morning and evening. We walk down to the Bosphorus every day, and often we head up to the plateau, arguably the most gorgeous spot on campus. Beautifully manicured trees and lawn surround a new running track, but the highlight is an incredible vista overlooking the Bosphorus.
The spectacular view from the plateau
Last week (March 18th) was a Turkish holiday, Çanakkale Day, which marks the Turkish victory over the allied forces at the end of World War I. It was shortly after this bloody battle (Aussies marked particularly huge losses) that Mustafa Kemal Atatürk founded the Turkish Republic. On Turkish holidays every public building is draped with Turkish flags and huge banners of Atatürk, and Robert College is no exception. The patriotism in this country is impressive, in spite of the threat of a growing movement against Atatürk's secular principles.
Atatürk graces Robert College's Gould Hall
Last Friday I ferried to the Asian side with a few Robert teachers for a performance of Jean Anouihl's Antigone at Üsküdar Academy. It which was a fascinating modern version of Sophocles play, adapted to World War II. Afterwards, we ferried back to the European side to catch some wine and spirited conversation (there's little of the former to be had in Üsküdar).
Saturday I spent the day with Tony and Marnie Paulus, friends who will be leaving Istanbul for a new life in Florida. I showed them around the campus, then we basked in the sun, enjoying the spectacular view of the Bosphorus. Next we headed up to the park at Emirgan to check out the latest development in tulips (lovely—again!)
Not exactly a tulip, but gorgeous nonetheless—
(Actually it's Fritillaria imperialis rubra maxima, in case you care!) 
From there we headed to Sultanahmet and wandered near the Grand Bazaar. As Koç School Director, Tony seldom gets to explore these areas, and he enjoyed it. We capped off our day with a dinner at the Taş Han's Arkat Night Club—stageside seats, (thanks to my friend Kemal Ocak) for a floor show for singing, belly dancing, folk dancing, and EVERYBODY dancing. It was great fun, but we old fogies bowed out long before the bulk of the crowd.
Yet another Turkish flower
As you can see, I'm staying busy. I've devoted much of the past two weeks to correcting Yearly Homework Projects, poetry projects, and English exams. (I figure about 30 hours total.) I try to keep my paperwork at school, but during exam time, it's impossible. Ah, well, I chose to be an English teacher, didn't I? I'm not complaining, mind you. I still love teaching, and heck—it's my ticket overseas!