Last Saturday night I was just settling into bed with my latest read, Miss Peregrine's Home for Peculiar Children, when I heard a voice calling from the street. The voice was unclear, so I went to the back bedroom and opened the window. "Boza! Boza!" a man called from the street below. He carried a metal canister much like a small milk can, as well as numerous metal jugs and mugs. It was the boza man, someone I'd heard of but never seen. I'd assumed he was a long-gone relic of Turkey's past, but not so. There he was in the flesh. I was tempted to get dressed and go down to buy a mug, but I was too shy—and a bit weary. The boza man walked all the way up the hill (no easy task), then later I heard him again as he called his way back down the street. How sweet.
.
I like boza, a fermented wheat or millet drink with a low alcohol content (about 1%). It looks like a thick egg nog, yet it has a tang to it. On one of Edda's tours she took us to the historical and famous Vefa Bozacisi (1876) near the Sülymaniye Mosque. It looked  much like a pub, but they only sold one drink there—boza. Actually, they also sold bottled vinegar, but boza was their specialty.
The bozaci (boza man) at Vefa Bozacisi in Istanbul
They proudly displayed Mustafa Kemal Ataturk's boza mug in a special case on the wall. I understand boza is a particularly popular bedtime drink—hence, the boza man coming through at 9:30 Saturday night.
.
I've been indulging in another drink many evenings, salep (no alcohol). I've written about it before—another Turkish specialty. It's a sweetened hot milk drink with a unique flavor from an orchid root powder. Sprinkled with a bit of cinnamon, it's sheer ambrosia.
My evening salep in a delicate Turkish cup, a gift from my friend Huseyn
Salep is sold on the street from onion-shaped brass samovars, and I love it. I make it at home with a powder, but it tastes even better on the street. It's a winter delicacy here–a consolation for winter's colder temps.
Salep straight from the samovar on the street.
Let's see…fermented millet or orchid root? Quite different from the hot toddies and spiced cider we enjoy in the States, but lovely nonetheless.
.
Libby and I had a quiet weekend by ourselves—bordering on lonely, I'm afraid. My social plans fell through, so we hung out evenings together, and we walked to Ortaköy Saturday morning, where I found another picture for my 'hamam bathroom' back home.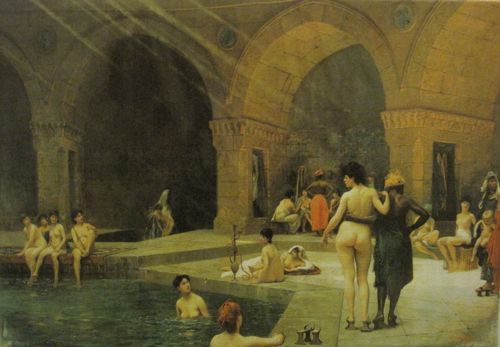 My latest artistic acquisition–a hamam (Turkish bath) painting from ages past
We meandered through the maze of streets filled with jewelry and knick-knack stands, stopping for a tost (sort of a panini-type grilled cheese sandwich) and tea before walking back home. I snapped a few photos along our way, and I hope you enjoy them.
The waterfront at Ortaköy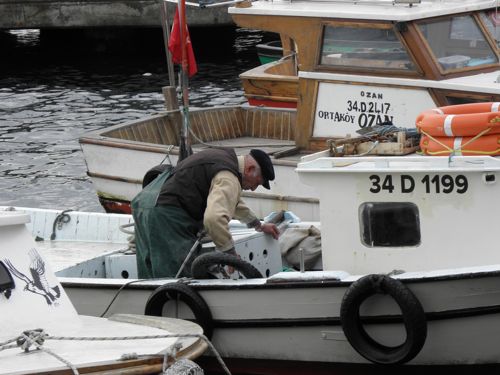 A fisherman checking his gear
Mussels on sale in an Ortaköy kiosk
A donkey (statue) mounted on sailboat in Kurkçeşme (on our walk home)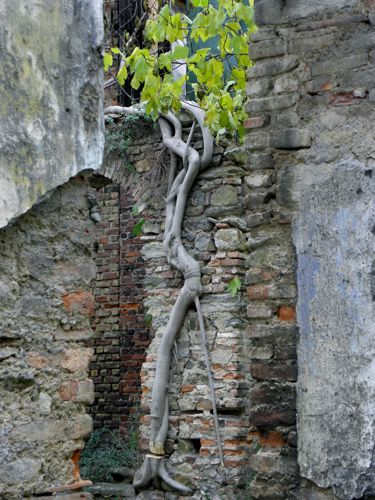 Someone broke the lock into the synagogue ruins, so I snapped a few photos…
I'm off to Slovenia with the debate team this week–looking forward to a new perspective on reality from one of the Soviet Bloc countries. I hear it's absolutely lovely and that its capital, Ljubliana, is one of the most beautiful cities in Europe. We'll be staying in a farm/vineyard in the country, which should also be an adventure. Oh, the joys of overseas teaching!
.