April 23, 2009
Meandering through an Istanbul weekend
My semester sojourn in Istanbul is half over—hard to believe. It's gone quickly (in spite of the rain), and it's been wonderful. Last weekend was uncommitted, so I took advantage of the usual weekend service buses into the city. Friday night we went to the Palladium Mall, where my friend Dee and I watched The Reader. I seldom get to movies at home, as the nearest theater is 90 miles away in Thunder Bay, so I appreciate the opportunity here every weekend. I hosted Dana, a teaching compatriot from the Canterbury School in Florida (our school has a cultural exchange with them). She was a delight.
Saturday I took the service bus into the city with plans to get a haircut. I cut my own hair a few weeks ago, and it was growing out rather poorly, pooching out in several directions at once. Time for a fix—which I got! The kuafor remembered me and squeezed me into his "coloring" schedule. Of course he served me tea, and the ladies who were sojourning over the lunch hour were treated to lunch on his terrace, delivered by a local restaurant. What service!
After my haircut I just wandered. The sun was shining, and I was aimlessly listening to a book on my ipod (Duane's Depressed by Larry McMurtry—interesting). I trekked along the Marmara, which features a scenic park and walkway on reclaimed soil along the seaside. I stopped at an seaside restaurant at the end of a long breakwater pier in Moda, where I enjoyed a mid-day omelette and watched sailboats skim across the harbor. Nice.
The Moda restaurant sits out on the end of a pier.
My lunch-table view, sailboats and the Princes Islands in the distance.
The next thing I spotted on my meanderings was a young dude in cowboy hat and cowboy boots toting two huge bags of Kentucky Fried Chicken. Not too Turkish, I thought to myself as I pulled out my camera.
Cowboy delivery dude…
Lo and behold, he was delivering lunch to his photo crew, who were busy shooting a pretty redhead as she cavorted around a pink '57 Chevy convertible, swinging her hair madly as she twirled. Amazing. I don't think it was a fashion shoot, though, because the model wasn't wearing much. Hmmm…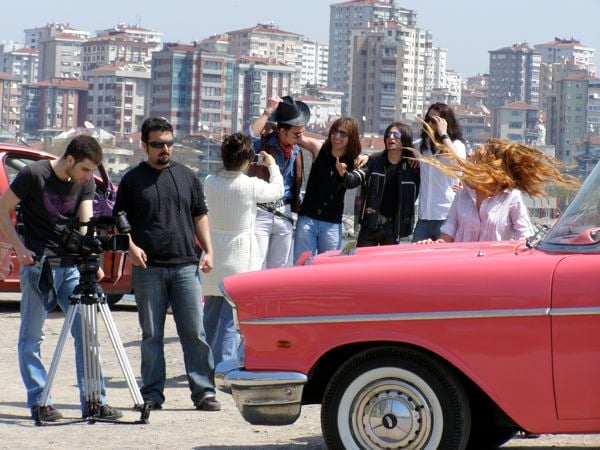 …and the photo shoot. NAME THAT PRODUCT!!!
Later I found a big flat rock on the breakwater and stretched out to bask in the mid-day sun. Sigh… What joy! It made me just a little sad to think of my friends in Grand Marais struggling through yet another snowstorm. Not too sad, though. I actually felt a bit smug sitting in the sun. For lack of a better thing to do, I watched a man blow up balloons for his seaside target-practice concession. (BB guns, I hope.)
I had decided to waste a few hours working on my computer at Starbuck's when I walked by a ferry with a sign for a 7 lira Bosphorus cruise. Let's see…a smoky Starbuck's or a two-hour ferry ride? Tough decision. It was lovely, of course, and I enjoyed chatting with some university students eager to practice their English. The Turks love to engage in conversation, and it's great fun to chat with them in whatever limited language we can manage. Ah, the ever-friendly Turks.
One of the scores of ferries touring the Bosphorous
I hopped on another ferry to Karaköy, where I met an artist friend for dinner—we didn't have much time, but it was nice to catch up over jumbo shrimp and a salad at the Odessa Restaurant. We sat in a second-story open window overlooking the Golden Horn and the Marmara, out of the chill wind but still in the sun. They served us a complimentary dessert of sicak helva, a sweet made from sesame seeds, which is served grilled or roasted over grated carrots—tastes a bit like melted homemade caramel. YUM! It was hard to tear myself away, but I had to ferry across the water to catch the service bus home. Sigh…
Sunday there was another service bus to the tulip festival at Emirgan Park. It took nearly two hours to get there (Sunday traffic), but the displays and people watching were well worth the trip. The city spends a small fortune planting millions of tulips each spring, and their efforts are well appreciated.
The Entrance sign and map pf the park—a la tulips!
A kangaroo welcome to Emirgan Park—???
The Turks are understandably proud of being the first to cultivate tulips over 1000 years ago, and this annual festival celebrates it elaborately, with plantings, music, and art all over the city. The tulips in Emirgan Park are probably the most impressive anywhere. To me, at least.
Tulips, tulips everywhere!
Emirgan is a fairly traditional community, so most of the women in the park were scarved, and we spotted a group of men at prayer among the tulips, kneeling on their rugs beside a mescit, a small mosque.
The devout answer their call to prayer among the flowers of Emirgan Park.
It's quite rare to see women completely covered in Istanbul, we saw quite a few robed in black. My favorites were two young women batting a volleyball between them, robes flying.
It reminds me that we're all very much the same—the differences may appear overwhelming, but at heart we're more alike than different. We love to play, we enjoy the sun, and we all revel in springtime.
And we shared those joys at Emirgan.