Our fourth and final week in Turkey began with the arrival of friends from Switzerland, Franziska and Carl. Their glee at every experience buoyed us all as we explored the back streets of Istanbul.
Carl, me, and Jerry on our apartment balcony (photo by Franziska):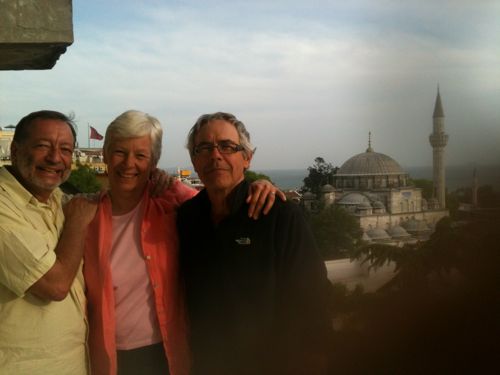 While they explored Sultanahmet on their first day, Jerry and I headed up to my publisher's office near Istiklal, wandered through the sumptuous Pera Palas Hotel (where Agatha Christie wrote Murder on the Orient Express), took in the Pera Museum's exhibit of Manolo Valdez, then indulged in an Efes and French fries at the Tavanarası, a funky rooftop cafe.
The Pera Palas bar and lounge—not too shabby:
An Efes break at the Tavanarası Restaurant:
The next day we explored the Bazaar Quarter with Carl and Franziska, skipping along through workshops and hans, which they loved. We found a few great deals on "scarf street," of course finishing with adult beverages on the balcony before finding a new spot for dinner.
Roses in bloom at the Çuhacı Han
Morning tea with Carl and Franzisca in the Çuhacı Han:
We stopped into Kaya Demirci's jewelry shop, where he was setting diamonds into this necklace (on a wax form):
A bouquet of silk scarves flutter in the breeze: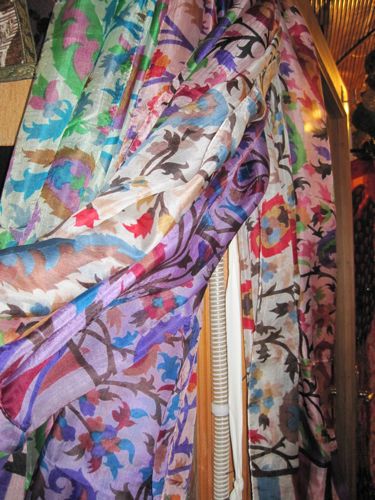 We covered the food bases well, indulging in meals from kebabs to kumpir (baked potatoes with butter and grated cheese mashed in, then piled with numerous toppings).
Jerry's favorite döner, spiced lamb sliced off a huge skewered roast:
Kumpir, the mashed potato treat!
They also enjoyed our rooftop drama—a family of seagulls across from our apartment. The three remaining fledgelings (we lost one last week) have grown by leaps and bounds in two weeks, and it's been fascinating to see the devoted parents chase away hungry blackbirds and gulls and take turns bringing food for their famished babies (regurgitating tiny fish for them). As Jerry put it, "I've developed a new respect for seagulls after seeing how hard they work."
Mama and her hungry babes: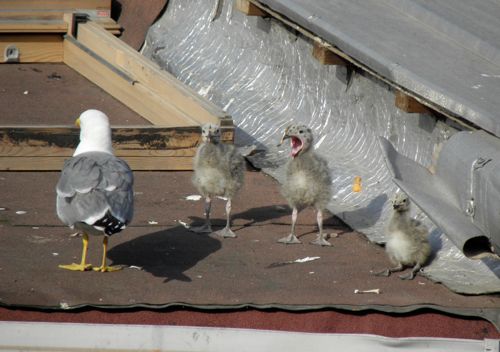 Finishing their stay with a Bosphorus cruise and another meal of mezes and lamb, Carl and Franziska assured us they'd come back to Istanbul. Their taste of the city has whetted their palates for new adventures.
Flower sellers near the Kadiköy pier:

After waving them off, we headed over to the Asian side to rent bikes for a trek along the Marmara. Getting there was a comedy of errors (the new Metro delivered us a few miles up from our destination), but we finally found our bike shop and headed off on wheels. Istanbul has little green space, so they've reclaimed a wide swath of sea to create parkland all along the Sea of Marmara. We biked an hour (about 10 miles), weaving between pedestrians who ignored the bike path signs. Turks are wonderful, but they're not big on following rules. Jerry was reluctant to stop, but was snoring shortly after we settled on a park bench. Oh, to fall asleep so effortlessly!
Jerry recovers mid-ride:
The trek back was harder (into the wind), and we were worn out by the time we returned to Bostancı. With a few hours before our scheduled meeting with my friend Söner, we found a seaside restaurant that served beer and French fries, our new favorite snack. Söner arrived to share another beer with us, then drove us to Kadiköy and walked us through Moda, Kadiköy's charming upscale community of beautiful homes, shaded cobbled streets, and sea views. We had dinner in a bustling Kadiköy street cafe/night club while a Beşiktaş soccer game blasted from screens dotting the street's many cafes.
Me and my friend Söner in Moda:
On our ferry ride back to the European side I noticed brilliant lights near Beşiktaş—a bustling Bosphorus community. "It must be a home game," I commented, interested, but not excited, as Beşiktaş isn't one of the city's top teams. We stepped off the ferry to fireworks exploding over the Golden Horn. "They must have won."
Little did I know how that win would affect us. We joined a throng to await the tram for our Sultanahmet apartment, realizing there was little chance for a seat in spite of our tired legs. The first tram was packed solid with white-and-black garbed Beşiktaş fans, singing at the top of their lungs and pounding on the windows and doors. The doors opened, but there was no way another body could possibly squeeze in. Not only were there fans, but many carried seats they'd pulled from the stadium and grass they'd cut from the field. Oh, my!
"Maybe we should get a taxi," I suggested.
"Let's try one more," Jerry responded. Exhausted from a day of exercise, the thought of walking to find a free taxi was far from enticing. Another tram pulled up, just as noisy and crowded as the last. The doors opened and the fans "manning the doors" grabbed us and pulled us in, laughing. I have to admit, it was fun to merge with these soccer maniacs. One had stolen a huge fire extinguisher (on wheels), which stood by the door with a white plastic seat and a square of sod sitting atop. Three times the driver stopped the tram tram and asked the revelers to settle down. After a hearty cheer, the chaos would abate and he'd continue. The noise would gradually rise until he had to stop again.
Wild Beşiktaş fans pause to pose on the tram:
Soccer mania is a mystery to me—mob behavior at best. I later learned that this was the last game to be played in the İnönü stadium tearing it down.
On Mother's Day we met my friend Alison for a stroll through Balat, an area I'd never explored. Once a hillside Greek community, it was abandoned during the population exchange when all area Christians were deported to Greece (and Greek Muslims moved to Turkey).
St. Stephen's Bulgarian Church steeple:
Ataturk's intent was to create a more cohesive Turkey by making it all Muslim, but it was a painful time for those uprooted from their homes. In addition to scores of fascinating houses, we saw many people in traditional dress, as this has become a fundamentalist community of both Muslims and Jews. We saw men with şalvar (loose-fitting pants), turbans and flowing coats, and many women were garbed in head-to-toe black.
Balat residents buy their morning poacı (bread) from a street vendor:
Two young men in turbans and flowing robes:
We were amused at a common practice of letting children sit inside window grates for fresh air—sort of a window/playpen approach to supervised play.
These little dollies were tickled to be photographed: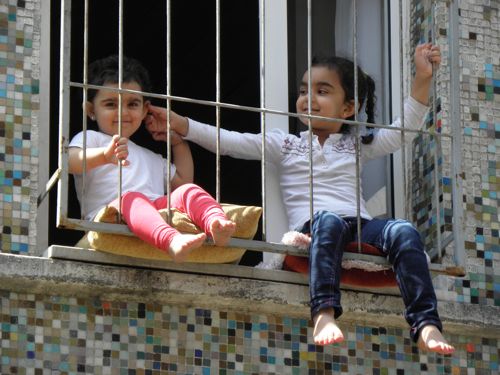 Sunday morning laundry in Balat:
We happened upon an ancient Christian Church (1292), now the Fetiye Mosque and Christian museum, then later stumbled on an Orthodox Greek Church holding a christening ceremony. Wonders never cease. We finished our tour with lunch at the Zeyrekhane, a fabulous terrace restaurant perched high above the Golden Horn.
Two days left—and we spent one evening with our friends Mark and Jolee, Americans who've lived in Istanbul for the past six years. We'd had them for dinner the previous week, and they returned the favor with a walking tour of their Çıhangır neighborhood and a sumptuous dinner. Jolee made a few mezes, the crowning glory of which is a traditional dish of a fresh artichoke heart covered with diced potatoes, carrots, and peas and drizzled with olive oil, lemon juice, and dill. Oh, yum!
Jolee's Zeytinyağı Enginar and other mezes:
Of course, the delicate grilled lamb chops were beyond compare. Mark and Jolee are fascinating, interesting ex-pats and great fun to boot! More good times ahead…
We spent our last evening with Dana and Matt, friends who I met through my sojourn in Ethiopia (Matt volunteered with me at the orphanage). They were on their way back from Addis Ababa, where they are adopting a 9-month-old boy.
We've hugged our friend Musa goodbye (my kilim designer friend who rented us his apartment) and caught what sleep we could before our taxi arrived at 3 AM. Back to life and adventures in Minnesota, where we hear our seemingly endless winter may have finally abated.
A Turkish Cat House (Kedi evi) provided by the city government for strays: