Ah, leisure! Well, relative leisure anyway. Jerry and I have bid all our tour buddies goodbye and are basking in the quiet of a Sultanahmet apartment. My friend Musa Başaran, kilim designer extraordinaire, owns a six-story building just blocks from the Blue Mosque, and we've taken one of his apartments for our last two weeks here. We enjoy a view of the lovely Sokullu Paşa Mosque, the Sea of Marmara, and a family of fledgling seagulls on a roof below our balcony.
Musa's kilims:
The Sokullu Paşa Mosque from our balcony:
For the first few nights after our tour we checked into the Turkoman Hotel, where we were met by their scruffy dog, Fluffy (I know—hardly an apt Turkish dog name, but what can one do?) and their volunteer cat, Arsız (which means shameless—a fitting moniker). In fact, while we were settling into our room, Arsız wandered in and curled up on our sun-soaked rug. Minutes later she'd settled up on the bed. Shameless. Though I'm allergic to cats, I tolerated it for a whopping ten minutes while Jerry gave her the requisite portion of petting and stroking.
The shameless Arsız makes herself at home: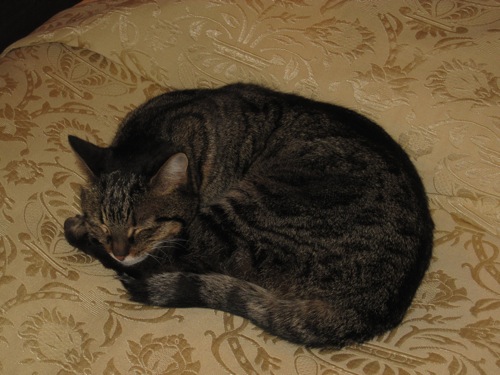 The terrace breakfast room at the Turkoman overlooks the Blue Mosque, a heart-stopping view that enticed us to linger long over a last cup of coffee—filtered coffee, no less. I hope the days of Nescafe are behind me.
Our breakfast buddy on the Turkoman terrace:

May 1st is Labor Day across the world, a day that has often grown violent in Istanbul. We escaped the city with five of our friends by ferrying across the Marmara to Termal at Yalova, a mountain spa community that I adore. We soaked in the hot tub, scrubbed in the 500-year-old hamam (Turkish bath), sweated in the sauna, then shocked our systems with a plunge into an icy tub beside the sauna. Then we all moved outdoors to the olympic-sized outdoor pool, naturally heated from hot-springs pumped into the water. We swam and basked the afternoon away, finishing with a soft drink and a walk along the river.
Sparkling clean outside the hamam—me, Nancy, Judy, Glen, Bob, and Eddie. (Photo by Jerry)
We all reveled in the park-like atmosphere, the hot-spring eye-cleaning station and the lung-clearing steam breather. If nothing else, it soothes the soul to be in such a pristine, peaceful environment. Ataturk (the Father of Turkey) took the cure at this spa on a regular basis.
An olive stand in the Yalova street Market:


That evening we returned to find the Hippodrome chock full of sticker-covered cars—what??? A little research revealed that it was the Allgau-Orient Rallye, an event of 113 cars trekking back roads from Allgau, Germany, to Aman, Jordan, over the course of three weeks.
Rally cars lined up near the Blue Mosque: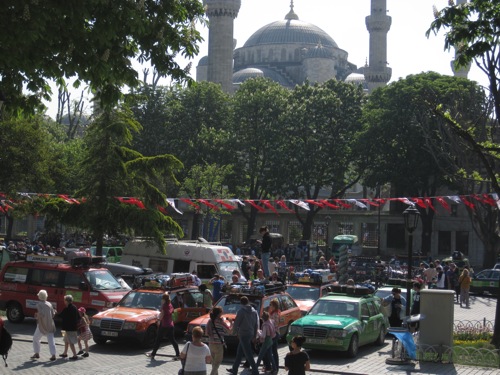 Drivers both young and old spent two nights in Istanbul, many sleeping in their vehicles. One couple slept in a tent on their car roof—amazing!
Rooftop accommodations, sleep at your own peril!
Beer played a large part in the event as well. Heck, they're Germans. Along the way the drivers earned points for a series of specific tasks like taking a photo of someone milking a cow in Germany, of a ferry crossing the Marmara, or of Turks drinking beer in Istanbul. The winner of the competition would win a camel, which they would, of course, have to leave in Jordan. The drivers would fly home, leaving their cars behind to be sold for a charity. What a blast! If you're curious, check out the videos on http://www.allgaeu-orient.de/
The next day Jerry, Nancy Daley and I hiked to the Süleymaniye Mosque, which has been closed for renovation for the past five years. It was lovely to see this masterpiece in its full glory, all scrubbed and shiny.
Spring Irises bedeck tombs in the Süleymaniye cemetery:
The Stunning Süleymaniye Mosque:
After numerous contortions to take photos in the sanctuary, I emerged to realize I'd lost my prescription sunglasses. I took off my shoes and donned a scarf again to go in and hunt for them, but they were nowhere to be found. I reminded myself that if you lose things in Turkey you get them back and approached a guard outside. "Güneş gözlüğüm kaybettim," I said (something like 'I lost my sunglasses'). The guard held up his finger, reached behind a counter, and pulled them out. Thank goodness someone had turned them in. Whew!
The amazing city view from the Süleymaniye courtyard:

On the walk home Nancy treated us to döner, a delicious meat sandwich similar to a Greek gyro. YUM! That afternoon Jerry and I moved into our apartment at Musa's then collapsed. I'm not a big napper, but I was out for over an hour. Heaven.
The next morning we met Sally and Judy (more friends from the tour) for a trip to the Marpuççular (bead) Han and a tour of the Rüstem Paşa Mosque.
Rüstem Paşa  has some of the finest hand-painted tiles in Turkey:
Sally emerges from the Men's Room (When ya gotta go…)
That was the last of our time with friends from home—they left the next morning.
Saturday Jerry and I hopped a ferry to Burgazada to visit my friend Sandra. Burgazada is one of the Prince's Islands, a series of small islands off the coast of Istanbul, a peaceful oasis with no cars. Residents and visitors walk, bike, or hire horse carriages to get around the islands.
The Burgazada taxi stand:
We spent Saturday wandering the island with Sandra and finished with a sumptuous fish dinner at a seaside restaurant.
Jerry and I pose on stone stairs to nowhere down on a seaside pier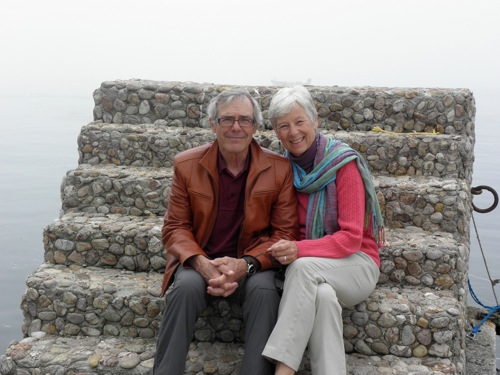 Sunday we ferried to the largest island, Büyükada, where we rented bikes and rode around the island. It may sound idyllic, but we began at great peril, sharing the road with scores of wobbly bicyclists and thundering horse carriages. Once we broke away from the hordes, though, we pedaled the coastline, enjoying views of the sea, the other islands, and Istanbul in the distance.
Well worth the bike ride!
We finished with a beer and French fries at a little outdoor restaurant, where we chatted with a delightful young couple, surgeons visiting from Ankara. It never ceases to amaze me how friendly the Turks are once you open to them.
It's been a lovely week, and last night we welcomed friends from Switzerland to our little abode. Carl and Franziska are excited to be here, and we're eager to share the many charms of Istanbul. The great dilemma is how to squeeze everything into three days. We'll do our best.