Turkish city number four is Antalya, my husband Jerry's favorite. I have to admit, I love it, too. We are booked in a funky little hotel (Mediterra Art Hotel) in the old city of Kaleici.
This old city, known as the castle town, sits on a Mediterranean harbor surrounded by the Taurus Mountains. It doesn't get prettier than this, let me tell you. I think this is my sixth trip to this area, and I absolutely love it.
Hadrian's Gate, the entrance to the old town.
When we arrived it was threatening rain, so we were treated to a fabulous dinner of sea bass (or other items for the few who didn't want fish) at the Varyant, a gorgeous seaside restaurant. We were joined by the owner of Sojourn Travel Turkey, Chris Vannoy, along with Elif (our tour coordinator) and Jonathan, a photographer who would be shadowing us for a promotional video they're producing.
After dinner our guide Yunus ("dolphin" in Turkish) brought us through the Antalya Museum on a trek through time from 4000 BC to the Byzantine Era.
Yunus guided us through room after room of incredible statuary, most from the nearby ruins of Perge. He finally led us through an amazing collection of marble sarcophagi, ancient carved tombs. One thing I found amusing was a sarcophagus of a woman who decided not to include her husband in her crypt. The face of the woman was carved on the sarcophagus, but her husband's face was never carved because she decided she didn't want to deal with him in the afterlife. Gotta love it.
On our first day we were treated to a beautiful two-hour drive west along the Mediterranean (which was fine, as we were pretty bushed). We visited Myra (in Demre) to tour St. Nicholas Church. Remember him? Santa Claus? I'll bet you didn't know he lived in Turkey (which at the time was Asia Minor or something like that). It's an ancient cathedral with stunning mosaics and an empty crypt. Apparently St. Nicholas' remains are now scattered across the globe, mostly in Italy. Go figure.
One thing we've learned about the frescoes in these old churches is that people believed in the healing powers of the body parts in the paintings, and they would chip off part of an eye or a hand (or whatever related to their ailments), and they'd mix them with water and drink them. I imagine if there was any good to come of that, it was the power of their own faith. You'd think the plaster and paint would do them no good. It also meant that much of the frescoes have disappeared. So sad!
Our next stop was a Mediterranean boat cruise. HEAVEN! We started at the port in Kekova, and the weather was perfect. Our captain was our guide's friend, and we were tickled to find a cooler complete with every beverage one might desire, even rakı. We motored to a beach with an ancient ruin, and many of us indulged in a Mediterranean swim.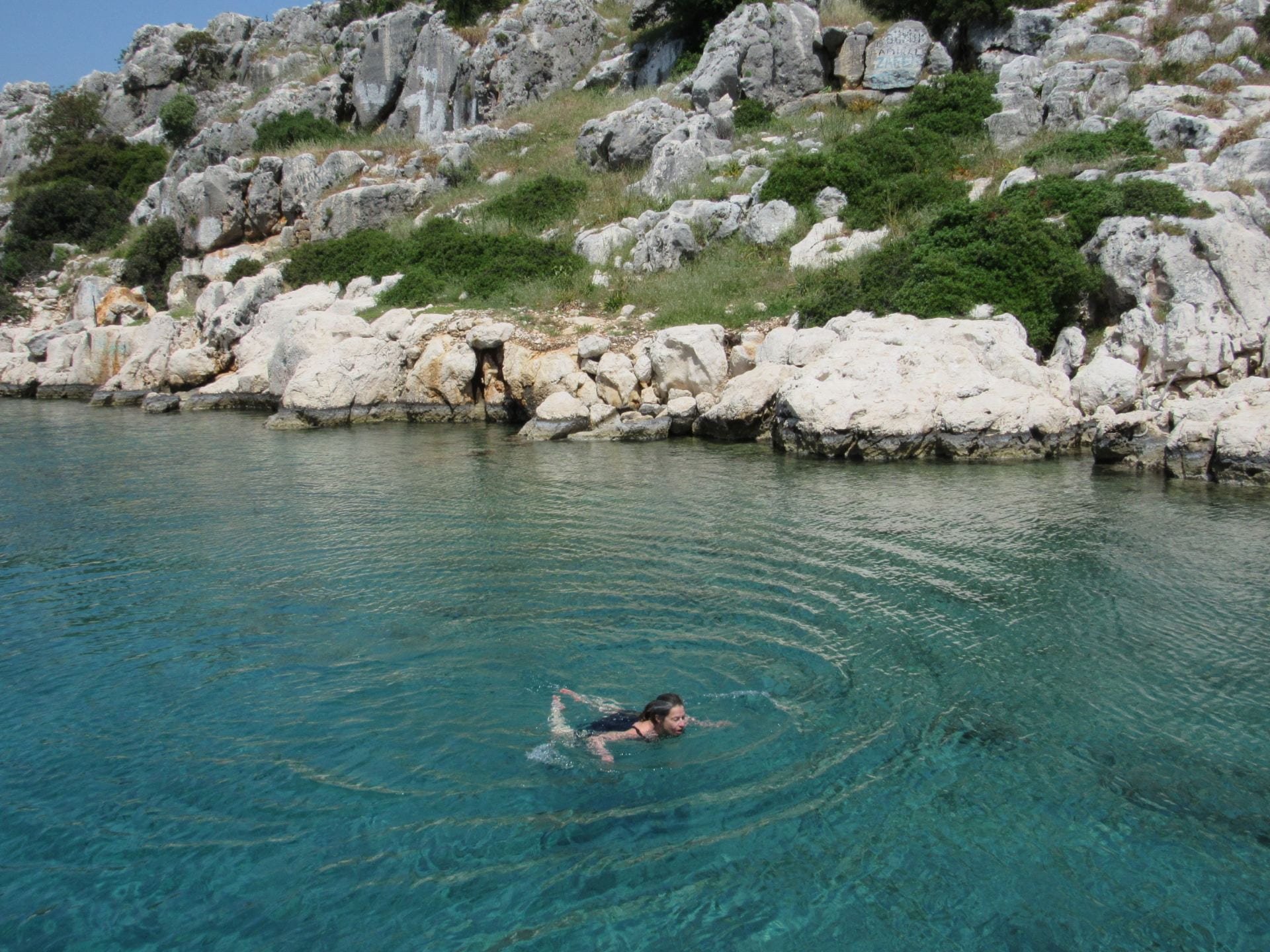 Before long Yunus called us back to the boat for a lunch of five delectable salads and freshly grilled sea bass. The Turks usually serve the whole fish—head, tail and all, and we're getting quite adept at weeding out the bones. The fish was delicious—moist and light.
My favorite part of the meal was a warm salad of diced potatoes and eggplant with garlic and tomato sauce. I think it's about the spices though, I'll have to work on duplicating it.
Lunch on the boat–unsurpassed!
We were supposed to stop at Mount Olympus for the Chimera (flames coming out of the rock), but we opted to head back home instead. We're always a little overwhelmed by how much is on our agenda, so next time I'll back it off a bit. More time in each city with less touring and more free time. Live and learn! I've loved doing this trip with Sojourn, and we're all learning.
I'd arranged to meet my good friend Aşkin that evening, and Susie joined us for rakı and mezes on the harbor at the Castle Cafe—a great spot without many tourists. In fact, most of the people we saw that evening were Turks.
Kaleici, the old town, is a fascinating old place, and on Saturday night the streets were filled with tables of young Turks out for the evening. Busy, busy, so we were happy to have found a quieter venue. It was fun to see Aşkin, who I met through his English teacher while I taught at Koç. He and his friend Söner toured my friend Teri and me around the hot spots of Istanbul with the intent of improving their English. Both of them became good friends, and we ended up introducing them to Istanbul's historical sites. A fair trade.
On Sunday (after two VERY noisy nights, sleepless for some),we drove up to Termessos, one of my favorite ruins in Turkey.
Sally perches above the arena, which is mostly still intact in spite of many earthquakes over the centuries.
It's situated high on a mountain and was inaccessible to Alexander the Great when he tried to invade it in the 4th century BC. Instead of worrying about defending themselves, the inhabitants were able to focus on their culture, which included theater and sophisticated water and sewer systems.
Rubble is strewn everywhere at Termessos.
Archeologists haven't done any excavations up there, so the grounds are filled with vegetation and trees, and many of the walls are still standing. Sadly, many have been toppled by earthquakes, so the area is basically a rubble of columns, huge building blocks, and statuary. It's phenomenal. Yunus, who has an archeology degree, told us it's his favorite site.
Chris Vannoy models being a dead guy in a sarcophagus.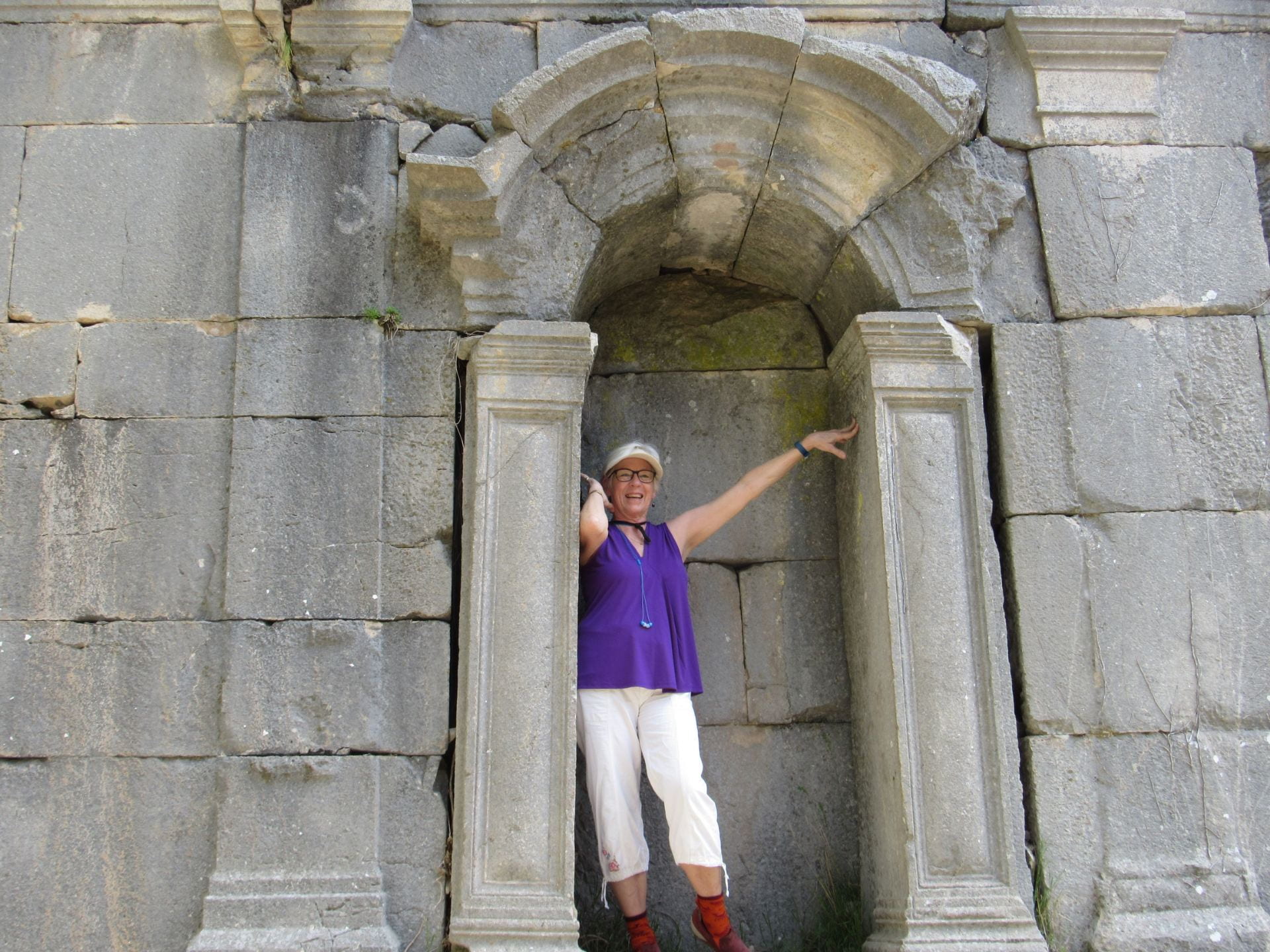 Our wonderful chauffeur Orhan drove us back to the old city, where we were treated to a lunch overlooking the ancient harbor. It was all about the view, let me tell you.
After that Yunus walked us through the Kaleici, where we stumbled on a cat house area overseen by a lazy dog. He even has a tag that says "MANAGER."
We finally landed back at the Castle Cafe for rest, adult beverages, and a stunning view of the harbor. We were nearly finished when huge plops of rain invaded our space. We hurried under some trees and I started gathering everyone's payments when I learned that Chris was treating us. Such a deal! More kudos for Sojourn Travel.
Doin' our thing back at the hotel. (Tom waxes prophetic.)
After wandering on our own through town, we gathered back in the hotel courtyard for snacks, wine and rakı to chat and share our experiences. Sadly, we NEVER got enough time in these fascinating cities. I'm thankful, though, for a connected and fun group of traveling compatriots.
On to Istanbul!