Want to know how kind the Turks are? This street sign is clear evidence:
DİKKAT YAVAŞ means "ATTENTION. GO SLOWLY."Sweet, huh? Most of the dogs and cats in Turkey run free, and people feed them everywhere. You'll never see a starving animal in Turkey. That's kindness.
Our third Turkish city was Göreme, my favorite of Cappadocia's cities. I have to admit, though, it's changed. The sleepy little town I visited twelve years ago is now a thriving metropolis, but I still love it. We stayed in the Kelebek Cave Hotel, and most of us had luxurious rooms. So different from the backpacker's paradise it was fifteen years ago. Everyone raved about their accommodations (sitting rooms and huge bathrooms), and a few of us entertained resident cats as well. (Don't leave your windows open.)
We were awakened at 6 AM by the whoosh-whoosh of balloons skimming over the hotel—150 of them. Our guide explained that so many balloons every day have a huge impact on the environment and have driven off many animals and raptors. He said he hasn't seen an eagle in years.
Jini toasts the ballooners with a morning cup of java. Filtered at the Kelebek!
Breakfast at the Kelebek is phenomenal—a vast array of olives (my favorite), vegetables, fruits, eggs, cheeses meats, breads and custom-made eggs and omelets. Fresh-squeezed orange juice puts it over the top. It was also our first hotel with actual filtered coffee rather than Nescafe instant. Woo-woo!
Breakfast here is beyond belief. You have no idea!
The first day was a whirlwind. Our guide Mehmet brought us up to Uç Hısarı to visit the cave home of Ismael, a sweet man who looked 80. I guessed (I thought Kindly) that he was 75, and he finally said he was 61. Evidence that Turks age faster. Tougher life?
Talk about compound nouns!
At any rate, we all enjoyed sipping tea and touring his family's home for centuries. It's now part of a national park reserve, so he has to pay rent to use it as a business. He spent nearly an hour with us, and our guide treated us to tea during his 45-minute lecture on the history of the area. Fascinating, but by the time he finished, we were frozen.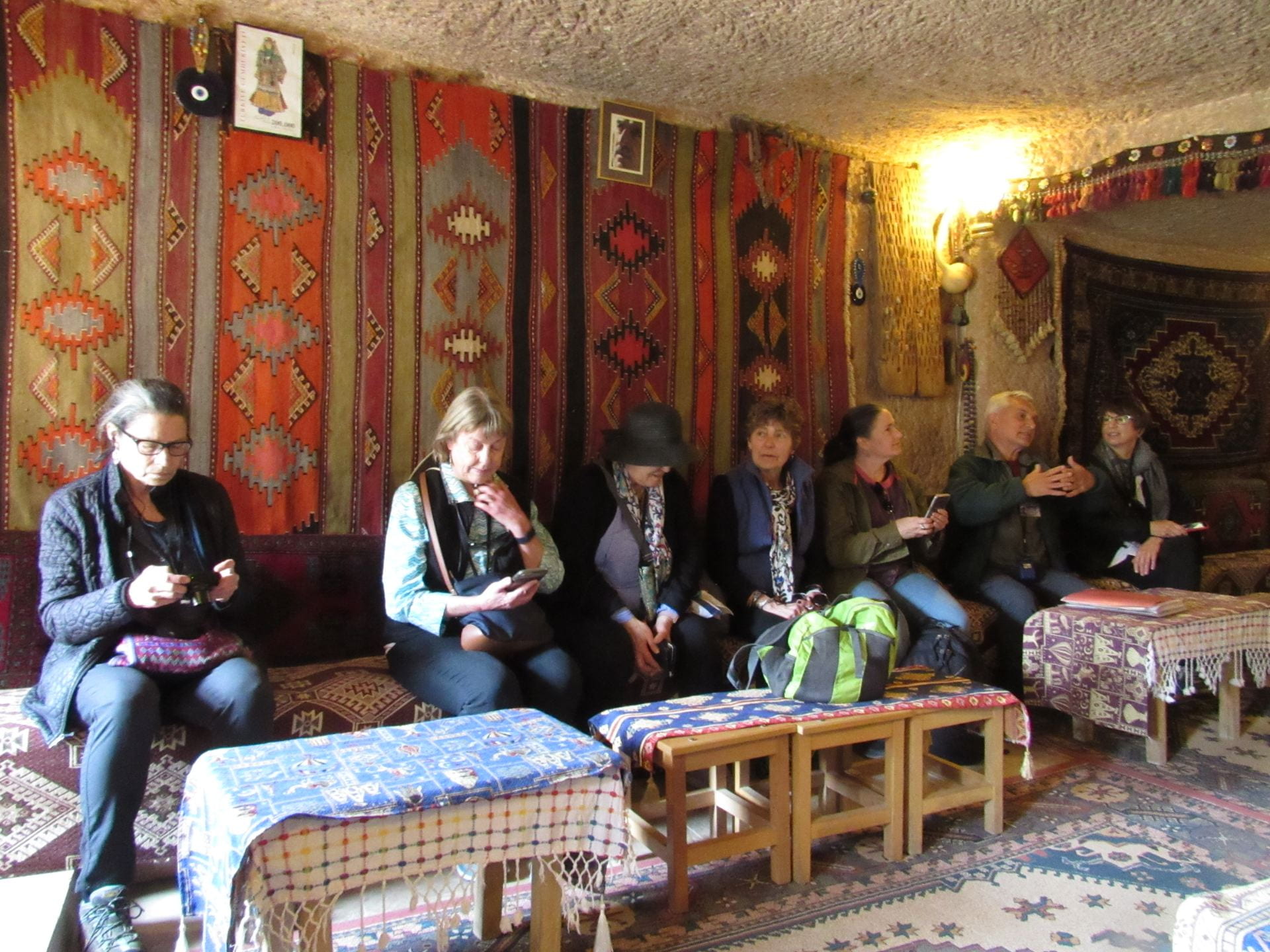 Mehmet understood and took us to a quiet little cave hotel for Turkish coffee, cake, and treats. It was wonderful to see that there are still some serene spots in Cappadocia. With clean toilets, no less.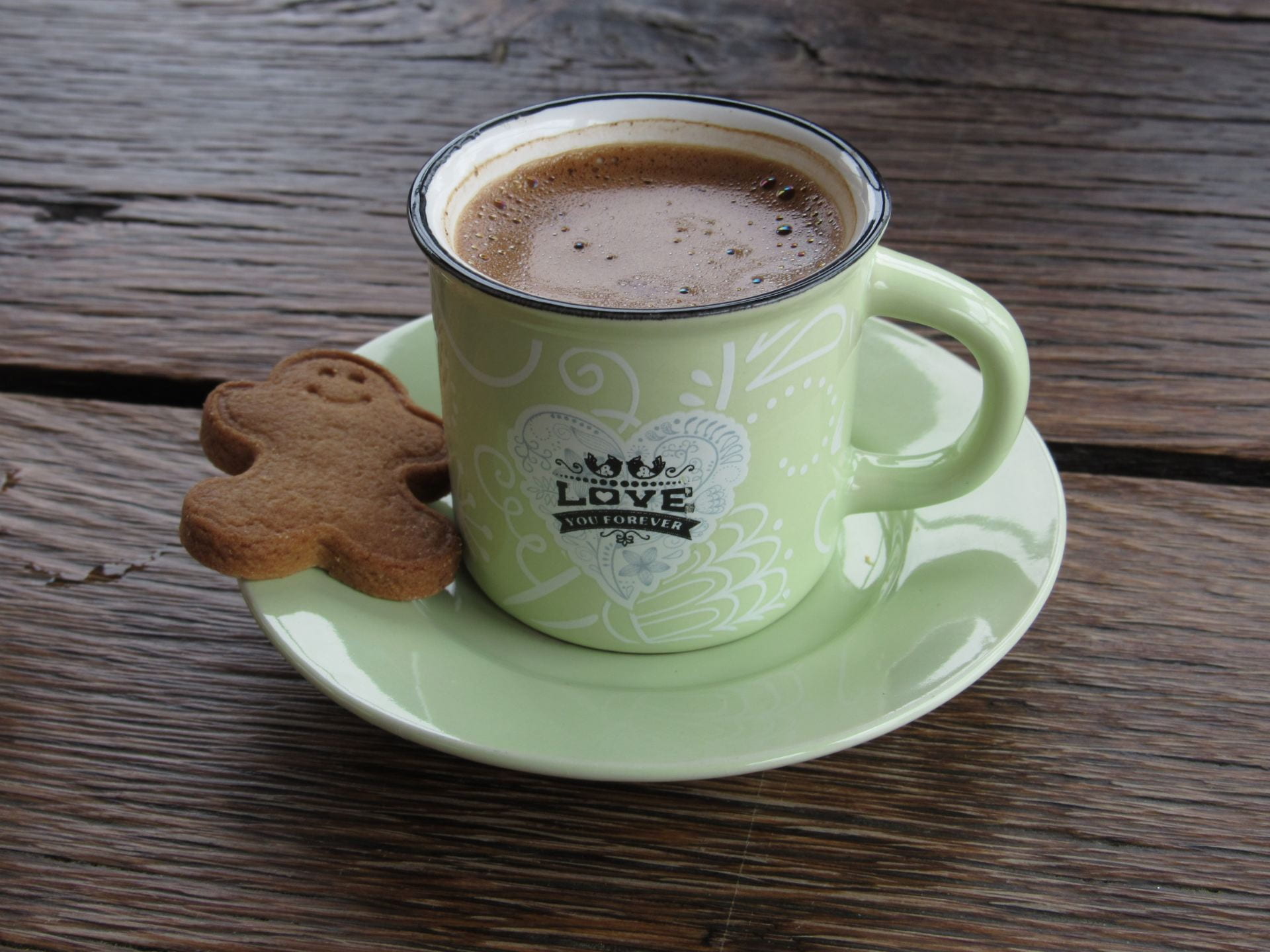 We went from there to the Open Air Museum, a series of ancient cave churches dating back to 1000 AD. Our guide Mehmet had book-size photos of the frescoes inside the churches, which helped us understand what we were seeing. The last time I was there we could take photos, but now it's forbidden.
We got a big charge out of Asian tourists who love to pose dramatically in front of every site. The Chinese are a generation of singletons, and it shows.
My friend Susie ended up getting a camel ride, though she's not just sure how. It was a highlight for all of us, though, and we thanked her for a good laugh.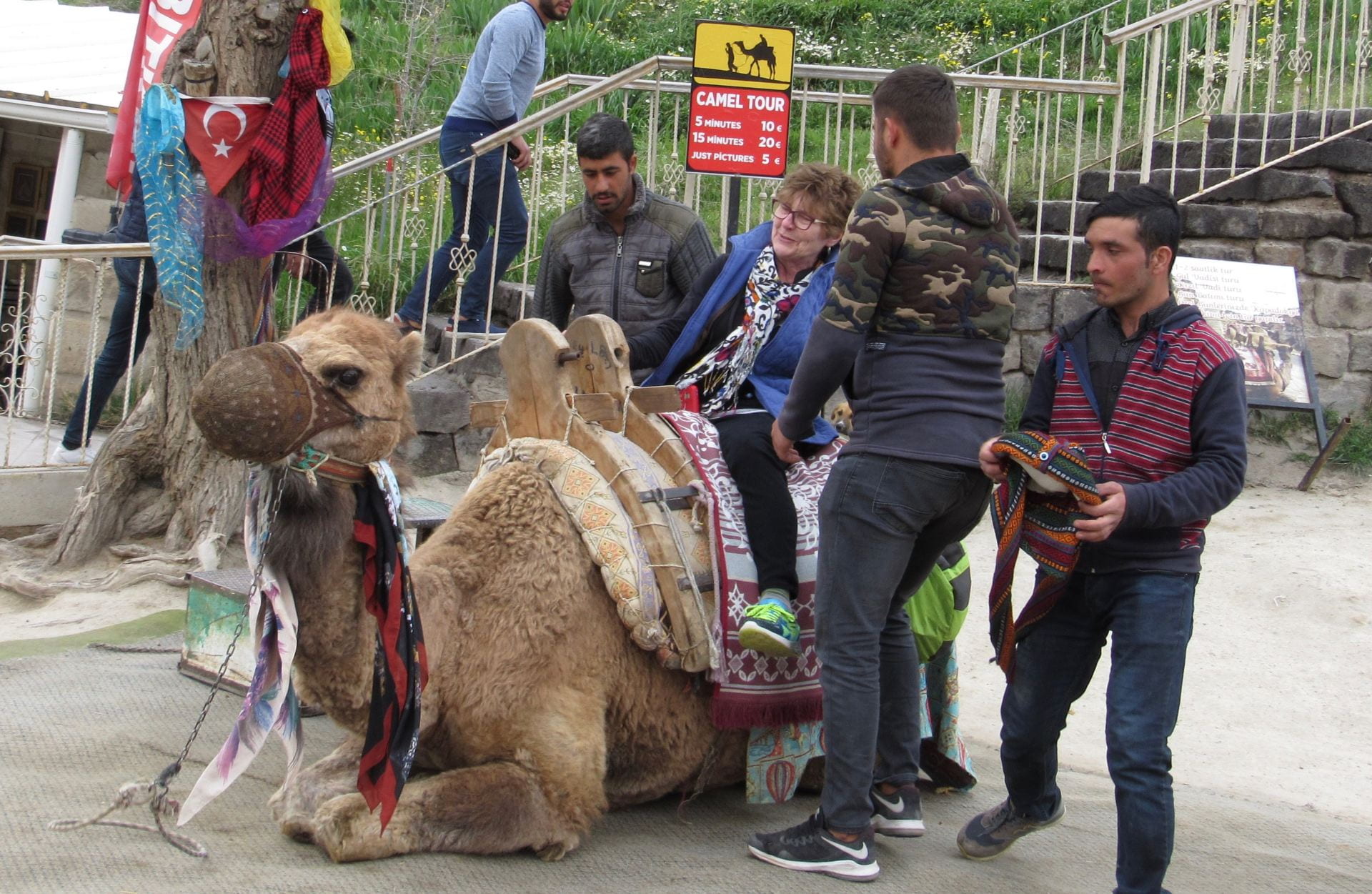 All camels are not beautiful.
We all went from there to the Dibek Restaurant, a lovely little spot in Göreme that's one of my favorites. We were joined by Chris Vannoy, the owner of our tour company, and together we enjoyed a lunch of all the local dishes, served family style: mezes, çoban salata (shepherd's salad), fasuliye (beans with lamb), mantı (tiny Turkish ravioli in a spiced yogurt sauce), and the crowning glory, testi Kebab (a hot meat dish cooked with vegetables in a pottery container that's cracked open to serve). Every meal here is finished with either Turkish coffee or tea. Sigh.
We opted out of another tour in favor of a visit to a scenic overlook and then a Turkish winery. I must admit, I was once very critical of Turkish wine, but they're doing MUCH better—as can be attested to by most of us in the group. With these fabulous lunches, we often end up finishing our day by gathering for snacks and wine (as well as the occasional rakı—the local anise liquor).
The next morning we were up early and it was nice enough to eat breakfast on the outdoor terrace. Sally, Tom, Rondi, Jane and Jane all finagled balloon ride that morning and returned at 7:30, breathless with excitement. Ballooning in Cappadocia is impressive, at the least.
Mehmet and Erdal (our bus driver) picked us up at 8:45 for a visit to an underground city. Apparently there was an ant-colony-like city carved beneath every city in the area, and entire communities would move underground when attackers came, from the Romans to the Hittites to the Mongols. They'd push mammoth wheel-shaped stones over the entrance and sometimes stay underground for months at a time. There were stables, storage rooms, kitchens, and sleeping rooms, usually at least eight levels deep. Amazing. Most of us started the tour, but some of us fled to the surface when we reached down to the second level. Four of our ten finished the tour.
Next we drove an hour to the Ihlara Valley for a 3-mile hike along a river. The valley was home for a huge settlement of Christians many centuries ago, and there are about sixteen cave churches along the way. We weren't so thrilled about the 400 stairs down into the valley (Turkey's Grand Canyon), but we were entranced with the lovely river walk. We went into three of the churches, which were very much like the ones we'd seen at the Open Air Museum the previous day. Here we could take photos.
We were served a delicious lunch in outdoor tables along the river. Sojourn Travel included lunches every day on our tour, and their choices have been fabulous. This meal included bread and mezes, lentil soup, a fresh lettuce and vegetable salad, and our choice of fresh trout, köfte (meatballs), chicken shish-ka-bob, or güveç—lamb, beef, or vegetarian. (Güveç is one of my favorite dishes, a baked open casserole of meat and vegetables, often with cheese melted on top.)
We were supposed to tour another cave monastery, but everyone cried "Uncle!" Everyone but Jini, that is. She's game for anything that requires exercise, but we were toured out. We headed back to the hotel for naps (or hikes), and some of us opted for the Turkish bath. The women's treatment ($30) included a face mask, a 15-minute sauna, a scrub and soap massage on a heated marble slab, then a shower, a screeching dip in a cool pool (closes the pores?), and finally a glass of apple tea while we relaxed and chatted on lounge chairs. Heaven!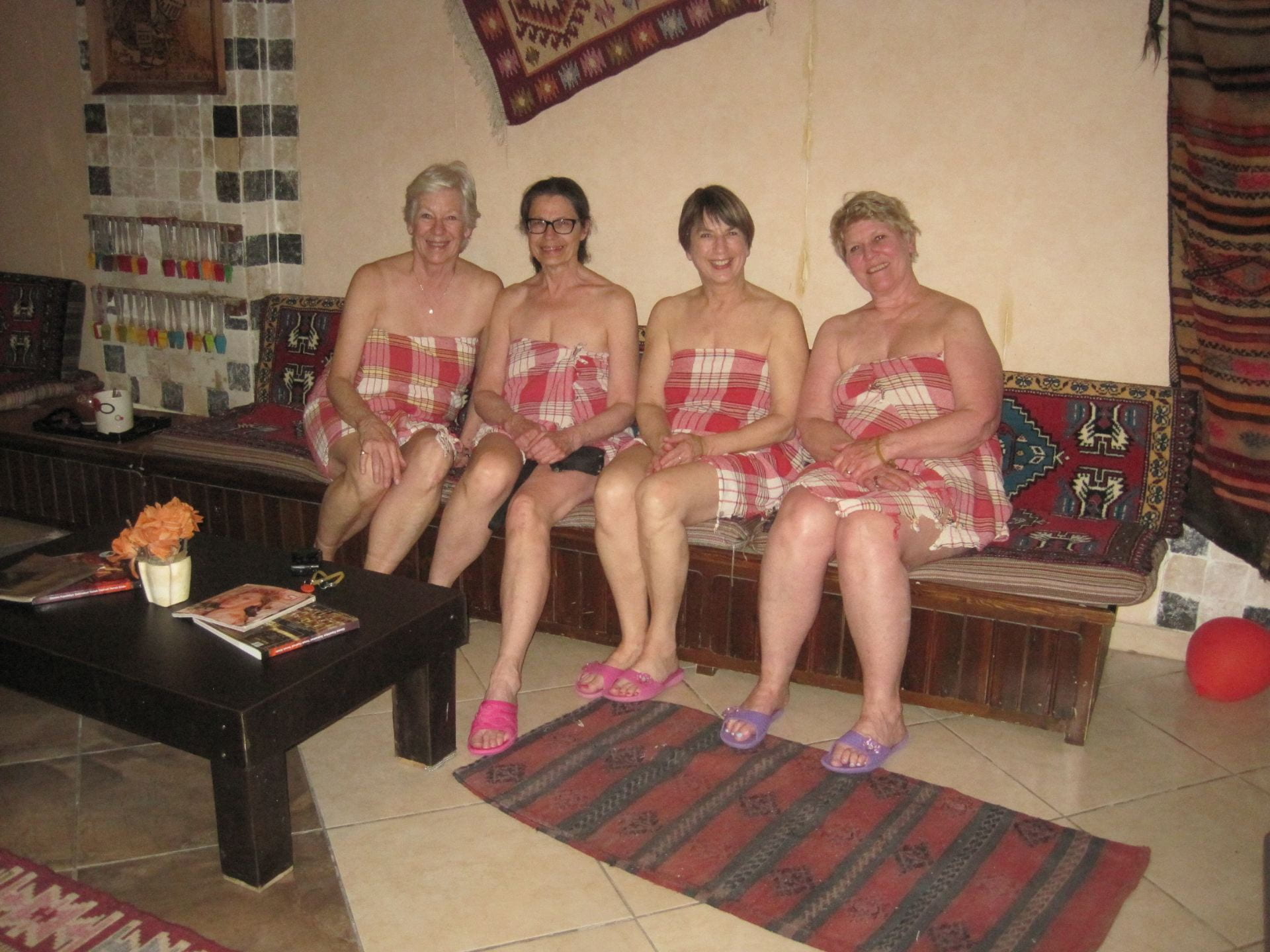 Mercimek (lentil soup), Ayran (a yogurt drink) and pide (mini-pizzas) finished off our evening. Well—except for our wine gathering in the courtyard. Short but sweet.
Farewell, Mehmet and your beautiful community!