"Where is Erzurum?" you might ask. Ah—not many know. Many don't even know where Turkey is. Well, Erzurum is a city in NE Turkey, not far from the border with Georgia (formerly in Russia). That's why we went there, to see the Georgian churches and monasteries tucked away in the mountains. Last spring my friend John Tessitore suggested that we trek out there during our long bayram weekend this fall.
We met at Sabiha airport on Saturday morning for the 1 ½ hour flight, rented a car at the airport, and headed out. Though I expected a small city, Erzurum has a third of a million people.
We had a bit of a problem finding our way, although we knew the street we wanted. For some reason Erzurum doesn't have street signs. When I asked a policeman for directions, he obliged us by putting on the flashers on and leading us through the city right to our hotel. Talk about Turkish hospitality.
The Kral Hotel lobby looked a bit dingy, but their renovated Selcuk rooms sparkled. After settling in and having a cup of tea with the clerk, we headed out to explore. Our first site was the Yakut Seminary (built in 1310), presently under renovation. Its tall minaret dominated the scene with brick and turquoise decorations and cone-shaped roof, typical of much of the architecture we saw that day.
Yakut Seminary Minaret
We wandered in and out of a few spots before our destination: the Çifte Minareli Medrese, or Twin Minaret Seminary. This lovely edifice, built in 1253, is the focal point of Erzurum. Although it was closed, a man outside beckoned us in, explaining some of the details of the interior stone decorations. He was interesting, and fiercely proud of the city's historical buildings.
Twin Minaret Seminary
Close up on one of the Twin Minarets
Tomb of Huant Hatun
He also walked us up to see the Üç Kümbetler, the Three Tombs. These were Saltuk and Seljuk tombs, again with conical roofs and side panels. Built before 1200, they were quite impressive. Two little boys cavorted inside the gates, which were locked. Of course, our friend brought us to his rug shop to show us his wares—should have figured. I didn't succumb, though.
We ate at the Güzelyurt (yes, yurt) Restaurant, and we agreed that we had the best soup we'd ever eaten. GREAT food.
Saturday morning we woke to no electricity—or hot water. Sigh… Luckily, the lobby had gas-heated hot water for my French press. We reveled in our morning coffee as we waited for lights, which came before our cups were drained.
We headed out in the drizzle, hoping for blue sky. The highway wasn't busy—except for a few cows on the highway.
Our first Georgian church was the Haho Monastery. Don't ask me where they got that name, but it made for great jokes. The monastery, built at the end of the 10th century, was impressive. Its heavy rock construction was adorned with both colored stone and intricate carving. The insides were a bit of a shambles, but after 1000 years, who wouldn't be? I was surprised to again see the cone-shaped roof on a conical dome. Very different from what we're used to. Imagine—these were built during Europe's Dark Ages.
Haho Monastery
Haho Monastery side window
Our second church was called Ösk Vank, a taller church with, once again, a conical dome. It was built at the end of the 10th century, dedicated to John the Baptist. Stepping inside, the high vaulted ceiling drew our eyes up. This church had more ornate carvings than Haho, and we saw the remains of religious frescoes high on the walls. Just think—1000 years old!
Ösk Vank exterior
Ösk Vank interior dome
Ösk Vank viewed from below
Our next stop was at Tortum Göl (lake) for a lunch of fresh trout and salad. It's all they offer, but it couldn't be better, let me tell you!
After lunch we found the road to Işhan—a grueling switchback road threading around hairpins up a mountain (single lane, mind you) to an unbelievably high spot. How in the world they got people to come to church that high, I'll never understand. There must have been a spring up there, though, because it was greener than anywhere else except the valleys. Hmmm… Yet another very impressive church, this one with countless pillars in its construction. The Church of the Mother of God, as it's called, is probably the oldest church we saw, dating to before 800. Amazingly, some of the frescoes were still bright.
Işhan–Church of the Mother of God
Işhan–dome

We had a number of children approach us at this church, as it's near a village where they were out gathering holiday sweets from their family and neighbors (much like Halloween in the U.S.) Everywhere people of all ages walked the roads, visiting friends and relatives to celebrate the end of a month of fasting.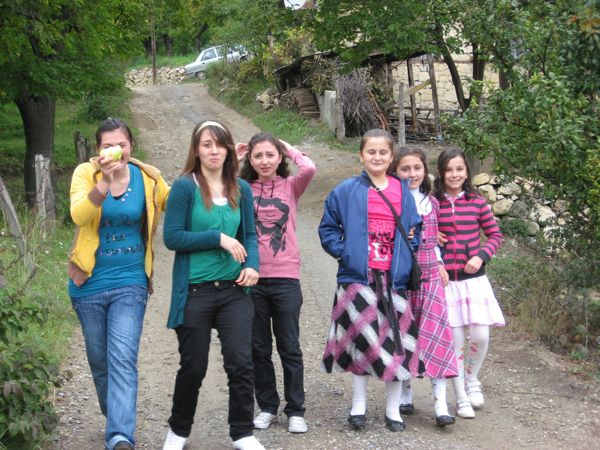 Village girls out to celebrate the end of fasting–the bayram
Exhausted, we decided to head for Altiparmak, where we had reserved a room at the Karahan Pension. This was by far the most hair-raising part of our entire trip. The road to the Karahan was 30 kilometers of single-lane, winding, hairpin turn, blind corner roadway following a river between the mountains. It took us an hour and a half to navigate it, although that included a 15-minute wait for a head-on collision to be cleared.
ARAUGHHH!!! We stopped at a small village for tea to calm our nerves.
When we finally got to the pension, we saw a sign inviting us to climb another 50 meters on foot up the mountain…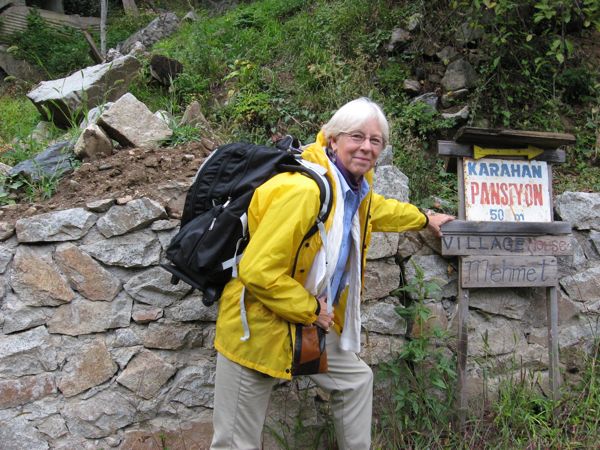 ONE more climb! (that would be me)
The Karahan family welcomed us warmly and one of Mehmet's grown sons led us up yet another 40 steps to our aerie. We sat on the balcony and sipped tea along with chocolate candies supplied—of course—for the bayram. We spotted two ancient chapels perched on the facing mountainside, one at the top, and one about two-thirds of the way up. Chapels for mountain goats.
Unfortunately, we just about froze at the Karahan. We shared dinner with a lovely British couple (the only other guests) in the unheated lodge. BRRRR!! I slept with my socks on with three heavy blankets—two of them doubled over.
The next morning Ahmet (one of the sons) guided us to the nearby Barhal Church (also known as Altıparmak), a much different style from the previous churches we'd seen. It has a Nordic shape, much like a stave church—very tall, with a second higher peaked roof above the main one. Built around 970, its carvings and construction seemed spare after the ornate churches we'd seen. It has its own beauty, though—a note of majesty in its simplicity.
the Barhal (Altiparmak) Monastery
The rain returned, so we decided to head down to lower altitudes for hoped-for heat. The road was less busy (thank goodness), and we only met a few vehicles.
After a quick lunch in Yusufelli, we headed off to find the Dörtkilise (four churches). We had nearly given up when we discovered a sloping, tree-shaded meadow with a massive stone structure above it. Aha! Believed to be built before 960, the main church was much like Barhal—a double-roofed affair, though far more ornate. Plants growing from the walls and roofs added to its charm. We tramped the hills exploring the ruined chapels beside the church, which is still impressive. We were surprised to find some frescoes still intact on the walls of the ancient sanctuary.
Dörtkilise Monastery-main building
Dörtkilise side building with arches

And then—the real adventure: finding a place to rest our heads. In the tiny hamlet of Takkale, we came across Cemil's Pension, a jerry-rigged and totally charming establishment situated on the river. Cemil was a congenial host, offering the usual tea and chatting with us in English, Turkish, and French. He was also the chef, and prepared us a delectable dinner of fresh trout (caught by him that day) complemented with fresh garden salad (from his own garden), bulgar, and succulent grapes from his vines. Oh, my. And rakı—my first in Turkey—as we sat outside chatting after dinner. A fine finish to a lovely long weekend.
Cemil creates breakfast in his sweet little kitchen
Cemil's kitten waits on a railing for leftovers
FINALLY…the sun returned for our Tuesday breakfast and trek back home. Wouldn't you know it!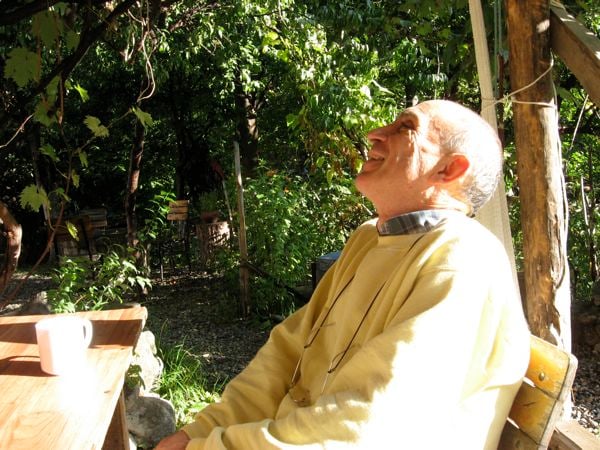 My friend John revels in the morning sunshine.