I've been curious about it for years. Friends have trekked to Selcuk for the famed January Camel Wrestling Championships, but both times I've been home in Minnesota. Well, not this year. My friend David and I started talking about camel wrestling a few months ago, and we made it happen.
Camels and Ataturk—how TURKISH!
Everyone met Friday night at the Sabiha Gokçen Airport (named after a female Turkish pilot) for the trek to Selçuk, near the Aegean Sea. From there we rented a 9-passenger van (and squeezed in 10 teachers from Koç and Robert) for the hour-plus ride to Selçuk (Sell-CHOOK) and Şirince (Shear-IN-jay). We dropped off a few riders in Selçuk, then headed up the winding mountain road in the dark. It was after 8:00 when we got to Şirince, and we were famished. We trekked up the stone-paved street to the Artemis, a quaint restaurant in a renovated stone school building. There we feasted on a variety of mezes, Şirince's famous fruit wines (black mulberry and cherry), and a variety of sumptious entrees. I had köfte (meatballs) with tomato sauce and yogurt over pide bread. YUM!!!
The mountain village of Şirince
Then in for a real treat—the Nişanyan House. David drove us up yet another winding road to a precariously slanted parking lot. We picked our way down stone steps to the office—charming! A sleepy-eyed young man guided us down a steep path, many more steps, more winding, and finally to the Kerevetli Ev (Wooden Platform Bed House). We explored our historical residence room-by-room. First, the kitchen with its antique cupboards and bright ceramic trim, then the living room with its inset paned-glass windows and rounded fireplace flanked by two easy chairs. The marble-topped table was set with guidebooks, candles, and a chocolate snack.
Our quaint kitchen…
Up a hand-hewn circular staircase we discovered a mammoth bathroom with a timber-beamed ceiling and a skylight over a huge open marble shower. A pedestal candle sat beside the toilet. The upstairs also had a bedroom with two duvet-covered beds. Best of all, though, was the harem, where the women would have lived and slept back in Ottoman times (1250-1930). The biggest room in the house, it was surrounded with windows and a cushioned bench. A low table sat in the center of a huge Turkish rug, but the crowning glory of this room was the bed. It was a built-in curtained platform that could easily sleep five women on its ample mattress. Really.
The Harem with its platform bed  (photo from Nişanyan web site)
Saturday morning I was the first up, so I rooted around in the kitchen, happily discovering a French press pot and some dark-roast coffee. Yes! Breakfast waited patiently in a picnic basket on a shelf in the refrigerator. David scuffled down, and we chatted over morning coffee until the others roused. It was raining, but we were happy. Breakfast consisted of the usual tomatoes, cheese, olives, preserves, fruit, and eggs. When Anna cracked her hard-boiled egg on the table, she realized too late that it was raw. OOPS!!! We quickly rounded up the remaining eggs to scramble. The next morning Walter concocted a delicious omelet of grated potatoes, peppers, cheese, and eggs. Oh, we ate well last weekend.
a view of Şirince from just below our house
After cleaning up, we headed for town to explore the little market area of Şirince, then hopped on the mini-bus to Selçuk where the camels would be making their appearance prior to the Sunday wrestling "match". We meandered through the market, where we heard the distant beat of drums and horns. We followed the sound to find…drummers and pipers. No camels. Plenty of rain.
We explored the city center, where vendors were grilling camel meat (actually very delicious—quite lean) and selling camel festival neck scarves. Well, of course we bought some.
We found a restaurant and ordered lunch as well as a round of adult beverages. We decided to take advantage of the dry warmth of the restaurant and made it our big meal of the day. Before we knew it, other teachers joined our party, doubling our numbers. Hooray! Sated, we found our way back out to the street, only to discover that it had stopped raining and the camels were in the meydan (town square). HOORAY!!! We hot-footed it up there and snapped photo after photo as the drummersand pipers riled the camels with their racket.
We think this guy must have been a champion–he just has that look.
Soon they were frothing at the mouth like you wouldn't believe. They looked like someone had slathered their noses with shaving cream, and sometimes they'd shake their heads and spew it all over the onlookers.  The camels were saddled and decorated in layers of brightly-colored felt, scarves, wool, mirrors, embroidery—you name it!
Not only froth, but tiny bubbles…
The boys milling down by the local aquaduct.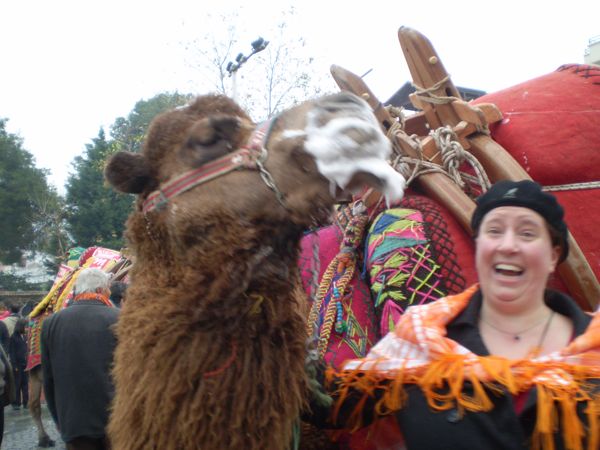 My friend Karla  found herself a new beau!
It was clear that they were ready for action, although their drovers kept them well under control, often walking them in circles to settle them down. They often rolled their heads back and forth to the beat, just a little like dancing. One of the drovers had his camel splay his back legs to show off how stable he'd be in a match. We were impressed.
The drover of the champion camel
And here's a fighter's stance!
Poor guy, though. He never got to wrestle. Sunday we woke to rain. Heavy rain. We'd been told that camels aren't partial to rain, and if it's raining they just mope and won't wrestle. Yup. The whole thing was cancelled due to rain. Sigh… Saturday night we went back home and ate mezes and played word games by a crackling fire until the wine was gone and we could keep our eyes open no longer. After Sunday's breakfast when we learned the wrestling had been cancelled, David and I took a drizzly walk through the village to visit Şirince's two historical churches. The rain let up for a while, and we snapped photos and enjoyed the many-faceted views of this little mountain village.
The Sunday morning clouds lifting off the mountains over Şirince
A good neighbor sweeping her front step even in the rain.
Then we went back to the house, where Walter had a crackling fire going. The others curled up with books by the fireplace, while I headed up for the cool airiness of the harem. Propped on numerous pillows in the corner by the windows, I read as the morning clouds dissipated and the sun hesitantly emerged over this quaint mountain village.
Courtney, Walter, and Anna reading by the fire
The sun finally beams down on Şirince
We may have missed the camel wrestling, but we had a heck of a nice weekend. Şirince ROCKS!
If you'd like to see a beautifully done  multi-media piece on the 2009 Camel Wrestling in Selçuk, click this link: Camel Wrestling – Selcuk, Turkey