Our second week in Istanbul was less eventful, mostly because we'd been pummeled by the Turkish cold bug. Poor Lynette had it the whole time we were there. So unfair!
I started feeling punk on the way back from Cappadocia. I knew I had a fever by the time we got to the Kayseri Airport, so we went up to the cafeteria to get some hot water for a cup of Tylolhot, the Turkish cold remedy that we basically mainlined for the rest of our stay. Well, enough of that. The show must go on!
Far more delicious than our Tylolhot was the Turkish Delight:

I talked Lynette (the Taxi Queen, as I later learned) to forego a taxi and take the shuttle bus to Taksim, 3/4 of the way home. It was a comfortable ride in a beautiful bus. Never mind that it took 1 1/2 hours. When we got to Taksim I suggested the funicular and tram (public transport), but Lynette was feeling crummy so we grabbed a taxi. Our driver seemed nice enough, but as we got closer to Sultanahmet he began complaining more and more. Many of the taxi drivers don't know the city well, and he tried to drop us off a half-mile from our destination. No way! We finally got him to drop us off a few blocks from the apartment, and I handed him the full 110 lira that was on the meter (about $45). He pulled the same trick our previous driver had pulled, swearing that I'd given him two 5's instead of 50's. I said "HAYIR, Çok ayip!" (NO, shame on you!) and we stormed off in spite of his protests. I wouldn't advise anyone to trust an Istanbul taxi driver. When we told Musa about it, he asked if we'd gotten his taxi number, but we hadn't. From now on, I'll take down the taxi number before I ever step into an Istanbul taxi. Oh, FURY!
Each day is punctuated by five (I think six) calls to prayer. Here' s evidence from a small mosque that these are broadcast live by each mosque's imam:

On Friday I felt better, although Lynette felt worse, so she stayed in while I headed off to Arnavütköy and Robert College. It was a sunny day and my heart filled with nostalgic warmth as I climbed the long hill to campus.
Robert College's main building, Gould Hall (in autumn):
The campus had hardly changed, although it boasted a new teacher's lounge (a previous computer lab) and a beautifully renovated library. I got to chat with a number of my teaching cronies, all of whom were almost as happy to see me as they were eager for their spring break, which began that day. I also basked in enthusiastic hugs from former students, both male and female. I'll never get over how warm the Turks are; I feel true affection both for and from my former students.
I trekked down to Arnavütköy to the bank and was pleased to see my gypsy friend still selling flowers on the main street.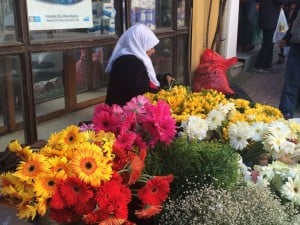 After a chatty cocktail hour at Bizimtepe, the Robert College alumni country club attached to the campus, I trekked back down the hill to head home. I expected a packed bus at rush hour, and I got one. It took an hour to crawl along the Bosphorus to Kabataş, where I'd catch the tram home—a quicker ride. When I got there I just missed a tram and had to wait for the next one, usually about 3-5 minutes. Well, it started to drizzle as the crowd increased, but no tram. After 20 minutes an announcement (in Turkish) informed us that the trams were stuck in a traffic jam in Sultanahmet near the train station. Sigh… We stood in that rain for nearly a half hour, and very few of us had umbrellas. Heck, it had been a gorgeous day!
A kind young man gave up a seat for me in the tram, one of the few perks of having white hair. By the time I got to the Sultanahmet stop I'd quit shivering, but another six-block walk in the rain didn't do my cold any good. By the time I got back I was losing my voice, which was totally gone the next morning.
Lynette and I did manage to get out a few more times, but we had to cancel three social engagements because we just weren't feeling that great. So—Bahadir, Julide, and Mark and Jolee: I'll definitely see you on the next visit!
I couldn't resist including this view over the Golden Horn from the Süleymaniye Mosque:

We did manage a short trek to the Maiden's Tower for tea. The Maiden's Tower (Kız Kilesi) is steeped in myths, my favorite one that it was built by a sultan to protect his daughter from a foretold death at age 18. The sultan visited his daughter regularly, and on her 18th birthday he brought her a basket of food and gifts, unaware that someone had sneaked a viper into the basket. Of course, it struck and killed his precious princess.
The Maiden's Tower perches in the Bosphorus just across from Sultanahmet near Uskudar:
This princess is having her wedding photos taken in front of the Maiden's Tower—note the hair-covering headpiece.

We also found our way on the metro to the Chora Church (Kariye), a stunning Byzantine church near the old city wall that has been cleaned and renovated. Sadly, the naos (main area) of the church was closed for renovation, but there were plenty of beautiful mosaics and frescoes for us to see. It's supposed to be one of the best preserved Byzantine churches in the world.
This stunning dome is a part of the narthex decorations in the Chora Church:
And this glittering masterpiece decorates a section of the ceiling of the narthex:

After both outings we came home and collapsed on the couch. Energy levels were NOT high.
We'd planned a trip to Emirgan Park on Monday to see the tulip displays, but we just didn't have the energy. Instead, we headed down to nearby Gülhane Park, just below Topkapı Palace. The tulips there were in full bloom, and people were out enjoying them, snapping photos and basking in the beauty of Istanbul's Tulip Festival.
This river of tulips and hyacinths (not all blooming yet) flows under the bridge in the background.
In spite of a cloudy day, people basked in the luscious displays of Istanbul's Tulip Festival.
This little miss waited her turn to pose with Mustafa Kemal Ataturk, the founder of the Turkish Republic:
And this little dolly was pleased to pose for a tulip snapshot: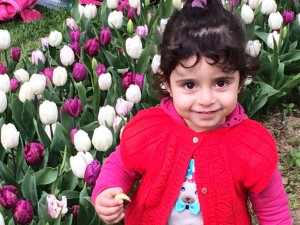 We topped off our final evening with a bowl of mercimek (lentil soup) in a small restaurant near our apartment. Pretty quiet, but nice. Istanbul is a good place, even for those a bit under the weather. Bed by nine, and up by 2 AM to catch the airport shuttle. No more taxis for us!