History, intrigue, and spectacular architecture abound in this city of 10,000,000 plus, as I've been reminded by Edda Weissenbacher. Over the years, Edda has compiled a series of historical walking tours of Istanbul, and on Saturday my friend Marnie and I explored the area around the Suleymaniye Mosque with Edda (and ten others).
We began inside the mosque itself, the grandest in Istanbul. Built in 1550-1557 by Sultan Suleyman's gifted architect Sinan, it is the largest of the nearly 100 mosques designed by Sinan. Since he didn't become the Sultan's architect until he was in his late 50's, that's a pretty incredible accomplishment. (He lived to nearly 100.)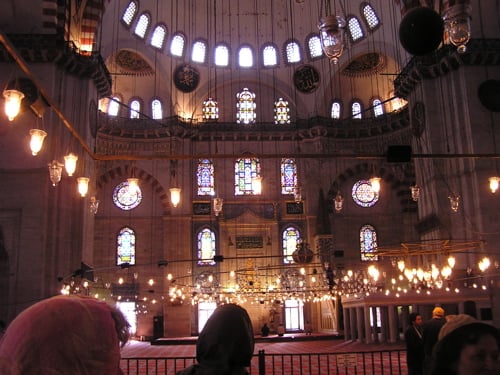 THE SULEYMANIYE MOSQUE
The mosque sits atop a hill overlooking Istanbul, an imposing edifice to Suleyman the Magnificent, known to be the greatest of the Ottoman Sultans. I just finished reading THE SULTAN'S HAREM by Colin Falconer, a historical novel about Suleyman's life. Edda's historical tales all meshed surprisingly well with the events in the book. Hurrem, Suleyman's favorite concubine, manipulated him into marrying her (though it was unheard of for a sultan to marry a slave), then tricked him into believing that his heir, Mustafa, was a threat to his throne. Suleyman ordered his son strangled by his bostanci slaves. Intrigues abounded in those times, and the unfortunate outcome of Hurrem's deceptions was that her depraved son, Selim the Sot, succeeded his father, and his reign began the downfall of the Ottoman Empire.
A CHIMNEY-TOP VIEW OF ISTANBUL
But there was so much more than that on Edda's tour!
We saw Suleyman's tomb, with Hurrem's built beside it within the grounds of the mosque. Sinan's tomb breathed free outside the walls. Edda showed us the stone where traitors were beheaded, and we visited the mosque that Suleyman had built in memory of his slain heir, Mustafa.
IRIS AMONG THE TOMBSTONES
We saw ancient Christian churches (now mosques) dating back to the 10th century, as well as an ancient library. We followed a street vendor wheeling his kofte (meatball kabobs) cart down the cobbled street with the aid of his young son.
KOFTECI AND SON…
One of my favorite things, though, was the Vefa Bozacisi (1876), a boza bar. It looks just like an Irish pub, except that it dispenses only one thing: boza, a non-alcoholic drink made from fermented sweet millet. As we stepped into the bar, a white-capped man stood behind the counter scooping thick, yellow boza from a marble terrine into glasses. He arranged them on the bar and sprinkled each with cinnamon.
BOZACI BEY POURS THE DELICIOUS DRINK
We helped ourselves to a glass, found seats at the tables, and tried our first tastes of boza. Most of us liked the thick, custardy drink, though a few were put off by it's slight tang. As we sipped, Edda regaled us with tales of the area, then a nut vendor circulated among us, sprinkling roasted chickpeas into our hands. We dropped them into the boza, which added yet another interesting taste and texture to our culinary adventure.
THE BOZA BAR
In years past, a boza vendor would walk the streets each evening, calling "Boza! Boza!" He would dispense the drink from a canister that he carried on his back, washing the glasses with water from another container at his side. In addition to bottles of vinegar and ornate mirrors lining the walls of the bar, there was of course the obligatory picture of Mustafa Kemal Ataturk, and on the same wall hung a glass case with the silver-bedecked glass used by Ataturk on a visit to the Vefa Bozacisi.
After that respite, Edda continued our tour, bringing us by more ancient churches (one originally built in 598). She showed us the Aquaduct of Valens (first built in the 2nd century and reconstructed in 375 AD), which carried water from the Belgrade Forest (outside Istanbul) into the city, where it was stored in vast underground cisterns.
A MUSLIM MAN PRAYS IN A REFURBISHED ANCIENT CHURCH
This tour was incredible. I'd visited the Suleymaniye Mosque before, but with no clue of the historical treasures that surround it. Thanks to Edda, my eyes have been opened.
After bidding our tour mates farewell, four of us joined Edda at a sidwalk cafe outside the mosque for a lunch of fasulye, a scrumptious Turkish bean dish. What a finish! What a day!
What a perfect, exhilarating, fascinating day!
ANN MARIE AND EDDA-ISTANBUL LOVERS LEAGUE