Spring break finally arrived, and I couldn't wait to get to Trondheim to see my friends (Anne, Tony, and Nona) and to SKI! I've really missed skiing these past two years, so imagine my delight when I arrived in a snowstorm. Hooray! (Cross country skiing just isn't big in Istanbul, even when there's snow.)
Saturday afternoon we wandered the city in the snow, then opted for a movie. The city was deserted, as Norway closes down for Easter week, including Easter Monday. No buses run, no shops are open—Norwegian businesses are clearly less mercenary than American stores.
SNOWFALL ON THE RIVER NID

Easter Sunday we headed eagerly to nearby Bymarka Mountain Park to ski. Bymarka is a huge park that covers an entire mountain, and it has hundreds of kilometers of ski trails, as well as a ski jump. We stopped midway for a lunch of waffles with jetost (sweet goat cheese), lefse, and cocoa. I was amazed that rather than sitting inside, people settled happily into spots in the snow while they ate. Norwegians are DEFINITELY outdoor folks. All along our tour, we saw groups nestled into snowy settings everywhere, picnicking, sledding, and just enjoying the day.
RELAXING FOR A PICNIC IN THE SNOW

We skied 15K, then returned Monday for yet another 5K. ARAUGHHH!!!Muscles screamed from every part of my weary body. Of course, I was smiling anyway; it was welcome pain.
I've always considered myself a competent cross country skier. Not great, mind you, but good enough to take on nearly anything. Well, these mountain tracks are challenging, and the experience was humbling. Mere three-year-olds raced by me, as well as skiers nearly twice my age. Children too small to ski are pulled behind mom or dad in a Pulke, a cozy ski sled with a windshield. Tony skis with his dog Major attached to retractible lead, as do many skiers. Skiing is definitely a family affair. In fact, Anne and Tony had to borrow equipment for me, as there is no such thing as ski rental here. Everyone has their own gear.
SO I'VE LOST MY SKI-LEGS–BIG DEAL! ANNE AND ME AND NONA:

Trondheim is gorgeous—mountains, lovely multicolored buildings, a river (Nid) through the city, ancient cathedrals, and the fjord–ah, yes, the fjord. After our Easter ski, we took a drive along the fjord to revel in the picturesque shoreline punctuated by fishing huts and lovely farms. Norway is obviously a prosperous country. In fact, it is one of the wealthiest countries in the world. And it shows. People aren't ostentatious, but I saw nothing that even approaches poverty. And NOTHING here is cheap.
Monday night we ate at a little restaurant called Tavern Vertshus Siden 1739. That would make it nearly 300 years old, wouldn't it? My goodness! It was a charming place, with a maze of tiny rooms leading off the main bar room. The tavern must have been an inn at one time, still decorated with rugged antiques. We stepped back into another century. We chose the buffet menu of salad, boiled potatoes, and spare ribs with BBQ sauce to die for. YUM!
DINING AT THE TAVERN VERTSHUS SIDEN 1793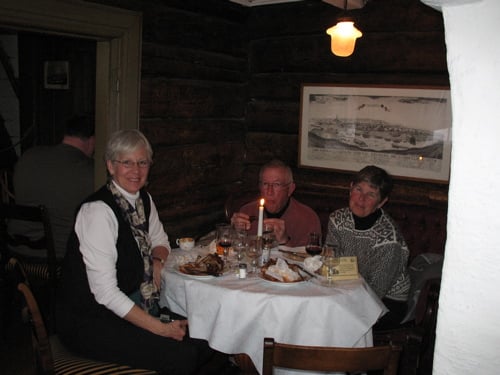 I've also done other tourist things. We toured the gothic Nidaros Cathedral (circa 1000-1100), which houses the tomb of St. Olaf. Dark.
PEERING UP THE SPIRES OF THE NIDAROS CATHEDRAL

Then Tony guided Nona and me to a number of secondhand stores, where beautiful Norwegian sweaters can be purchased for five to thirty dollars. Not bad, compared to the $300 retail prices. Then yesterday we visited the National Museum of Decorative Arts, an eclectic collection of items from the 1700's on. We've also meandered much of the city in pursuit of its many statues.
THE WELCOME WOMEN AT THE INFORMATION BOOTH

Our last stop yesterday was the public library, one of the nicest I've ever seen. We had a mid-afternoon latte in the library coffee shop, then headed home to make a delectable creamy fish soup. YUM! Today I helped out with a Macbeth project at Anne's school, and tomorrow–who knows?
The snow has melted, and the sun is shining. As I often say, life is good!