I continue to be amazed at the kindness of the Turkish people. "Good morning, Ms. Mershon. How are you today?" echoes from numerous students as I enter the building. Except for Erol, who teasingly salutes as I pass.
My precious and diligent 10-hour English class—what's not to love?
My face is growing familiar to people in my little community of Arnavutköy, so I receive many greetings as I walk Libby down its cobbled streets morning and evening on our way to the Bosphorus. "Merhaba. Naszilsınız?" (Hello. How are you?) I have to admit, it warms my heart. There are dogs on every street that have come to know Libby, whether they sniff, bark, or just stare through windows…

One of Libby's 2nd-story Arnavutköy fans.
I was significantly touched at the warmth of the Turks with a couple I guided through Sultanahmet a few weekends ago. I brought them up a stone stairway to the top of the Sair Han for a stunning panorama of the city. After oohing and ahhing a bit, I commented that there used to be a little shop up there where they made baseball caps. Gary said he'd read there were 40,000 textile factories in Turkey and wondered if many were small ones. I peeked through the doorway and discovered two people working at sewing machines while a few others stacked and organized hats a la Bartholmew Cubbins—and smoked.
This shop brought Bartholmew Cubbins to mind.
I asked (in my most polite Turkish) if we might come in to see, and they welcomed us warmly. My friends marveled at the quality of the felted woolen caps (with earflaps), which we learned were destined for Russia. Gary tried one on, then asked if it would be possible to purchase one. "Bir şapka ne kadar? Bir tane alabilir miyiz?" I translated.
The shop manager with Gary and his new "hediye" hat.
"Hayir," (no) the older gentleman said, then handed a cap to Gary. "Hediye." It was a gift. He offered us tea, and while it steeped he guided us to a second room tho show us how they cut piles of fabric pieces and molded each stitched cap on a steamer. Though it was a small operation, he said they produced 500 caps a day.
You can't see the steam, but it's emanating through that cap.
We sipped our tea outdoors, happy to be away from their cigarette smoke, yet even happier to have met them.
Later we visited the Buyuk Valide Han where a young man named Serkan crafts glass lamps and "antiques" for the Grand Bazaar. I asked if he would solder a piece of my brass and copper bracelet back together, and he cheerfully agreed to. He suggested we look at the view from the han's roof, and he found former weaver Mehdi Bey, who also brought us to see an ancient loom that has long since been hushed.
Mehdi Bey tells us (in Turkish) about this old loom that now rusts away in an abandoned shop.
When we returned Serkan handed me my bracelet, now beautifully buffed and polished. I was astonished. I pulled out a bill and handed it to him, but he refused, saying it was for his friend. Blush. I promised myself I'd return to buy more hanging lamps for my porch, and I was relieved that my friends bought a few items for themselves.
Back in Arnavutköy my kitchen cabinet knob kept coming loose. After repeatedly screwing it in tighter only to have it fall off, I decided to look for a longer screw. I'd purchased an umbrella the other day from a tiny nearby hardware store that spills out onto the sidewalk, so I decided to start there (not hoping for much).
One of Arnavutköy's less welcoming inhabitants–I think we interrupted his nap.
The proprieter welcomed me into his shop, cutting short his cell phone call to greet me and offer his service. Try to imagine my pathetic Turkish request, which must have sounded a bit like, "I longer need for like this please?" The proprieter nodded, then walked back through a narrow aisle and pulled out a few drawers of assorted screws. He held my knob and screw in one hand as he rummaged through the drawer and compared it to one screw after another. He finally found one that matched my screw in width, but it was far too long.
My kitchen, now brighter and happier with its new retr0-fitted knob.
I thanked him for his time, but he reassured me. "Problem yok, Kesebilirim," or something like that. "No problem. I can cut it."
He pulled out a mammoth pincers and worked at that screw, turning and twisting it as he squeezed on the pincer. He ended up bending the screw, so I assumed we were both screwed. "Problem yok."  He grabbed a pliers to straighten it, then used a small nut to make sure the threads were true. He spend about fifteen minutes with me, and I was both amazed and relieved to have found a solution to my problem without a trip to the city. Whew!
I pulled out my embroidered Turkish money purse to pay him, and he waved me away. "Hayir. Hayir. Çok küçük. Hediye," he said. Again, a gift. I pressed him to take payment, and he refused a second time, then offered me a cup of tea.
Oh, those Turks!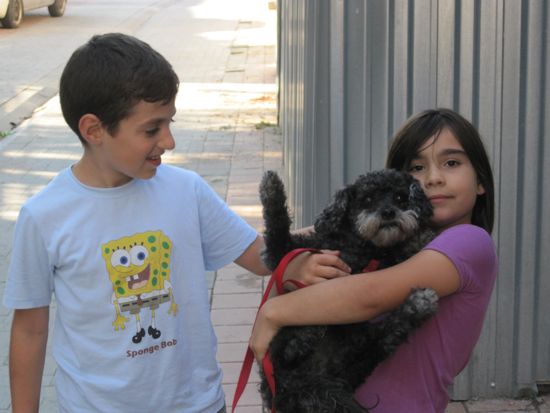 Young neighbors who took a real shine to Libby.