It's heaven to be back in friendly, fascinating Turkey, and I'm sharing it with 20 friends. People asked me to organize a tour of Turkey, and this is my compromise—an exclusive GoAhead Tour for just us. It's been beyond fascinating.
I've traveled Turkey on my own, often with guided tours of particular sites, but this tour is amazing. We have a spanking new Mercedes tour bus and our own full-time guide, who talks us through the historical, political, and social facets of Turkey as we pass through.
The Sultan's bedroom in Topkapı Palace, Istanbul:
The domed ceiling of the majestic Haghia Sophia, Istanbul:
School girls waiting to use a rest room in Sultanahmet, Istanbul:
We spent two days in Istanbul before heading west down the Gallipoli Peninsula, where we ferried across the Dardenelles Strait to Troy. Hard to believe, but someone actually discovered the location of Ancient Troy where the great battle was fought over Helen. We're all amazed at Mehmet's vast knowledge of Turkish history and the archeology of each site.
Our wonderful tour guide, Mehmet Çabuk:
One great help on our tours has been "whisperers", remote headsets that carry Mehmet's comments to us without him having to yell. It's an amazing improvement, especially for those of us who are hearing challenged or who tend to wander off taking photos.
We continued south along the Aegean Sea as Mehmet transported us back in time through the Persian, Roman, Greek, and Ottoman empires (among others–see the link at the top of my blog page for an interactive map of the Mediterranean's historical empires).
Standing columns at Pergamom:
Ephesus, of course, was a highlight, one of the best-preserved ancient cities in the world. It blew my mind to think that 250,000 people lived there over 2000 years ago.
Our Group heads down the main street in Ephesus, Turkey:
A few of us split off to see the upper-class terraced houses, which had intricate wall paintings, floor murals, and stunning marble wall coverings.
Mosaic floors in the terraced homes at Ephesus, Turkey:
We also visited the reputed home of Mary, the mother of Jesus. Though I'm not convinced she really lived there (so far from Bethlehem), she apparently fled Jerusalem to avoid persecution for the evils of her son. I have to admit, though, it was a serene mountain-top setting, and I was surprised to see that it was visited by many Turks. People don't realize that Islam embraces Biblical history with Jesus as a prophet and that Mohammed was the next prophet after Jesus.
The home of Mary…
We also visited Şirince (Sheer-IN-jay), a quaint mountain village that lost its Greek-speaking citizens in the population exchange at the end of the first world war. It gave us a taste of rural Turkey as well as a few sips of the fruit wines it has become famous for.
Şirince's Greek-style homes near Selçuk, Turkey:

Our next stop was Didyma's Temple of Appollo, a 2500-year-old oracle second second in the Hellenic world only to the Oracle at Delphi. Young female priestesses inhaled gasses emitting from the ground and gave cryptic answers to questions from people who traveled many miles to consult the oracle about their fates. Intricate marble carvings surround the temple, including floral patterns, griffons, and repeated images of Medusa. Two of its 60-foot high columns still stand, majestic above the ruins.
Medusa guards the Temple of Appollo, Didyma:

That evening we landed in Pamukkale, where an entire mountainside is covered with glittering white precipitate from hot mineral springs that flow up from the mountain. Our group's scientists (Jerry Wilkes and Dan Bale) enlightened Mehmet about the chemical composition of the water and the resulting carbonate formations. Apparently the water carries calcium bicarbonate in solution, which solidifies into calcium carbonate as it evaporates. I must admit that I don't much care what it is, but they're thrilled to have resolved the confusion. At any rate, it was gorgeous, and we enjoyed wading through some of its many pools.
Jerry and I wade in the mineral pools of Pamukkale, Turkey: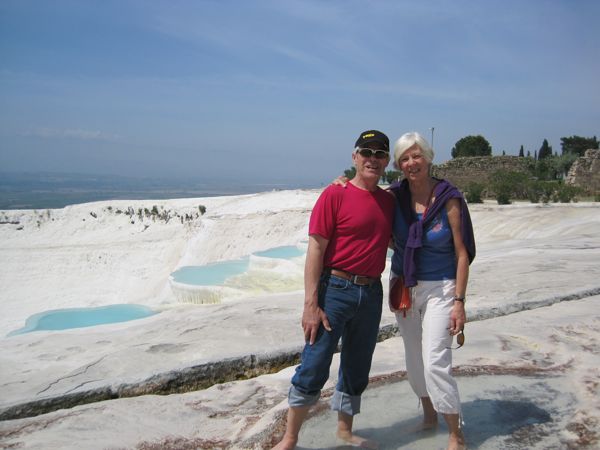 The highlight of Pamukkale was the ruins of Hierapolis, a huge city dating back to 200 B.C. Apparently it was the first city to be laid out in a grid plan, something we've carried to modern times. Some of us took a mini-bus tour of the ruins, and our driver's 8-year-old son, Ahmet, joined us. He was off school for Children's Day, a national holiday in Turkey. Ahmet joined us to practice his English, asking and answering simple questions in English. I had fun chatting with him in Turkish, in spite of my paltry vocabulary.
How could I help but pose with darling Ahmet?
He shared his English manual, and we got a charge out of the phonetic translations. Turkish is a phonetic language where every letter always makes the same sound, so it was fun to see their take on our phrases:
"I'm very sorry." = aym veri sori
"That's all right." = dets ol rayt
"It doesn't matter." =it dasınt metır
"Sorry to bother you just now." = sori tu bodhır yu cast nau (a Turkish 'c' is pronounced as a 'j')
"Goodbye" = gudbay
"See you later." = si yu leytır
Ahmet was happy to point out all the lizards sunning on the sarcophagi. He was absolutely precious. He also explained (in Turkish, translated by Mehmet) that gold coins were placed in the mouths and palms of wealthier people when they were buried. Funds for the next life, I suppose.
The theater of Hierapolis in Pammukale:
Our spa hotel in Pamukkale had its own thermal bath, a cone-like formation outside one building that spouted hot mineral water that poured into a pool that stretches into the building, leaving calcification as it flowed. Though the water was murky, it was a natural hot-tub that soothed our bodies as well as our souls (and didn't stink).
The mineral spring at the Lycus Hotel, Pamukkale:
The spa pool was a little murky, especially compared to the clear azure of the unheated outdoor pool. Jerry and I, desperate for exercise, swam laps in the pool in spite of its frigid temps. It was over 70 degrees outside, but the pool couldn't have been much over 50 degrees. BRRR!!!
One of the major frustrations of this trip has been the price of wine in the hotels. We bought a bottle of rose thinking it cost about 25 lira. ($16). We excused its bitter taste because it was so cheap, but later discovered that we had had mistaken the single glass price and were charged 70 lira ($45) for a crappy bottle of wine. I'd NEVER pay that much in the U.S. Of course, I'm pretty cheap.
A ponderous Turkish tourist at Ephesus, Turkey:
It's been a joy to share my favorite second home with friends, and they seem truly happy with what they've seen. And my goodness—have we learned a LOT!!!