Sandra left a day early, so we I parted ways at the Hong Kong Central Station, where I boarded the metro for our (my) hostel, the Oi Suen Guesthouse. Luckily, I'd perused their instructions on Facebook, because everything was in Chinese. The 8th floor concrete hallway was dreary at best, and I followed it past a few hostels until I found the Oi Suen sign. A young Chinese man welcomed me but spoke no English. Sigh… We figured everything out, and he showed me to my cell. In its defense, it was clean. It was taller than it was long or wide—a light-green-tiled compartment, I'd call it. He pulled the dingy sheet off Sandra's cot and flipped it up so I had a wooden platform for my stuff. No extra space. No window. There was an air conditioner and a fan, and a tiny green tile bathroom.
My "cell" at Oi Suen
I coped, thanks to earplugs and my computer. I wandered the streets and enjoyed a sweet & sour pork dinner with shrimp wontons–about the only Chinese food I've liked.
Whew!
Next stop: Bangkok. Curt—the saintly husband of my friend Beth's sister, Kathleen—waited in the endless arrival hall holding a sign with my name on it. He guided me across the city on public transport while Kathleen finished her day teaching at the Bangkok Christian College, a boys' school. Curt gallantly carried my 35-pound suitcase up and down more stairs than I could count, and we finally landed at their classy apartment complex. Curt had just started working weekends for Habitat, refurbishing schools and building houses for flood victims. What a guy.
We shared a scrumptious Thai dinner, and the next morning Kathleen and I rendezvoused for breakfast with my good friend Leah.
Kathleen and I at breakfast
The five of us (Leah had two guests from the U.S.) took a boat upriver (an adventure in itself) to visit Bangkok's Grand Palace–think Anna and the King of Siam.
 Leah and I on the boat to the Grand Palace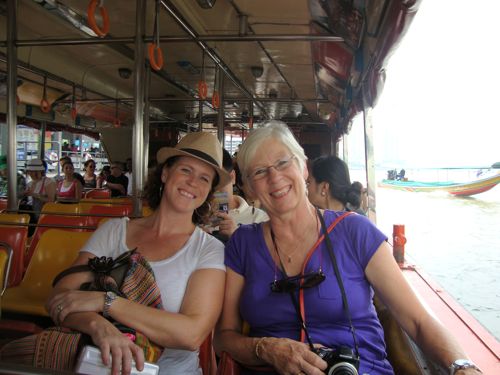 Big hotels provide these river shuttles
The palace was stunning in spite of the repeated showers that deluged us.
Love the rooftop decor on the Wat (temples)
A smiling monk welcomes visitors to the palace grounds
This lion guards the entrance to the Jade Buddha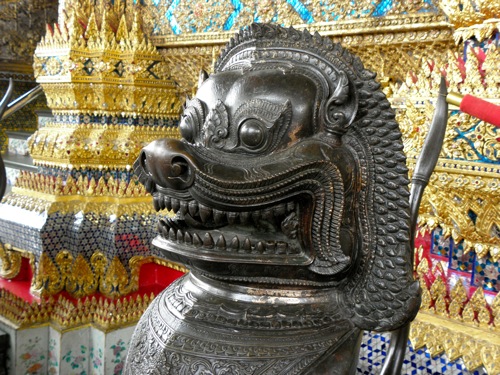 I often saw these five-headed serpents guarding stairway entrances: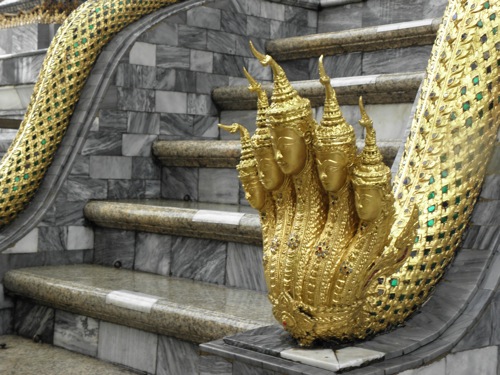 Even live guards prevent encroachments in the palace.
We also visited the 150-foot-long Reclining Buddha (gold) in the Wat Pho Temple.
This reclining Buddha's head had to be  five feet from chin to eyebrow.
Temples abound in Bangkok, and if that's not enough, most buildings have an ornate Spirit House at one corner, designed to please the spirits (both good and evil) that might otherwise create mischief for the residents. Saturday morning we passed a spirit house where people had left flowers, eggs, fruit, and a roast duck. I hope these are later shared with the poor (if the spirits don't devour them, of course).
A typical spirit house in Thailand

After a few nights with Leah, I flew to Chiang Mai in northern Thailand. I was picked up at the airport by a young man who led me to what I thought was a pickup truck with a topper. Not so. It was a songthaew, or two-bench bus, a typical form of transport in Thailand. The covered bed of the truck has two facing benches, and the back is open, so it's important to hang on to the ceiling rod. No seat belts. I sat alone in the back, although the passenger seat in front was vacant. Oh, well.
This  songtheaw waits to load outside a school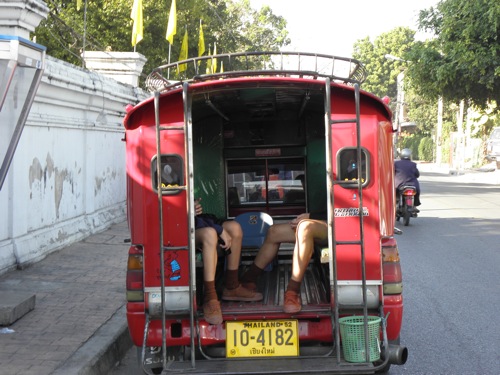 It took a half hour to get to the Secret Garden, an exquisite little bungalow resort 12 kilometers from the city. The air resounds with gentle music, bird songs, and the splash of a fountain near the thatched dining room. It's absolutely lovely, rated second of over 300 Chaing Mai hotels (Trip Advisor). I'm staying in the Hibiscus, a spacious and well-appointed bungalow with a mini-kitchen, sitting areas indoors and out, and mosquito netting over the bed. Totally charming. I know I use that word a lot, but nothing else really works.
The Hyacinth, my home in Chiang Mai
a little fountain just outside the dining area
 The trickling fountain cools the atmosphere at the Secret Garden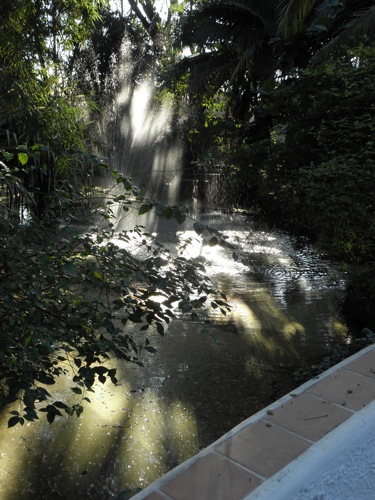 Tuesday I visited the Elephant Nature Park, a preserve that rescues handicapped and mistreated elephants. Lek Chailerk, the founder, has dedicated her life not only to saving elephants, but also to educating both the public and mahouts (elephant trainers) of the need to treat the animals humanely. There used to be about 25,000 elephants working in Thailand, mostly in the logging trade, but since logging was abolished in 1989, many have been destroyed while others have been enlisted into begging, tourism, and various other uses.

Elephants roam free at the Elephant Nature Park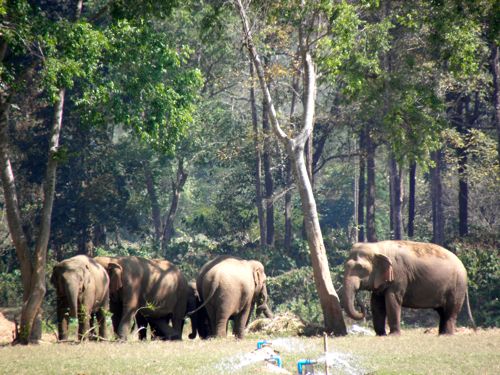 Some elephants are tame enough to be touched by anyone:
One of Lek's elephants was blinded by her mahout when she refused to work after her baby died in a fall from the mountain. Another was maimed when she stepped on a land mine. After watching an educational video on our way to the park, we helped feed the 35 elephants (who eat 10% of their body weight each day), we climbed in the river to help them bathe, and we watched them cavort in the mud.
Tons of bananas, pineapples, sweet potatoes, and squash are delivered daily.
One very tired elephant waits for lunch
Visitors and volunteers help feed the 35 pachyderms
We helped the more tame ones enjoy a daily bath
A mud bath is an afternoon treat
A few performed tricks for us (former circus elephants), and one has developed her own method of kissing people on the cheek. Let me tell you, that's some SMACK! The end of their trunks are huge and slobbery.
The KISS!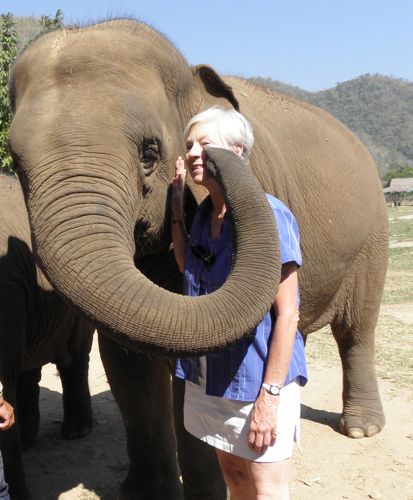 Each of the elephants has a mahout who sticks with it most of the day, and the loving bond between  them is almost tangible. Some of them are naughtier than others, and we watched the active and positive management of their mahouts.
This mahout stayed close to his elephant all day long.
And a final farewell to elephants!
Here's a video of logging elephants at work in 1925 (Thailand was then called Siam) http://www.youtube.com/watch?v=iKjaiW6gHPQ
Wednesday I caught a ride to the highway, where I climbed into a public songthaew for a 45¢ ride to the old city. I toured a number of temples (wats), then visited a museum, caught a very spicy lunch, and indulged in a Thai foot massage by a blind person. One hour for $4.50. Amazing.
A dichotomy at Wat Bupparam
Chiang Mai's famous Wat Phra Singh graces the old town:
Wat Phra Singh Buddha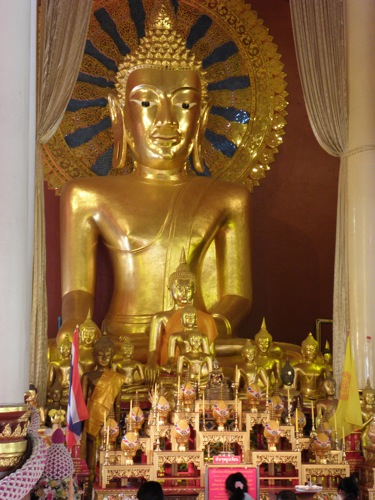 Wat Phra Singh back of the temple
Wat Phra Singh monk walks through park surrounding the Wat
On my last day in Chiang Mai I visited an umbrella factory where they make handmade bamboo umbrellas covered with handmade paper.
A worker ties supports to the umbrella ribs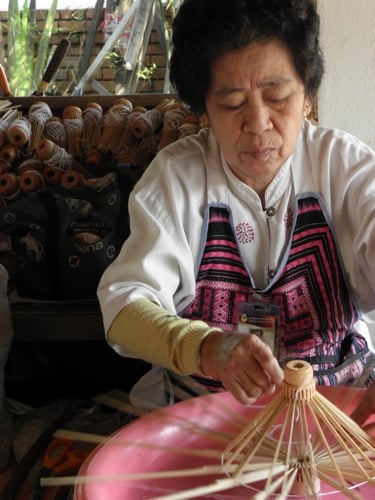 Another worker pounds a top onto the umbrella frame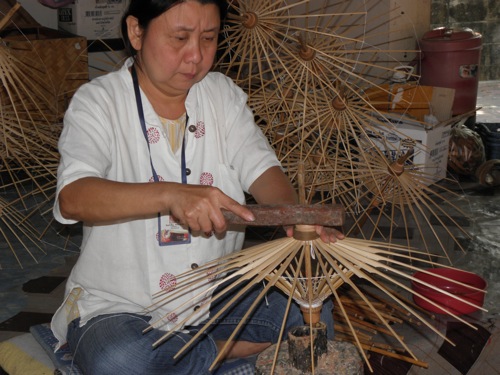 painted umbrellas dry in the sun
The umbrella and fan painters are also eager to paint your clothes, cell phones, and bags for a very reasonable price—between $1.50 and $5. These artisans worked like lightning and were great fun to watch. In addition to a few other embellishments on shirts and pants, I got an elephant butt painted on my camera lens. Why not?
An artist paints a design onto a tourist's pants ($1.50)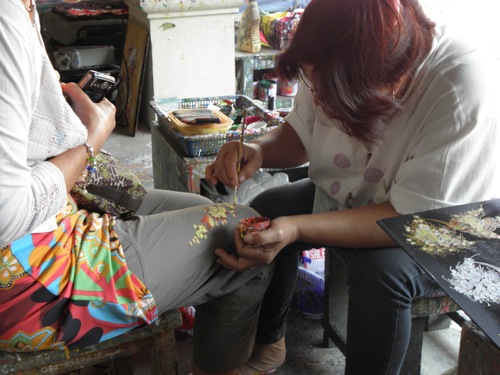 I brought in a shirt to be painted, which cost me double ($3)
I'm now back in sweltering Bangkok, and tomorrow I head back to Istanbul to pick up Libby, then Monday I head back home to chilly Minnesota.
Actually, I can't wait.