Me and the Brits are here enjoying the off-season in Malta. Why it's off-season I don't know. The weather is lovely—long-sleeved shirts, but sunshine prevails. It's my first solo vacation (probably my last), and my plan was to get lots of writing done on my teaching in Turkey memoir. Well, I've done some writing, but not as much as I'd hoped. Why? Well, this country is just too darned fascinating.
A typical street/sky scene in historical Malta.
I arrived Saturday mid-afternoon and headed down to Avis to claim my vehicle. Little did I know that as a former British Commonwealth nation, Malta follows the British system of roundabouts and driving on the left side of the road. ARAUGHHH!!!! It took me a while to get the hang of it, but I did OK—until I couldn't find my hotel. I was poking around some back streets when I heard a MAJOR crunch on the passenger side of my car. Shaking, I parked just ahead to check the damage. The other car was fine, but mine had a black scrape down the entire side of the car from their side mirror. Oh, my GOD! Fortunately, I'd sprung for the insurance. I stepped into a nearby hotel for directions, only to learn that Club Riza was just around the corner. I inched my little Huyundai around the block and parked it—gingerly.
I'm staying in a little studio apartment that's actually very sweet. It has a Murphy bed, so it feels like a living room as soon as I tuck the bed away into the wall.
I headed out for a walk to calm my nerves, and I came across a falconer training a very stubborn falcon. It was fun to watch, and I couldn't help but think of the Maltese Falcon by Dashiell Hammett. Apparently when the island was ceded to the Knights of Malta, the Spanish emperor required the payment of a single Maltese falcon each year in rent. It's said that Malta's peregrine falcons were known as the world's finest. Interesting.
The errant Maltese falcon…
and its frustrated falconer
I've enjoyed discovering the history of this 17-mile long mid-Mediterranean island. It's 60 miles south of Sicily, a strategic outpost for whoever happened to control it at any given time (Greeks, Romans, Arabs, French, Brits, Italians…). The island has been under seige for much of its history, so the shoreline is dominated by either cliffs or fortresses, both of which are awe-inspiring. The Knights St. John moved to Malta from Rhodes in 1530 after that island was overtaken by the Ottomans. Later known as the Knights of Malta, they defended their island country from attack for many years.
The fortresses along the harbor in Valetta
As a Roman Catholic country, Malta boasts countless breathtaking cathedrals and basilicas (what's the difference, by the way?), especially when its population doesn't even reach 400,000. Ask me how many church photos I have. (A lot.)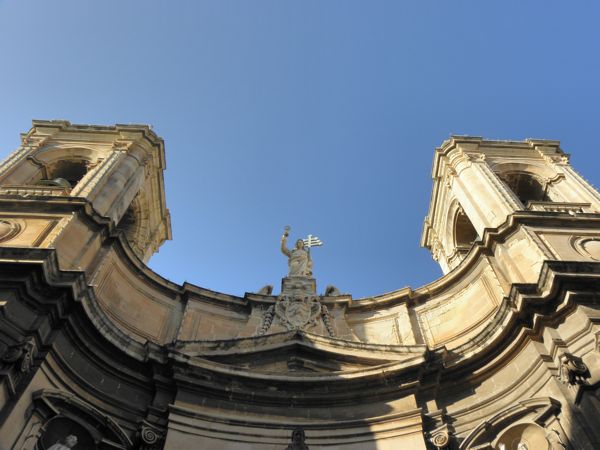 A church facade in Valetta, Malta
The interior of St. George's Basilica in Victoria, Gozo.
Beyond that, Malta has a few unique architectural features that fascinated me. I immediately noticed their wooden balconies, probably because they resemble those of Turkish Ottoman houses. Not surprisingly, both come from the same Arabic influence, originally intended to allow the harem (women) to see what was going on in the street without being seen uncovered. One guide told us that they didn't originally have windows, and that the women watched the street through little peepholes in the floor.  In Malta these balconies are historically protected, with government funding for upkeep and renovation. Most of them are dark green, though some are other colors.
Typical balconies in Malta old towns–these in Valetta.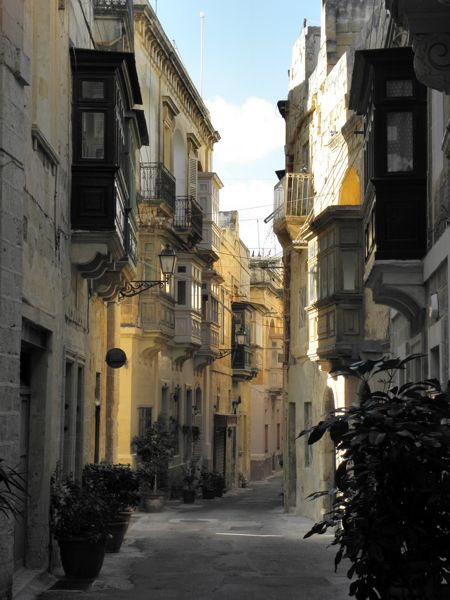 A street scene in Vittoriosa, Malta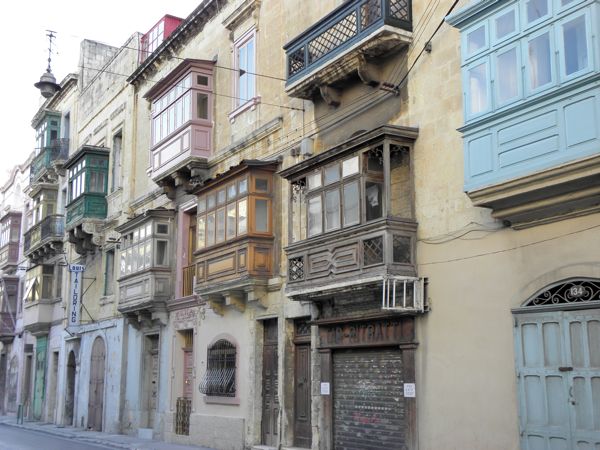 A mix of balconies in Senglea, Malta
I've also enjoyed the doors. Because most of the buildings are made of limestone (Malta is mainly limestone), doors are the only colorful features on many of the homes. Some have beautiful door-knockers, often golden fish. This is new to me, and striking (pardon the pun).
A Valetta door knocker
a brilliant door in the back streets of Vittoriosa
A Vittoriosa wine bar–closed for the afternoon. Sigh…

It's also common to see a religious icon next to a door—a frieze, sculpture, or painting, often of the Virgin Mary or Saint Lawrence.
"Our Lady of the Grotto"
a clear message to all who enter
I think this doorside miniature is porcelain—Vittorioso, Malta.

Statues of saints also grace the cornerstones of many of Malta's buildings. The deep faith of the Maltese is evident in nearly every neighborhood.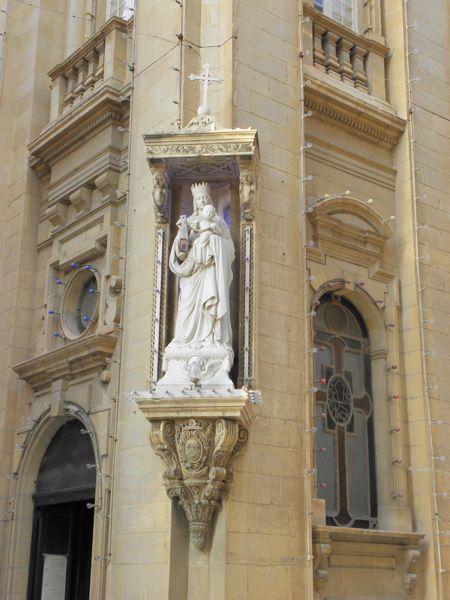 These icons appear on corners of churches and other buildings.
The light bulbs add a nice touch…

…and it gets even worse.
On my trip to Gozo (a small island north of Malta's main island), I enjoyed exploring some of the island's physical features, including an inland sea and the stunning Azur Window, a stone archway to the sea.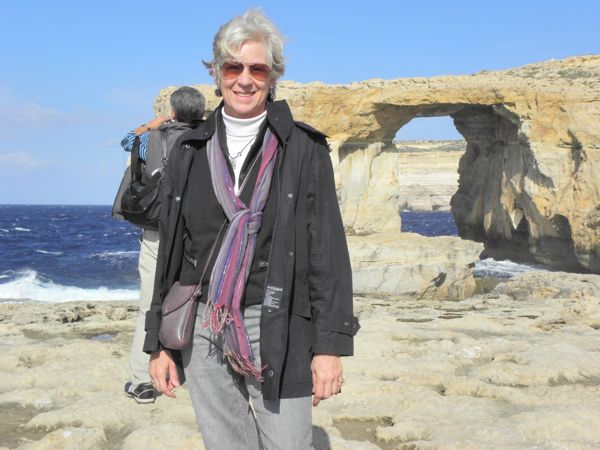 Me at the Azur Window on Goza
Another solo traveler and I hiked up a bluff overlooking the sea above a little fishing village where we'd had lunch. Speaking of lunch—the food here has been a disappointment. Because they cater to British tourists, and perhaps because of their British heritage, my meals have consisted of fairly tasteless meat and overcooked veggies. Oh—except for a wonderful salad plate of thinly-sliced smoked salmon, tuna, and cod. There's always hope.
Heading up the bluff after lunch
The people here have been kind and welcoming, but in spite of that I've been a bit lonesome. On my first day I drove into Valetta to tour on my own, and two very kind older men chatted with me for a while, but that was it. The next day I took a bus tour of the northern half of the island and joined a young couple for lunch, which was nice, but I was the "odd woman out" with all the couples. Sigh…
On the Gozo tour I palled around with another single traveler, a young Polish woman working in London. Natalia and I are both avid photographers, so our pace was compatible. I picked her up the next day to explore the three ancient cities of Malta . After lunch we hopped on a little Malta boat with Captain Joey for a tour of the harbor, then hiked back to my car from the other side. It was nice to share the adventure, nice to finally find a friend.
The harbor cruise 'vessel'
…and a typical Malta fishing boat.
All eyes and ears on the Grand Harbor, Malta.

I'm not sure I'd choose to vacation alone again, though—I think I'm just too darned social.
But Malta? It's lovely. If you like sunshine and history, I highly recommend it. Even in November. I'd probably forego the car rental, though.
Oh—good news. The black scrape dissolved right off the side of the car with a little solvent. WHEW! There's a bit of a dent in the door, but nothing like it seemed …