Trekking Istanbul with a baby takes strength, endurance, and incredible patience—really. My friends Jana and Olaf exhibited them all. My goodness, what an adventure…
Our beautiful baby—Maximilian Sequoya
Our first challenge was their arrival from Hamburg in the middle of the night (that would be 2:30 AM). Jana was nervous about navigating her way to my apartment with a baby and his rookie traveler father, so I met them at the airport with a taxi. (This is Jana's fourth trip to Istanbul, but Olaf and Maximillian's first.)
The happy family, just arrived
All went well, and they settled in comfortably. I tiptoed out for school on Friday morning, letting them sleep in and adjust to the 80+ temps. When I arrived home, they'd already been out exploring Arnavutköy and Bebek and were sweating profusely, both from the heat and from pushing a heavy stroller up the punishing hill to my apartment. In spite of that, they were game to tour the Robert College campus, yet another climb. Both Jana and Olaf work with trees, and they were eager to see what this lush campus had to offer. It met with their fascinated approval, and Olaf came home with a few tiny tree sprouts for his garden.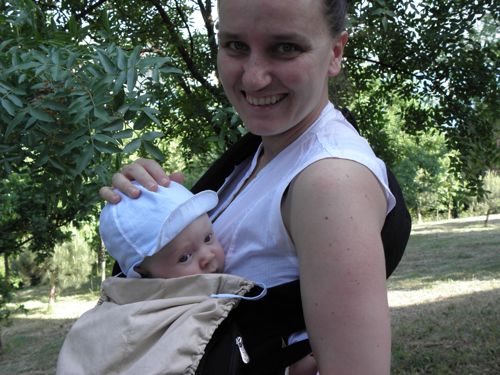 This carrier works great—when he's asleep.
They opted for the front carrier this time, which worked pretty well until Max woke up. Then he insisted on being carried independent of the carrier. It's obviously not his preferred mode of transportation.
We did a good bit of sightseeing last week, including a rainy Saturday in Sultanahmet (the Grand Bazaar)…
a windy Sunday in Ortaköy…
(with a rocky Bosphorus ferry tour)…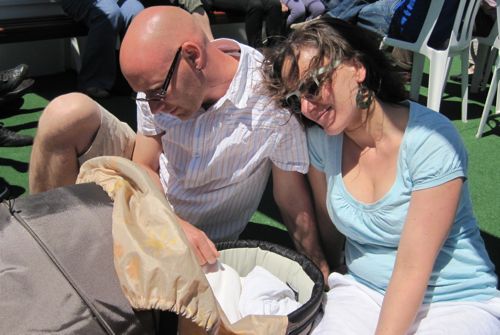 a hike up the Bosphorus to the Rumile Castle (closed), and a ferry ride to Eyup…
and back to the Taş Han (for a late lunch).
Jana and Olaf also took Max across the Marmara to visit the Karaca Arboretum and Termal in Yalova. Whew! It was a whirlwind of a week!
Luckily for all of us, Maximilian Sequoyah is a VERY easy baby. Just toting a baby along is hard enough—I can't imagine a CRYING one.
Here are the challenges we (they) faced:
*Steep, cobbled streets. Fortunately, they have a high-tech buggy with a brake, because going down the streets was nearly as hard as getting up them. Max didn't mind. He loved the bumpy ride.
*Stairs. Yup—they're everywhere in Istanbul. This is definitely NOT a handicap-accessible city. No wonder we seldom see wheelchairs. I think people with disabilities just have to stay home. Terrible.
*Public transportation—lifting a buggy onto a ferry, cramming it onto a tram, or squeezing it into a bus. They did it all. Even more amazing was their prowess at breaking down the buggy, folding the frame, and squeezing it into a taxi trunk in less than a minute. Wow.
*Feeding schedules—Though Jana strategized our treks according to feeding times, now and then a nursing baby just has to be fed right now, schedule-be-damned. We'd quickly scope out a tea house or restaurant (or ferry) to accommodate a half hour of sitting. Heck, I'm always game for a cup of coffee or tea!
*Messy diapers. How about in Gulhane Park in the rain? It happened lots of places, but Jana and Olaf met the challenge as a team—always with good humor.
*Baby-loving Turks. Though I'd warned them, it took my friends a while to get used to the Turkish penchant for touching and holding babies. Remember, Jana and Olaf are Germans, a culture not famous for effusive warmth. They came to enjoy it, though, and chuckled at the oft-spoken "Maşallah!" (God protect him.)
It was a joy to spend this time with Jana's new family, and I wouldn't have given up a moment of seeing these doting parents eagerly explore my city with their tiny little buddy (who celebrated his four-month birthday here). The clutter, the chaos, and the charm contributed to a fascinating week exploring Istanbul with Max and his grown-ups.