Last Sunday I touched a remnant of the longest aqueduct system in ancient history, and it's in—Ta-Da! Turkey! Over 250 kilometers long, this aqueduct once supplied the city of Constantinople with water from the Istranja Mountains near the Black Sea, 65 kilometers away. So why was it 250 kilometers long, you wonder? (I did.) It's because it snaked through the mountains, tunneling through and winding around them. It was reputedly the most outstanding surveying achievement of the pre-industrial world. Impressive.
A portion of the Anastasian Long Wall–impressive, huh?
We left sunny Istanbul in high spirits, but clouds gathered as we rode the bus a few hours. We'd been promised views of the Anastasian Wall (Long Wall of Thrace), a defense that extended 64 kilometers between the Black Sea and the Sea of Marmara. We saw small sections of this massive wall through woodsy brambles and undertgrowth, a bit of a disappointment. The wall was once over 9 feet thick and 16 feet high, but we never saw more than about a six-foot span. Our stalwart group of 30 (including our Ottoman historian guide) braved glucky mud and a light drizzle to see more, but our best sightings were actually from the bus.
Ah, the spectacular Black Sea
We drove all the way to the Black Sea and climbed to a high pinnacle where the wall once stood. No trace today. There were remains of a sweet ancient chapel, though, and Libby did her best to glean as many pricklers as she could from the underbrush.
Wandering around the chapel remains
A close-up of one of the chapel's arched windows
After scraping pounds of muck off our shoes, we boarded the bus again (the driver had spread newspapers on his carpeted floors) and headed for lunch.
The mud caked our boots, heavier with each step.
Ah, lunch! Long tables were set with artfully arranged salads, mezes, and breads. Once we'd filled up on these vegetable, cheese, and yogurt dishes, we were each brought a well-stewed piece of lamb atop a mountain of buttery pilaf. I'm generally not crazy about either, but these were divine. Libby sat under my chair eager to glean whatever she could of the meat scraps provided by a few of us.

This was the loveliest shepherd's salad I've ever been served.
The meal had lifted our spirits, and as we drove up to view a part of the aqueduct system, my seat-mate exclaimed, "Look! This is how they make charcoal!" as he clambored for his camera. "I have to get a picture of this. It's what they did hundreds of years ago in Pennsylvania!" A visiting  architect and design professor, he was thrilled to see the massive mounds of wood. After passing a few of these strange structures, the bus pulled over.
We were all fascinated to learn that the charcoal-making process is quite an art. Logs and sticks are cut into about 2-foot lengths and piled in a circle around a 30-foot clearing.
You can see how the logs are piled around the circumference of the mound.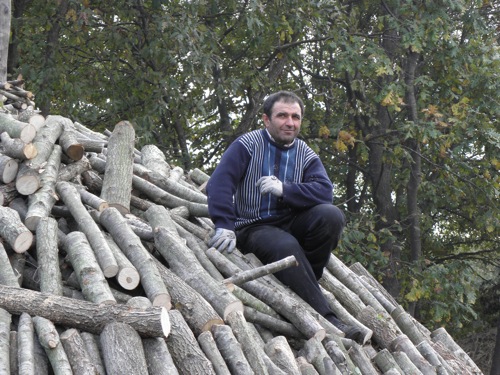 This man will arrange the loose logs that have been tossed up to him.
 These are stacked vertically around a small cavity to make a mound, leaving a vertical space like a chimney up the center as the mound grows. Wood is carefully stacked to leave minimal space between logs and sticks, finally resulting in an artful firewood mound about 12-15 feet high.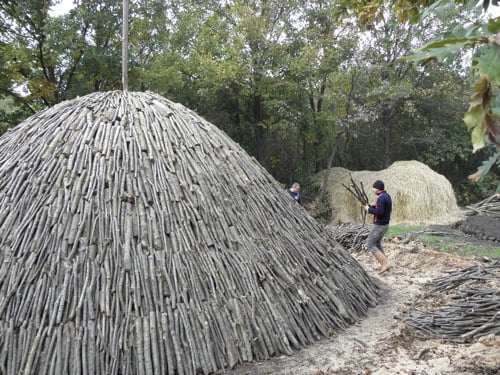 This charcoal mound is nearly complete.
It's then covered with a layer of straw and a second layer of mud. Lit charcoal is dropped down the chimney to start a smoldering fire inside the structure, and the pile smolders until all the moisture has been smoked out of the wood, about two weeks.
A smoldering charcoal mound
According to the worker explaining the process, seven tons of wood produce about one ton of charcoal for barbecuing, a necessity in Turkish cuisine.
There were about six mounds ready for covering, and probably five more smoldering in this complex, located deep in the forest.
A few more mounds await straw and mud coverings.
We thanked the men for interrupting their work, then piled back into the bus, which bounced along three more minutes before getting dismally mired in the mucky roadway. We tried pushing, but the bus just slid sideways into the mucky ditch. It meant a longer hike to our aqueduct, so we headed off, leaving the bus driver to find a tow. Thank goodness for cell phones.
As these stalwart warriors pushed, the bus just slid sidways into the ditch.
The long hike to the aqueduct was well worth the work. We hopped stones across a river, then discovered a bevy of wild purple autumn crocuses peering through the woods.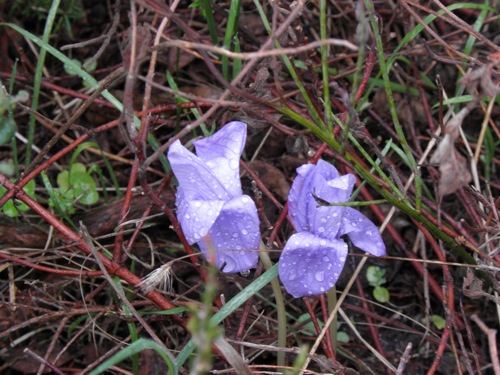 Wild autumn crocuses
Though they were lovely, nothing was as impressive as the stunning stone towers that met us we turned the right at the bottom of a hill. The ancient bridge's towers were spectacular, dominating the mountainous countryside with their venerable splendor. Apparently this was one of sixty arched stone bridges in the 250 kilometers of the aqueduct system, and 18 more are still intact.
The amazing aqueduct bridge towers as late sunlight slants down across the mountain
We sat at the foot of these mammoth structures, marveling that the architectural genius that kept these structures standing for 1600 years. I couldn't help but think of the laborers who'd given their lives to constructing these towers, part of someone's dream to carry mountain water to Constantinople.
Amazing.