After a week of blustery, cold weather, the sun god has returned to the Bosphorus. We've had some large double slightly opaque white jellyfish hanging out near the yachts, though they are fast being replaced by the more common saucer-like moon jellyfish. I always enjoy watching them squirt and stream through the water, though sadly they choose to congregate with the refuse that collects in the lee of the ships. UGH!
Fisherman along the Bosphorus:

The fishermen lining the shore along the walkway have abated, partly because of the recent cold weather, but more likely because the hamsi (anchovy) season is waning. Some of the fishermen are pulling in larger fish, which pleases Libby to no end. The quais also teems with tea, simit (a round sesame-covered bread like a large bagel), and sandwich sellers as well as mobile tackle shops ranging from crude boxes to large vans replete with hooks, lures, bait, and even fishing poles and reels. It's fun to see these vendors bask in the sun as they await business. I don't think it really matters whether it's profitable—location, location, location.
An Arnavutköy simitci (simit seller)
One of the more humble tackle shops: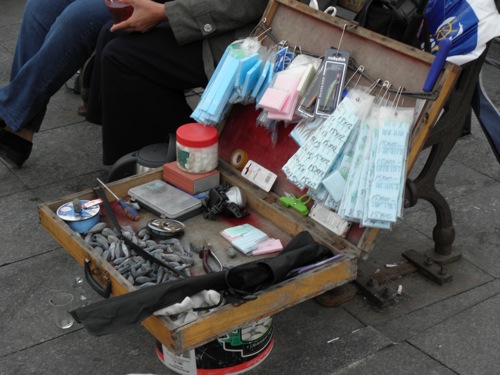 Something more of a production–artistic, to boot!
And the proud peddler poses with his wares:
This tackle-seller has succumbed to the warmth of the afternoon sun: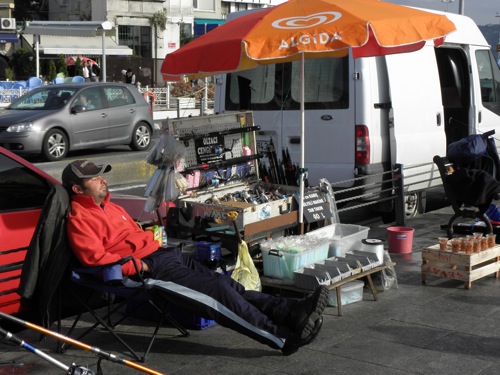 Last Saturday Kaptan Mustafa invited me for kahvaltı (breakfast) on his yat (figure it out) moored near Arnavutköy. He'd invited his English-speaking friend Haydar to join us, which was actually quite helpful, as Mustafa's English is even worse than my Turkish. I'm getting better at conversing, but there's a lot of repeating and backing up. It works, though.
Kaptan Mustafa makes friends with Miss Libby: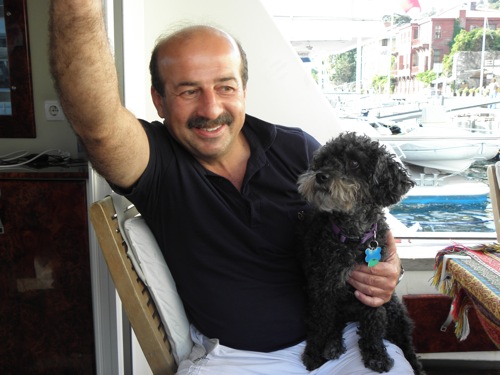 Haydar is a pilot who steers large ships through the dangerous curves and currents on the Bosphorus. When they enter the Bosphorus, a small boat sidles up with a pilot to take over the wheel on the way up this waterway, the busiest in the world. The currents are particularly difficult because a heavier current of salt water flows upstream from the Sea of Marmara, while the less saline water from the Black Sea flows downstream above it. Actually, how do you know which is upstream and which is down when the water flows both ways. Imagine, though, what happens to these opposing currents at each sharp turn of the Bosphorus (and there are at least a dozen in its 17 miles). Haydar said that it takes anywhere from 2 1/2 to 4 1/2 hours to go up the Bosphorus, while it takes just 1 1/2 hours to come back down.
At 5 lira a kilo, these hamsi cost about $1.50 a pound.

I learned this week that Turkey's Prime Minister has proposed digging a canal from the Black Sea to the Marmara to accommodate some of these larger vessels, purportedly to ease the heavy Bosphorus traffic. It seems an impossible task, but the Turks can do just about anything when they put their minds to it.
It's been a crazy-busy week for me with events after school every day and something going on each evening as well. It seems I overbook myself no matter where I live. Tonight I came straight home from school to meet friends of my apartment owner for a pleasant visit over wine and snacks. After bidding them goodbye I threw in a load of laundry and took Libby for her evening walk. When I'm done with this blog I have to press a few pairs of slacks so I don't look like a vagabond all week. Onward and upward!