Talk about a busy week! My friend Sally  just left after a fun, eventful week. Some people are just darned easy to have around, and Sally is one of them. She revels in every detail of life here, making friends at every turn.
Sally with Çoşkın, one of her many Istanbul friends.
Our friend David and I planned a short trip for Thursday's Liberation of Istanbul Holiday. David and I worked all day Wednesday at our respective schools while Sally visited Camile (another common friend) in town, then we three met up at the Sabiha Gökçen Airport that evening. I caught a bus at 5:05 here on the European side and arrived at the airport (Asian side) at about 8:15. Over three hours to travel about 20 miles—Istanbul traffic. David was there waiting, and we hunted around for Sally, who'd been there the longest, wandering around wondering where we might be. Poor dear.
We stopped for dinner, then drove just over an hour north to Şile (SHE-lay) on the Black Sea. I'd scoped out a nice seaside resort, but when we finally found it, the entire complex was dark. What??? It was only 10:00! I'd talked to a receptionist the night before, so I tentatively pushed through the revolving door. A clerk materialized from the dark lobby, flipping lights on at the reception desk. Whew!  "Are there any other people here?" I asked in Turkish. He laughed and assured me there were. I didn't exactly believe him. He certainly had space for us, giving us a corner seaside suite that he said cost twice what we paid. Did we mind?
Imagine waking to this view!
We woke to a stunning seascape, and imagine our surprise when scores of Turks were already enjoying the sumptuous breakfast buffet. Apparently the Şile Resort Hotel teems with people all summer, but in October things get a little lean. After breakfast Sally and I donned our suits for a walk up the beach. David, uninterested in swimming, brought his Kindle.
We picked shells and marveled at the pristine water as we strolled along the deserted beach.
Gorgeous shells–but small
Sally and David strolling on ahead…
after we all snapped  photos of the unique beach litter.
We chuckled at a discarded computer that had washed up on shore–what was THAT about? Though the Black Sea water was cool, it was warmer than most of our northern Minnesota lakes. Finally Sally and I found the perfect place for a swim, which we did. Well, first we waded out for what felt like about a mile Finally Sally dove in, and I joined her in water so shallow we couldn't frog-kick without scraping our knees.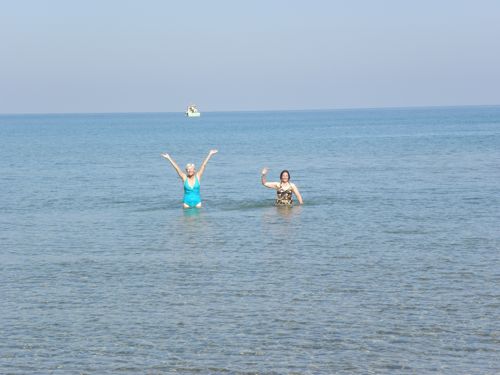 The water was still shallow quite a distance out from David–camera and Kindle in hand.
Finally the bottom dropped off and we headed out to a small rocky island, feeling a bit like sea nymphs cavorting in the sun. The water was so clear we could see ripples in the sand 20 feet below us.

We spent the afternoon wandering Şile, relaxing over a fish lunch in a seaside cafe, and strolling along the breakwater. At 5:00 scores of boats left their crowded moorings to head out for the evening's catch—probably the most action the Şile harbor sees.
Sally, David, and I in front of the Şile Harbor fortress.
Şile's fishing boats moored three deep.
A fisherman mending his nets.

A fishing boat off for the evening catch.
 Friday Sally and David trekked over to Üsküdar to see the stunning Şakırın Camii, the only mosque in Turkey designed by a woman (see my blog for May 25, 2009). As they were leaving, the mosque was stormed by armed bodyguards making way for a visit by Prime Minister Erdoğan. His mother had just died, and he was looking for an appropriate grave site. Apparently that kind of security is common here.
On Saturday evening we joined friends for a concert at the Aya Irini, a Byzantine church inside the walls of Topkapi Palace. The church is renowned for its incredible acoustics, and there are unfortunately only a few concerts there each year. We entered the church through an arched stone entrance and down a long, wide stone ramp. The 1500-year-old structure supposedly stands on the site of Constantinople's first Christian church. The main sanctuary was flanked by collonnades with a high gold semi-dome at the front, painted with a huge cross.
The Aya Irini in all its splendor before the performance
Already awed at the splendor of the sanctuary, my spine tingled as the orchestra's first notes reverberated across the centuries. I felt that same excitement when a costumed chorus filled the ancient cathedral with the booming strains of "Carmina Burana" (Carl Orff). Oh, my goodness!
To hear the magic of "Carmina Burana", click this link:
http://www.youtube.com/watch?v=GD3VsesSBsw

Monday afternoon a group of students in my English class presented a reenactment of the myth of Pandora. Their chosen accompaniment? "Carmina Burana."
Small world.