Sandra and I topped off our Taipei stay by basking in a mountain spa,
The hot-springs stream just above our spa hotel:
The hotel rooftop spa–can't see the mountains in the fog:

then took the high speed train to stay with with Linda, Les, and Linda's sister Chris in Koahsiung (Gow-SHUNG), where Linda teaches at the American School.
We biked everywhere in Kaohsiung—you can rent from bike racks on the street, and if you just use them an hour, there's no charge. A full day of biking cost about $5.
Sandra pulling a bike from the rental rack:
I had just a little trouble raising my seat: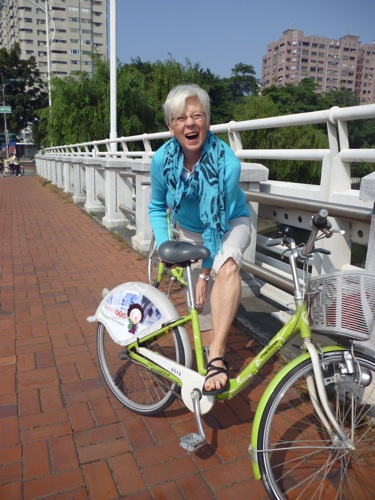 Linda and Les live near the Love River, which is lined with parkland and a well-kept bike trail.
The first day we biked to Linda's school
The Kaohsiung American School—and Linda:
then Lotus Pond, where Chinese New Year festivities were in full swing. A Massive tiger and dragon regurgitated Chinese revelers from pavilions at one end of the lake.
The dragon and tiger spew revelers through open jaws: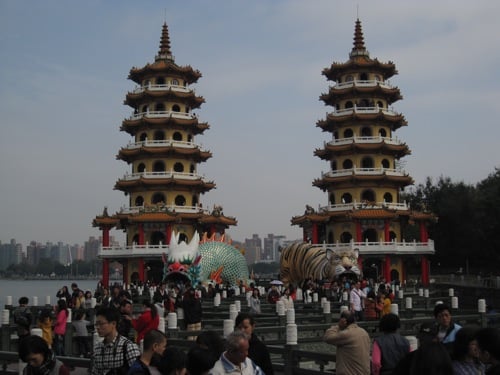 We parked our bikes amid a thousand scooters, then elbowed our way through the street, occasionally pausing to indulge in street foods and bargains. The Purchase of the Day was a watch for $1.50 (still running a week later).
This Foo Dog guards a lakeside temple:
Street food anyone? Skewered grilled squid at the ready:


Sandra purchases a bag of cheap watches:
Lotus grace pools beside the lake: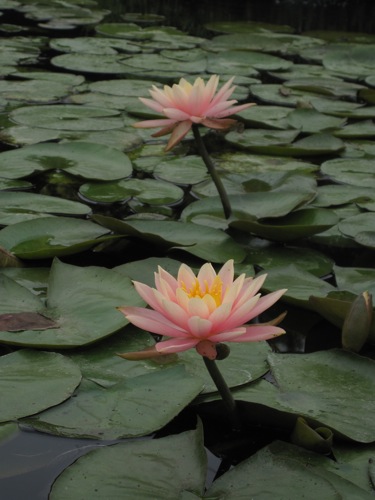 Another Kaohsiung highlight was a lantern festival along the river. Schoolchildren spend months creating elaborate lanterns for this competition each year, and since 2012 is the year of the dragon, that was the predominate theme. My favorites were lanterns obviously done by the students (some looked WAY too professional), particularly those crafted with recycled materials. One dragon was made of bubble-wrap and soft-drink lids,
The bubble-wrap and drink-lid dragon:
another of sticks gathered along the river, and many were fashioned with recycled pop bottles. We wandered past scores of lantern displays, marveling at the creativity and effort put into each display. We also chatted with a few of their proud creators.
This princess was a part of a more professional lantern scene:
This dragon was recycled from bottles and cans: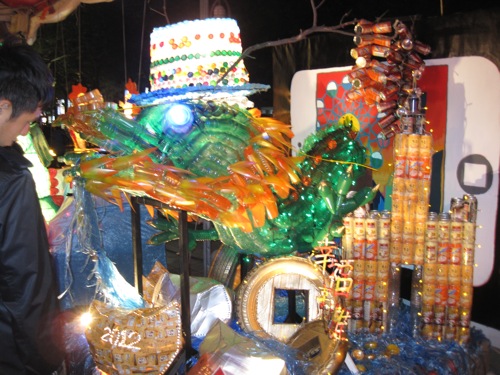 Schoolchildren proud of their artistic creation:
We also trekked to the Foguangshan Monastery one day—an extensive edifice with myriad monks, numerous temples, and a massive retreat center. The air reverberated with musical chanting by worshipers in the main temple, and we were twice entertained by a small parade, surely a part of the new year's festivities. We opted not to lunch in their total-silence dining hall and bought street food from booths outside the monastery—vegetarian options only.
I loved the eves of all the monastery buildings:
Monks seeking donations from the New Year's crowd:
Devout Taiwan citizens chant and pray in a temple lined with thousands of Buddha statues:
A close-up of the niches covering the walls of this temple:
A laughing Buddha in the parade draws many donations:
High on the hill, a 118-foot golden Buddha gestures to all of Taiwan:
Our last day in Kaohsiung was another bike trek (hooray!) to   Qijin Island, a ferry ride across
the harbor. Crowded with revelers, it offered endless street foods and souvenirs, an entire indoor bazaar of dried fish stands, a black sand beach, and a hike up to the lighthouse. I splurged on a pair of flip-flops ($3). All in all, a good day.
Sandra and Linda crossing the street to the ferry boat to the island
This was one of hundreds of dried fish booths in the bazaar. The tassels twirl on a fan to keep the flies away:
For some reason, ice cream in a toilet-shaped container just didn't appeal: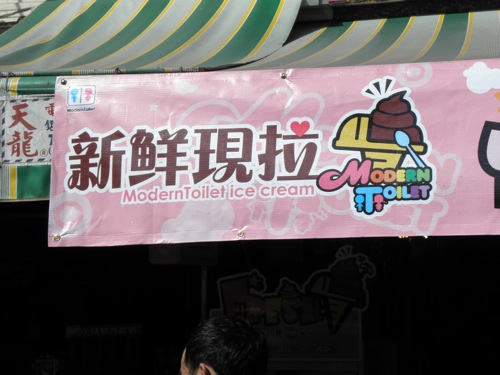 A view of Kaohsiung from the island lighthouse:
Sandra and I flew to Hong Kong, explored the art museum and surrounding city, then headed to the airport for our greatly-anticipated beach vacation in Hainan. Sadly, the web sites informing us we didn't need a visa were mistaken. A speedy visa would cost $320 each, and we'd lose two nights on Hainan. We gave up our trip. Sigh…
After two hours on line searching for another destination that evening, we gave up and spent $200 for a room at the airport hotel. What do you do? Of course, the exclusive hotel included neither free wireless nor breakfast. I've never understood why exclusive hotels offer the least free amenities.
We finally found a little beach hotel on Lamma Island, a ferry ride from Hong Kong. We dragged our suitcases about a half hour up and down concrete paths through Yung Shue Wan village and through the forest to the Concerto Hotel on Hung Shing Yeh Beach. Our room is small but bright, and our balcony overlooks a sweet sand beach.
This is the beach view from our balcony:
Our sweet accommodations—not quite Hainan, but just fine for now:
Yung Shue Wan is a hippie-haven type place with more ex-pats than we've seen on our entire trip. Our activities here include relaxing, hiking, eating and napping, not necessarily in that order. So—in spite of a visa debacle, we're content.