It's time to bid my beloved Arnavutköy farewell yet again. I've grown to love this charming community in the middle of one of the world's largest cities. Oh, if only every city were a conglomeration of such sweet village-like communities.
Arnavutköy's famous 'seaside houses'~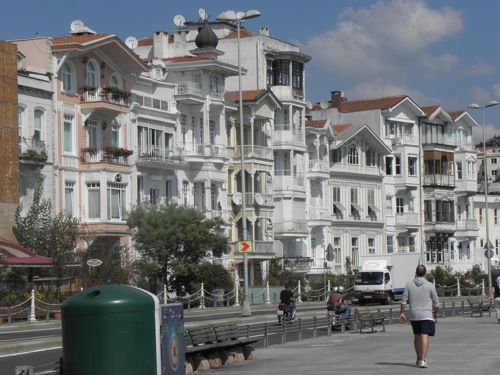 Friday night before I snapped off the light I heard a deep, resonant voice calling from the street—"BO-ZA! BO-ZA!" I was just too darned tired to walk down for some, though I love it.
.
I slept in after a long night with aching legs. The excessive stair climbing at school had wreaked havoc with my hips, knees, and legs after their week's hiatus of strolling the flat terrain of Antalya. I ended up lying with my hips on a pillow, my legs extended up the wall to ease the pain. UGH! I scheduled a session with Edith, our Arnavutköy massage therapist / holistic healer. When I had similar pains last fall, she fixed me up in one session of acupuncture and massage. All fingers crossed. Enough whining, though.
More of Arnavutköy's Ottoman houses below my apartment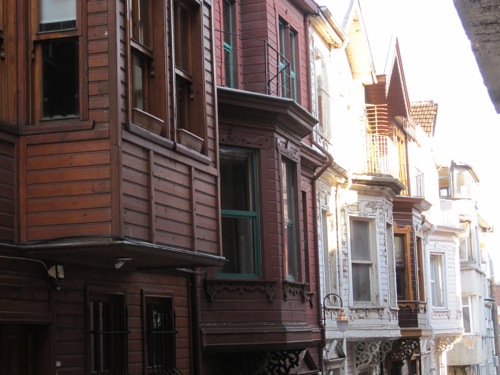 I got up and settled in the living room with my morning coffee, Libby curled beside me. "SEE-MEET!! SEE-MEET!!" echoed from the street. I peered down to watch the simitci as he climbed the steep, cobbled street with a huge tray of hoop-like sesame breads balanced on his head.
.
"Time to start," I reminded myself, rising to sort through the desk drawer and sundry piles that have materialized in my apartment (amazing what one can accumulate in five months). I made a schedule of social events, errands, and purchases for my last few weeks, then headed down with Libby to begin the process.
The local hardware store where the owner cut off a small bolt for me, free of charge~

I had friends coming for dinner, so my tasks included buying food for Egyptian Kosheri, recycling paper(from my culled piles), framing a hamam picture, and repairing my ailing hair dryer. (My Scotch tape repair just wasn't cutting it.) It began drizzling as we headed past the old synagogue ruin and down to the recycling bins on the Bosphorus. We trekked along the pier past the ferry station and up into the village for our first stop: the art and frame shop. The framer speaks no English, but my Turkish was adequate to the task. We chose an ornate gold frame, which will be ready in a week. Cost for a custom-made frame: 10 lira ($6). Amazing.
Fishing boats along the Arnavutköy pier~

A statue to Ataturk in the town square~
…and up the street, Istanbul's ugliest sculpture.
Second stop: grocery store. Though Libby was not thrilled to be tied outside again, when I emerged from the store she greeted me like she hadn't seen me in months. Love that enthusiasm.
Third stop: electrician. I've used the cluttered Bogazıcı Elektrik a few times, and since the owner likes dogs, I knew Libby would be welcome. He has a big German shepherd who likes to remind Libby of her position in the world of street dogs. This time he was lazing contentedly outside the shop and didn't even muster a growl.
The Electric Shop's guard dog–NOT!
The young proprieter, clad in a black stocking cap, jacket, and polar plus shirt, sat behind a desk in the back of a tiny shop crammed with sundry electronic devices and accoutrements. He stood as I walked in, and when I showed him my bozuk (broken) hair dryer, he gestured me to a seat. Would it be that quick, I wondered? He plucked a screwdriver from the mountain of wires, tools, drills, cables, and numerous newspapers covering his worktable and dove into the task–on his lap.
My electronics hero–note the workdesk to his left.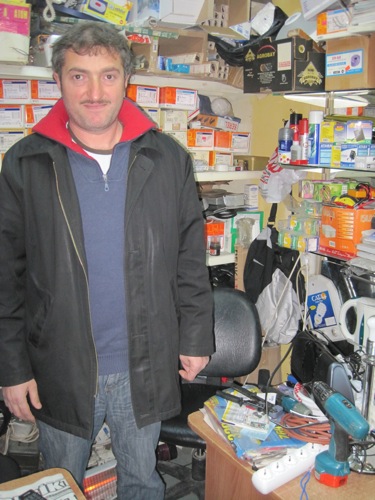 As he worked, we chatted about life in Arnavutköy, the Black Sea area he came from, our parents, and Libby, who warmed right up to him.
A few men came into the shop, greeted us both, then showed him a bulb or electrical connector. He'd give them a a code number and explain how to navigate their way through the thousands of boxes of electronic paraphernalia piled on shelves up every wall (and on the floor). They helped themselves, pocketed their purchases, told him what they'd taken, then headed off. I wondered whether they were partners or would sort out the money later, but it was too much work to figure out how to ask. He never wrote anything down, though at least fifteen items walked out the door while I was there.
.
It took nearly a half hour to fix my hair dryer, which included soldering wires with an iron he heated against his electric floor heater.
When I asked what I owed, he said it was nothing, then offered me coffee. I promised I'd be back for coffee later and left a ten-lira note on the table ($6). Precious little for a half hour of his time.
Another happy customer in the Boğaziçi Elektrik shop~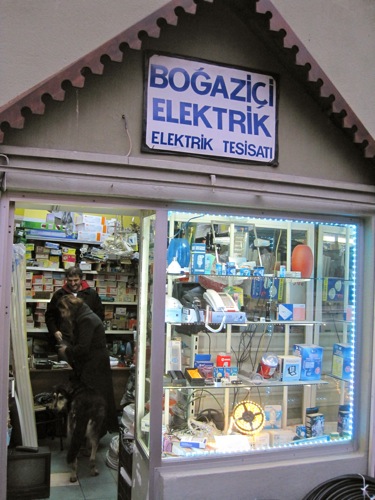 Our last stop was the bakery, where the proprietor always slices up a loaf of Kepekli ekmeği (whole grain bread) with a smile. I bought a cheese-filled roll to share with Libby and a few of her street dog buddies on the way home.
Farewell, sweet bakery!

I'll miss all these sweet Arnavutköy shops, which also include the cobbler who put new arches in my shoes, the butcher who tosses all his bones to the dogs, the tailor who took in my slacks, and the anahtarci who fashioned three sets of keys for my apartment. Actually, Margaret's apartment, and it's soon time to hand it back. Sigh…
Farewell to the Tuesday street market!
And Libby, of course, bids a fond farewell to all the Arnavutköy cats…
especially to Fat Cat, who lives just up the street.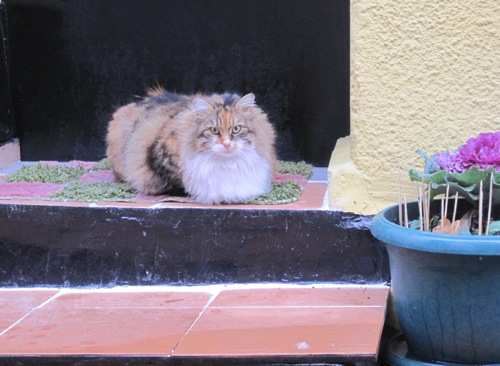 Ah, Arnavutköy!