New Year's weekend. Back to Termal.
Though we had envisioned ourselves with snowflakes drifting onto our faces as we soaked in a thermally-heated pool, in reality we basked on chaise lounges in bathing suits, soaking up the warming rays of a January sun. Go figure. Who would have thought to pack shorts and a T-shirt? Oh, well.
Jenny relaxing by the Termal pool on New Year's Day
Luckily, we were an adaptable group: four Robert College teachers (Sandra, Jamilah, Jennifer, and me) and a delightful retired couple, Jolee and Mark (friends of Sandra—now friends of us all). We arrived at the Yenikapi Ferry early, so we sat outside sipping tea, then sahlep…
Ah, sahlep! It's a drink made from the roots of an orchid plant called sahlep (fitting), and I love it.
Ah, sahlep!
The tubers are boiled in milk, then dried and pulverized for future use. Mixed with milk and sugar, it's a hot drink served all over Turkey in the winter months. Imagine a thick eggnog-like drink sprinkled with cinnamon, and you're nearly there, except for its unique flavor. You'll only find that in Turkey. It's always served from a Dairy Queen-shaped bronze samovar; that's how you know it's sahlep.
The Sahlep Samovar
I've found powdered sahlep, which is OK, but not quite the delicious drink you get on the street. I  was thrilled to spot a sahlep stand near the Ferry's tea garden. (Outdoor restaurants are getting big here in the winter months because Turkey now has anti-smoking laws. HOORAY!!!)
After a rocky ferry ride across the Marmara, we scored a service van that delivered us to our Termal mountain hotel, the  Çamlık. Once we checked in, we immediately headed for the hamam. (Well, actually after complimentary hors d'oeuvres and cocktails.) The hamam wasn't too busy, being New Year's Eve and all, so we indulged in the hot tub, the sauna, and a plunge into an icy  marble tub. Oh, my.
Inside the hamam: Jolee, Mark, Jamilah, Jenny, and Sandra
Then came my favorite part of the weekend, our own little private cocktail hour on the balcony of one of our three rooms. It involved some jockeying of porch furniture, as the six plastic chairs gathered from our three balconies left no room for the plastic tables. Scrunched cozily in the rays of the full moon, we toasted the New Year with champagne, crackers, and German salami (a rare treat). Laughter was in good supply, too—a fitting way to ring in the new year.
Balcony Prep for Celebrations Ahead
Dinner was quite a spread, though no culinary feat. We were pretty full already, so we didn't mind a bit. Live music blasted through the huge dining room, which was opulently decorated for the event. Nonetheless, we all enjoyed ourselves.
The New Year's Eve gala meal
We worked our way through a meze plate, numerous hot mezes (which the waiters serve individually from trays), salads, then a lovely turkey dinner. My second of the season. In typical Turkish fashion, rice pilaf replaced the usual dressing. I was too full to care by that point. A few of us got up to dance, but to be honest, the music was so loud that we decided to succumb to the temptation of the outdoor pool under the full moon—a blue moon, no less.
It was not to be, though. Crews had completely drained the pool to refill it with clean water for the New Year's Day crowd. BUMMER!!!! We went for a moonlight walk instead, then back to our balcony to toast the arrival of Twenty-Ten. Amazingly, we made it even beyond 12:00. Old farts, you know (at least a few of us).
Saturday we hit the hamams again after breakfast, luxuriating in deep-tissue soap massages. Oh, my! The little lady that worked on me dove right into my muscle knots and pressed them out of existence. $14 for a half-hour. Unbelievable.
Jenny and I hit the pool for a while, then we all met to trek up the hill for lunch in a nearby village. Of course, we had to stop for a few minutes at the quaint street bazaar. It's more than charming.
Want some honey, Honey?
The local chestnut roaster gentleman
We had seen a woman making mantı the night before and decided to try that for lunch. Mantı is like a tiny ravioli made with a noodle-like pastry coating around tiny bits of either meat or cheese. It was fascinating to watch her make it, and it was equally delicious to eat. They smother it in a garlic/yogurt sauce with chili peppers sprinkled generously on top. YUM!!!
The Mantı Maker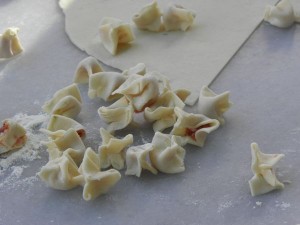 Mantı: scored pastry squares wrapped around tiny bits of meat
Some of us hiked the afternoon away, then sipped tea under the spreading branches of a 200-year-old plain tree (a cross between a maple and a eucalyptus, as far as I can tell). Lovely. Relaxing. Heavenly. (Poor Jamilah was stuck inside correcting exams. UGH!)
Tea under the plain tree with you and me
The air was starting to chill by the time we headed up for yet another cocktail hour. This time Sandra pulled out a huge wedge of brie from Austria, another rarity here in Turkey. Dinner, then a walk down for a hot tub swim.
But—the pool was draining. ARAUGHHH!!!! FOILED AGAIN! You'd think they could wait until the 10:00 closing time, but no. Well, back to the Turkish bath—short, but warming.
The Historical Tourist Hamam at Termal
Saturday we woke to rain, rain, rain. Sigh… The ferries were all cancelled due to a second day of high winds, so we hopped a bus around the Marmara, which took only an hour longer than the ferry. Whew. Things work out.
So, anyway—WELCOME TWENTY-TEN!
May it bring everyone good health, delicious food, and great times.
I'm ready, let me tell you.