I attended an erudite high-brow event at an esteemed local venue on Saturday.
Well, sort of.
My friend Duff gave a poetry reading at Molly's Café.
Daniel (Duff) Plunkett is in my Turkish class (a cozy group of six) and my writing group (in which I'm the token non-poet). Duff has also made appearances as Santa for the children at the Robert College Christmas party and as an enthusiastic regaler at our Mehane night in November.
This man loves the sound of words, he loves the sense of words, he loves the depth of words. He can't resist a play on words. Duff the punster. Duff the funster. Always. Even his poetry promotion poster poked fun as it pontificated… (sorry)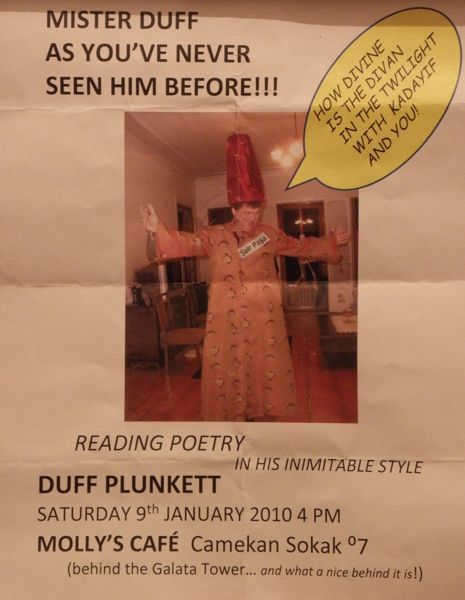 This poster packs more humor than information
Duff started writing poetry as a boy and was first published in a high school literary magazine. Apparently that felt pretty good, because he continued writing through his years at the University of Maine. He didn't major in creative writing—or even English (he has some kind of an international agriculture-related job), but words continued to swirl through his mind. "I always thought poetry should be fun," he said. "I sat through far too many boring poetry readings and I swore I'd never do that."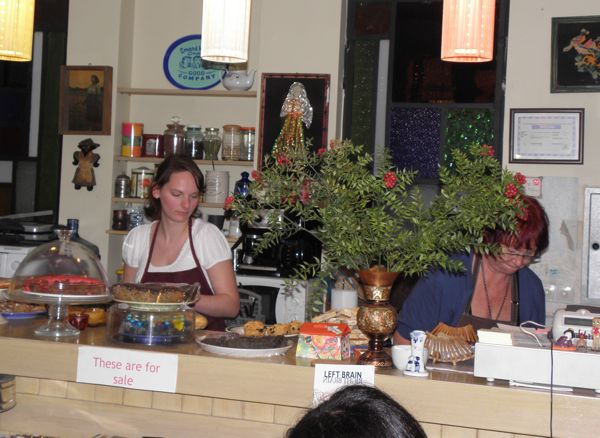 Molly (red hair) and her assistant running  refreshments to the eager crowd.
As a crowd gathered at Molly's little antique-furnished coffee shop, she dragged chairs out of nowhere to seat the multitudes. Well, that may be a bit hyperbolic, but there were lots of folks from many circles in Duff's life—school (his wife teaches at Robert), friends-of-friends, writing group members, basketball buddies, and even our Turkish teacher, Özlem. We all love the Duff.
Half of the enthused crowd enjoying Duff's esoteric wanderings
Well, let me tell you, we weren't bored. Duff's poetry is at times gleeful, at times heady, but always interesting.
Here's a typical example of his poetry, taken from his recent book, Right Brain, Left Brain: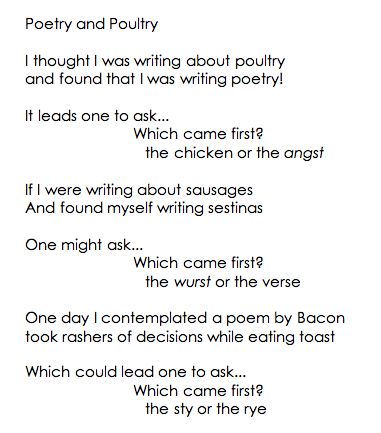 Ah, Magnifique! (Would that be poultry or poetry?)
Sorry—I'm an English teacher, so I have to comment. It's clear from the range of settings in Duff's poems that his mind works in rhymes and couplets. He dwells in a maelstrom of puns and metaphors and alliteration.
"ASSONANCE!"
He wrote a new fight song for the University of Maine, too, enlisting some of us audience members to play the parts of the Moose brigade: "It's a moose, moose, moose on the loose, loose, loose!" Pretty fun.
"Moose on the loose" Yup, that's me in the back row. A Minnesota Moose.
Duff involved his audience in a number of his readings, though there were a few Deep Male Voices cast to read in Deep Godlike Tones who didn't follow directions. Typical teachers. They read the whiney little girl lines. Duh. It just added to the fun, actually.
There's a deeper, more serious side to Duff's poetry as well. He writes social commentary, love poems, international, historical, and intercultural pieces. How could he not, when his work takes him all over the globe?
Well, maybe not ALL that serious…
This piece was written during a sojourn in Chile, the home of Pablo Neruda, South America's most famous poet (subject of the film Il Postino).
Even with a fairly serious poem, Duff can't resist the piece de resistance—the tongue-in-cheek finish. It works.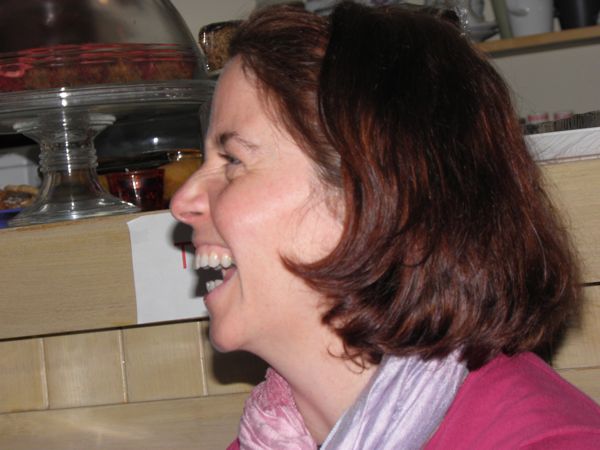 Even his wife Marita continues to find Duff hilarious—because he is.
If you're interested in getting a copy of Duff's book, Right Brain, Left Brain (or is it Left Brain, Right Brain?—you see, it opens from both sides, one for each side of the brain), contact his publisher, Acorn Productions, at acornproductions1@myfairpoint.net.