Çok mutluyuz. We are very happy about our three days in Selçuk, Turkey.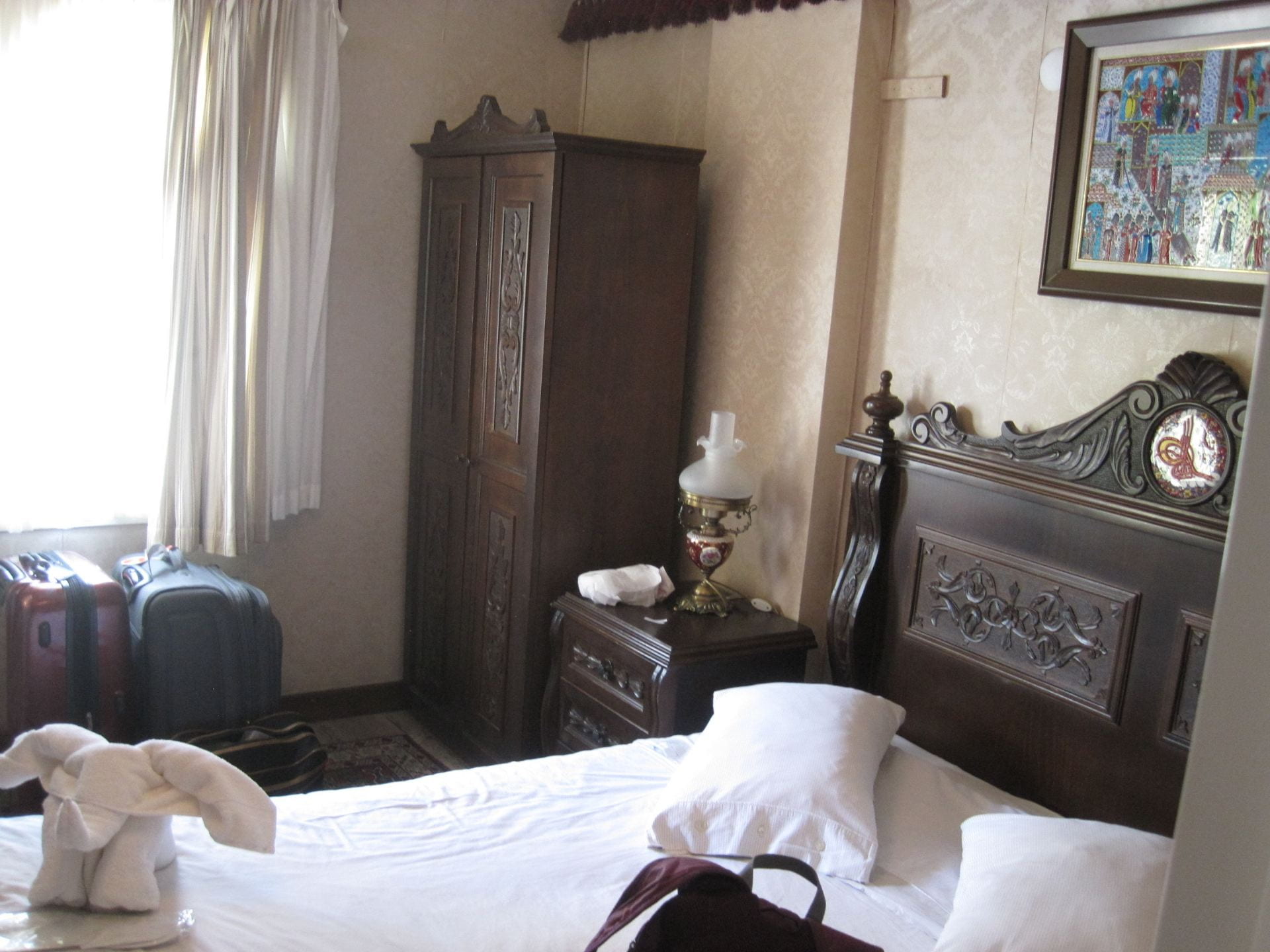 We were welcomed to the Bella Hotel by Nazmi and Erdal, who remembered us from visits years ago (four of us have been there before). The rooms are sweet, decorated with carved walnut furniture, but the crowning glory is the third floor lounge replete with Turkish cushions and pillows. It overlooks the ruins of St. John's Church and the Ayasuluk Citadel, a castle-looking fortress.
Our upstairs lounge looked out on a stork nest across the street. The huge nest was like a haystack, shared by many smaller birds nesting in the mass of sticks. You can see bird nests hidden beneath Papa Mama?). Mangy in any case.
Because of the April 23rd Children's Day holiday, most public buildings were festooned with huge flags and pictures of Ataturk, the founder of Turkey. This area of the country is very liberal, supporting secular government over the now-ruling AK Party, which promotes an Islamic government. I expect big changes ahead, as secular mayors have been elected in Ankara and Izmir, and many of us hope that this is a precursor to a broader shift in government. We will see.
Our first trip was to the House of the Virgin Mary on Easter morning. I used to think it was bunk, but I've come to believe that she did, indeed live there. Apparently she fled Jerusalem to save herself and was taken by boat to Ephesus, far away from Roman soldiers. John lived in Ephesus, and he had promised Jesus to protect her. He arranged for the building of a sweet little three-room stone house in an idyllic setting on top of a mountain near Ephesus. There's some proof that she lived there, and visiting it is a moving experience. Apparently she lived 11 years beyond the death of Jesus, so she would have lived 64 years. She was betrothed at 12, and Jesus lived to 41.
Our next stop was Ephesus, one of the world's finest Roman ruins. You may know that Ephesus is the city criticized by Paul in the book of Ephesians for the people's decadent lifestyle. It's a stunning place even now, and we were fortunate to get there before the Easter crowds. Our guide, Rabia, was not only knowledgeable but took wonderful care of us.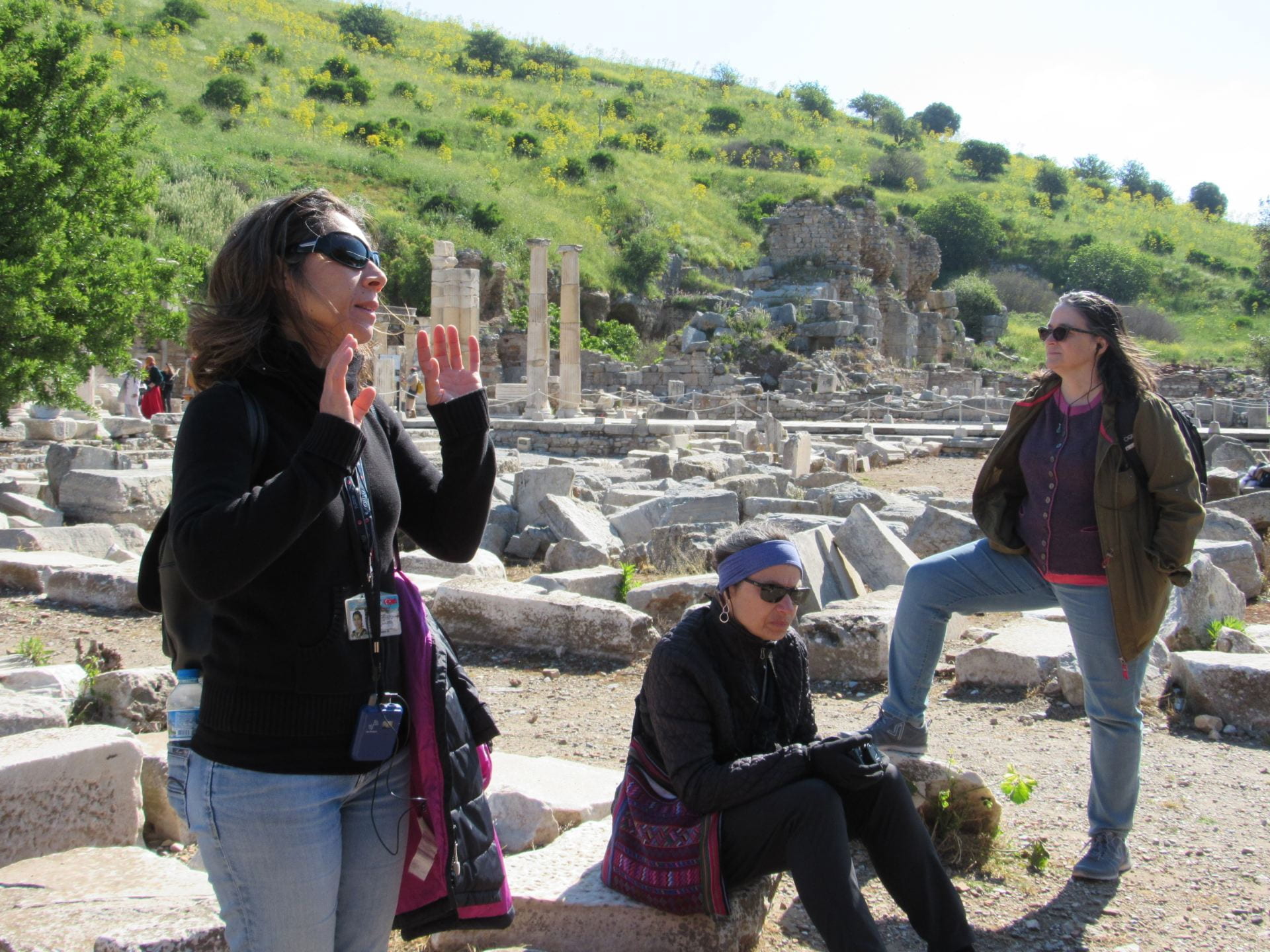 This was once a port city on the Aegean, but the waterway has been silted in over the years, with the sea receding a full 5 kilometers. Eventually the entire city was abandoned. The upper part of Ephesus was a ruling class area, a center for government and municipal control. They had sophisticated sewer systems, beautiful homes, and stunning marble structures. Little remains, of course, but archeologists are gradually rebuilding some of the structures and columns.
After Ephesus we were treated to a lunch of mezes and grilled meat before heading up to St. John's Church, right across the street from our hotel. Gorgeous. 
That afternoon our host, Nazmi Bey, treated us to a carpet show followed by a feast of mezes and his homemade wine. We were pleased that his wine was actually quite good—unlike many homemade wines. I think the Turks are getting better at winemaking. It was never their forte (my uneducated opinion, of course).
The next day we drove up to the picturesque village of Şirince, one of my favorite spots in Turkey. It was once a Greek village, and because it's very much out of the way, it hasn't been too commercialized.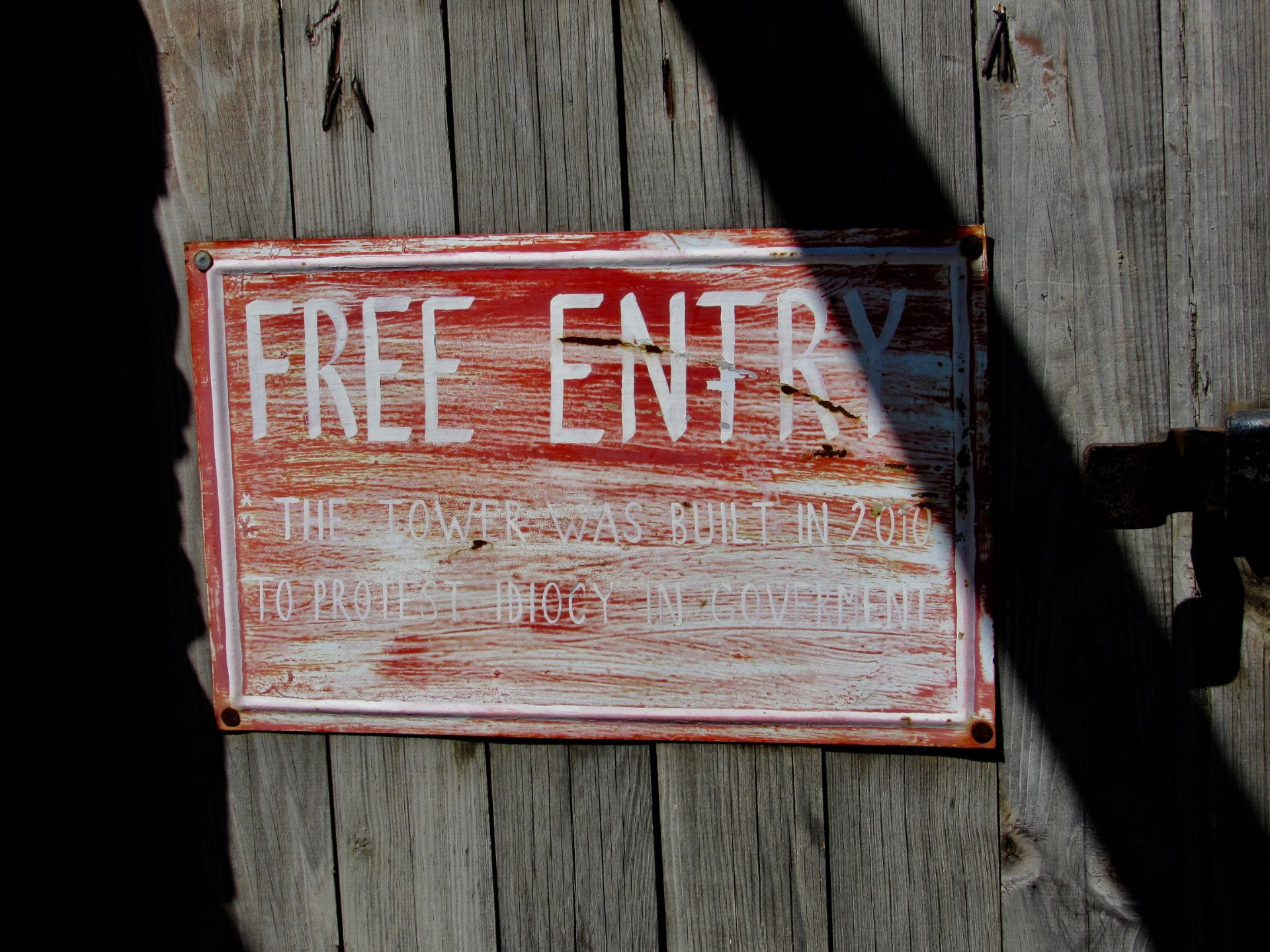 You can still stroll by chickens, goats, and horses as you meander along the stone-paved streets, and women sell hand-made wares, spices and foods along the street. Sadly, many of the homes have been made into hotels and b&b's, but I guess the world just can't resist the charm of this lovely village.
In Şirince we were treated to a meal of gözleme, which is a thin flatbread cooked like a quesadilla with potatoes, spinach, cheese and meat inside. Yum!
Tuesday was Children's Day in Turkey, a huge holiday for everyone. After breakfast on the terrace we were all free to visit the local shops, the archeological museum, and a tile-painting business down the road. A good time was had by all.
On to Cappadocia…