It never ceases to amaze me. Istanbul. This city that straddles two centuries—sometimes three—as well as spanning two continents. Talk about diversity!
Last weekend my friend Dee and I trekked from Sultanahmet up to Eyup, through the most traditional sections of the city. We started our mini-pilgrimage at Eminönü, the ferrystop along the Golden Horn just below Sultanahmet. Once we crossed the Galata bridge, our world shifted. It was like stepping back in time. All of a sudden the tourists were gone and we were among Turks, and more traditional Turks at that. The first things we spotted were three boats moored by the quay, one with triple copper onion-shaped domes. Hmmm…
Fish restaurant boats along the Golden Horn at Eminönü
As we drew closer, we realized they were fish restaurants, with fish-flipping chefs resplendent in traditional Turkish embroidered vests. They filled crusty poor-boy sized loaves with piping hot fish fillets, which they handed off to waiters waiting on the pier.
The fish hand-off
Low tables and stools filled the quay, some under tent roofs, but all with happy Turks enjoying their fresh fish sandwiches. YUM!!!!
The fish restaurant with the boat in the background
Beside these open-air restaurants, vendors worked from quaint food stands selling—what? Something red and lumpy in a clear red juice. Whatever could it be? It looked like a pink parfait of some kind, but on closer scrutiny we realized it was TURŞU—PICKLES!!!! I'm still not sure about the red juice (cherry?), but people were buying and thoroughly enjoying pickled cucumbers, carrots, peppers, and cabbage in something red. Hmmm…
Yup, PICKLES!!!
Sorry that we'd already eaten, Dee and I trekked on to find the bus for Edirnekapı, our first stop. A friendly driver left his bus and walked us to where he thought ours might be, checking with that driver to be sure. Typical Turkish helpfulness. (I love it.) Though we had to stand, we were happy to be on our way. We rode about 15 minutes to Edirnekapı, where we hopped off and waited for a mini-bus to Eyup. Within moments we'd paid our fare (collected in a tray beside the driver) and were on our way. Once again I was standing, but a sweet man took his 11-year-old grandson onto his lap to make room for me. The boy, I think, was bigger than his grandfather. I knew better than to refuse, and took the kindly proffered place. I shared that I'm an English teacher, then asked the very shy boy a few questions, like "Are you happy there is no school Monday?" That brought a smile! (We were given the day off because of Sunday's elections, which were to be held in the schools. Apparently they needed Monday to count ballots and put things back in order.)
Election banners for the Sunday election hang all over the city.
Before long we were in Eyup. We'd stepped from modern Istanbul into a world of capped and bearded men with women in scarves and veils. So different for us…
Traditionally-garbed Turks enjoy a Saturday promenade by the Eyup fountain.
We snapped photos of the mosque and fountain, then found our way to Eyup's famous tomb, from which it takes its name. Eyyub al Ensari was a close friend of the prophet Mohammed, and he supposedly lost his life there during the Muslim siege of Istanbul in the 7th century. Wow. His tomb, now known as "Eyup Sultan Türbesi," is located in the main mosque complex near the Golden Horn.
Traditional Iznik ceramic tiles with the very rare green shades as well as red and blue
Dee and I donned our scarves (you never tour Turkey without one, as it's required garb in mosques), took off our shoes, and followed the devout into the tomb. Instead of standing with hands together as Christians do, the Muslims pray with cupped hands, palms up, at about chest level. Everyone paid their respects to Eyup, many reading from the Koran along the perimeter of the ornately decorated room, then they backed out of the room, always facing the tomb. All very silent and respectful. And there we were—tourists. Ah,well. Tourists among the pilgrims.
Worshippers at the Eyup Sultan Tomb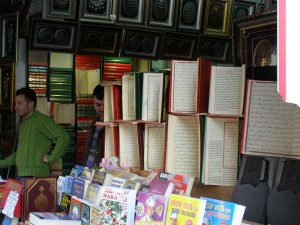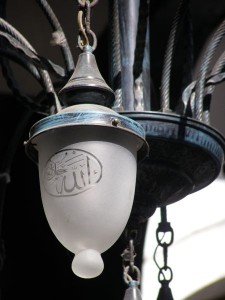 A koran vendor on the streets and one of the many lanterns outside the tomb.
Our next stop was the top of the hill above the famed Eyup Cemetery. Thousands of ancient tombs climb the hill to a high point at the end of the Golden Horn.
The men's tombs often have a fez or turban atop to show their status.
Ancient, tired, leaning tombstones on Eyup's hillside cemetery.
The famous Pierre Loti café sits atop it all. Tables and tables of tea drinkers relax to enjoy the incredible view of the city from one of its highest points. On a clear day you can see all the way to the Blue Mosque and the Haghia Sophia. It wasn't that clear on Saturday, but it was gorgeous nonetheless. In case you didn't know, Pierre Loti was a French writer who fell in love with Istanbul and often wrote sitting at an outdoor café on this very spot.
The Pierre Loti cafe kitchen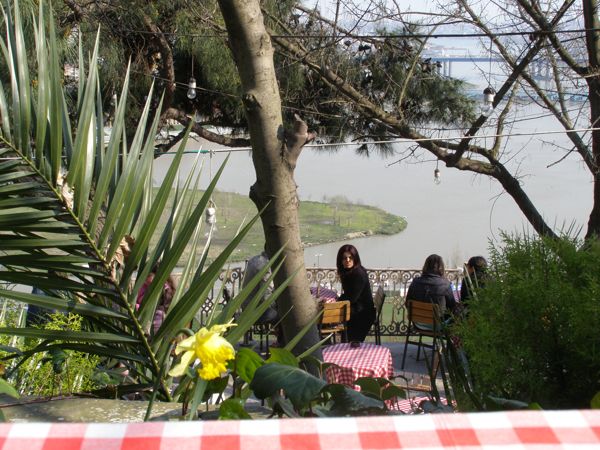 The Golden Horn view from our table
Oh, dear—I'm writing too much again. Sigh… It's hard to stop, you know. Well, welcome to the traditional side of Istanbul, high above the Golden Horn at Eyup's Pierre Loti Café.
Lovely. Incredible Istanbul.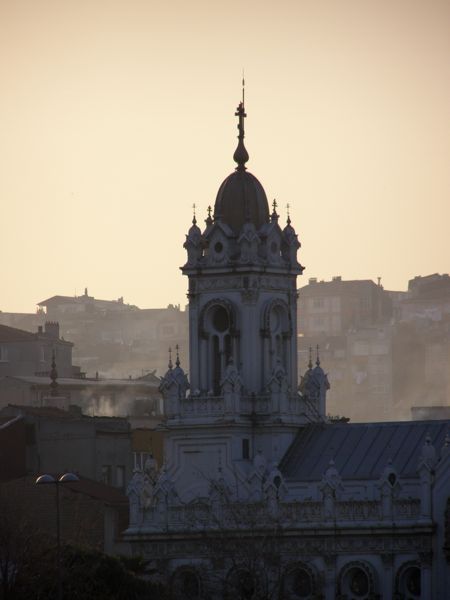 The Bulgarian Iron Church—a Christian steeple along the Golden Horn