After our three days at the Villa Aşina, Jenny, Janet and I headed west out the peninsula to the Chateau Triopia in the tiny village of Yakiköy. On our way we made two stops. First we visited the Olive Garden, an olive factory with an impressive new guesthouse. In addition to learning about the process of pressing olives, we were impressed that they use the discarded olive pulp to fuel their entire system.
Olive pressing machinery at the Olive Farm, Datça
Next we stopped near Kızlan to see picturesque stone windmills that have been grinding grain for hundreds of years. Our guide explained that that area has only 8 hours a year without wind, so it's little surprise that 36 spanking new wind turbines line the mountain ridge above the old windmills. These will soon supply the southeastern corner of Turkey with power. The initial costs were funded by the government, but a private business is picking up the maintenance and electricity delivery.
Datça's still-operating-after-all-these-years windmill
The windmill's inner workings…refurbished, yet much the same as in years past
After basking in the sun with a delicious snack of cheese and spinach gözleme (a little like a mega-quesadilla), we were off to the end of the Datça Peninsula.
The sun was still bright when we arrived at the Chateau Triopia, but the day was waning. We settled into our antique-furnished mountaintop apartments, then headed off to check out Knidos, a ruin at the tip of the peninsula. We just had time to scope it out for the next day, but we stepped into the restaurant ("open years along") for a warming cup of tea beside the wood stove.
It's one of those translation things—Open all year, I'm sure.
The view from our balcony at the Chateau Triopia
We returned to our hotel just in time to clean up for dinner, a gourmet four-course meal prepared by our host, Suavi Hasarı. Soup, bread, salad, fresh grilled fish with garlic sauce, and chocolate pudding cost us a mere 19 lira (about $12). The wine was extra. It would have been a bargain at five times the price, let me tell you! We enjoyed two fabulous meals at the hotel, and it was a good thing, too, because there were no other restaurants in Yakiköy. Just a mosque.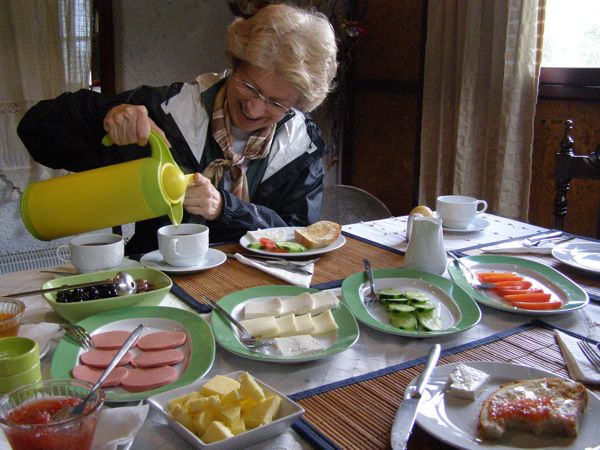 kahvaltı—breakfast at the Chateau Triopia
Wednesday after breakfast (Janet poured) we headed off once again for Knidos, eager to explore its treasures. Sunny, windy, and fascinating. We rambled the ruins for over three hours, marveling at every temple, column, and cow we encountered. Those cows kind of scare me, I have to admit. Once when I was walking alone, a bull gave me a glare and started toward me. I was up behind a tree before he knew it. He just ambled off, disinterested, as my heart pounded into my throat. SHEEESH!!!
Knidos columns against the Mediterranean Coastline
The same Knidos columns with the Aegean Sea behind them
Knidos was established before the 6th century BC, and by the 4th century it had become a thriving metropolis of over 70,000. The whole peninsula doesn't have anything NEAR that many people now—maybe 15,000? They apparently sent their wealth to Delphi, Greece, where they built a treasury. I've seen Delphi, and I noted many similarities between the two ancient cities. Knidos once extended 7 kilometers into the peninsula, and we saw evidence of ancient structures for quite some distance along the VERY narrow, twisty one-lane road.
Big action on the dock in Knidos' South Harbor
On our way home we decided to  explore a side-road to the beach. It was a bit like the back-country hunting roads near Grand Marais—SLOW going. Our destination was a pebble beach, where we contentedly collapsed.
My beach-stack record: 16 stones and a shell
Suavi Bey created yet another delicious dinner for us, a satuteed chicken dish this time. YUM!!!! Baklava for dessert. Yup. Pretty nice.
It was hard to wave goobye to our new friends at the Triopia, but the memories still warm my heart (and stomach).Off to new adventures of the twisty-road variety. It was a 4-hour drive to Dalyan, our final destination before our flight home. Sigh…
Dalyan is a little tourist city on a river, not far from the Dalaman airport. It's most famous for its protected sea-turtle beach, its Lycian tombs, and the Kaunos ruins. Lots to see. Scores of blue-canopied boats lined the shore, each eager to take us out for a day. We talked to a few boat owners and selected a full-day boat trip complete with lunch for 35 lira each (about $22). The price was right, and it took care of our concern about getting lunch. Food always seems to be a priority for us. Getting bigger every day…
Our boat stopped first at Kaunos, and it was well worth the kilometer hike from the river. We shared the ruin with a few other tourists, goats, sheep, and cows. (Apparently the animals keep the grass cropped during the early wet season.) A cool breeze follwed us as we strolled through the remains of a huge roman bath, a domed church, a massive arena, temples, and a seaside fountain. This city, like Knidos, dates back to the 6th century BC. It's clear that there was commerce between all the communities along the south coast of Asia Minor (now Turkey).
Lycian Tombs above the river at Dalyan
The domed church at Kaunos-see the sheep through the door?
Jenny climbs the seats in the Kaunos arena
After a few hours at Kaunos, we boated to a waterside restaurant, the Caretta Caretta (turtle turtle). The mezes (hors d'oeuvres) were delicious, the main course OK, and the dessert—fresh local oranges—was scrumptious. Well sated, we took our huge barge-like-boat-for-three down the river to the beach, a two-mile stretch of sand which is the main nesting ground for Turkey's loggerhead turtles. They've been nesting there for about 95 million years. Unbelievable.
Janet and Jenny strolling back up the beach where loggerheads nest
What a LOVELY vacation—good food, good company, and new vistas explored. A few times during the week I caught myself saying, "It doesn't get better than this."
I was right.