Windmills, mountains, and the confluence of two seas. That's Datça. The Aegean Sea skirts Turkey to the west, and the Mediterranean to the south—the Datça Peninsula extends 70 kilometers between them. Remote but spectacularly beautiful, it's a wiggly finger of mountains pointing toward Greece. In fact, four Greek islands sit just miles offshore. The peninsula's narrowest point is called Balıkaşira, which means "the place where fish can jump across" or something like that. Just 800 yards separate the Aegean from the Mediterranean. Amazing.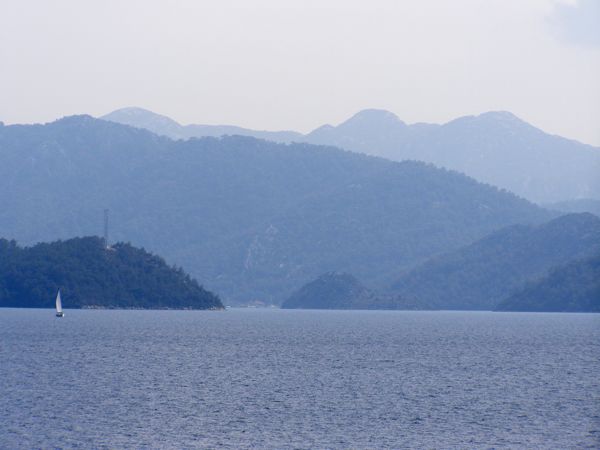 Our first view of the Mediterranean near Marmaris
I'm touring with two of my colleagues from Koç, Jenny Barnard and Janet Karantay; both have lived in Turkey for years. Janet is married to a Turk, and her fluent Turkish has been a great asset on this trip. We flew to Dalaman Saturday morning, rented a car and drove the 180 K to Datça, stopping occasionally to revel at the mountainous terrain jutting from the sea.
The Çağlayan Cafe
We stopped for lunch at the Çağlayan (CHA-la-yan), a delightful garden restaurant with palms, pools, and waterfalls, famous for its kavahltı (breakfast). So—we had breakfast for lunch. Our mantra has been, "We're on vacation; we can do whatever we like!" And we do. It was a traditional Turkish breakfast, but the bread was crustier, the tomatoes tastier, the cheese creamier, etc. etc… This is a MUST for our return trek.
Oh, my—I hear the morning call to prayer. It always touches me.
Our first hotel, just outside Datça, was the Villa Aşina. Merely a year old, it was featured on the Small Hotels in Turkey web site, which sponsors small, charming hotels across Turkey. I've used it often with great success, and this hotel was no exception. "Bright," "artistic," and "welcoming" all come to mind.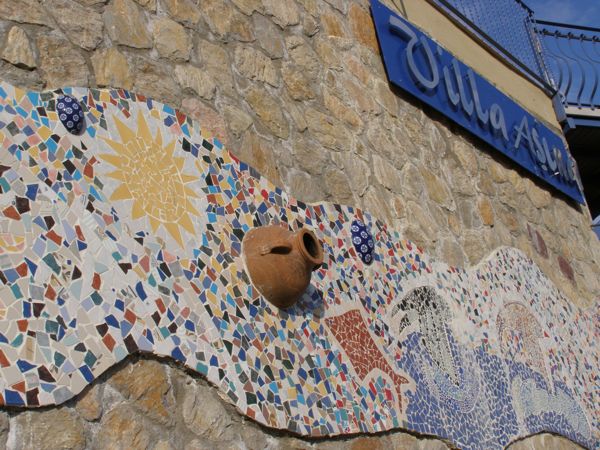 The Aşina Mosaic Serpent along its outside wall
We were first met by a braying burrow that grazed beside the hotel, then by our young hostess, Arzu Gerçekaslan, who met us at the front steps. We were the season's first guests—the only ones in the hotel—and we were treated like royalty. Arzu advised us on our explorations of the area. The early spring sun blazed as we settled into our rooms, marveling at our spacious balconies overlooking the Mediterranean, the Greek island of Simi in the distance.
My balcony view of the Mediterranean and the Greek island of Simi
Janet rested while Jenny and I walked down to the rugged beachside near the hotel. Stunning. I was glad we'd chosen a hotel outside this bustling city of 16,000. We met some four-legged neighbors along the way.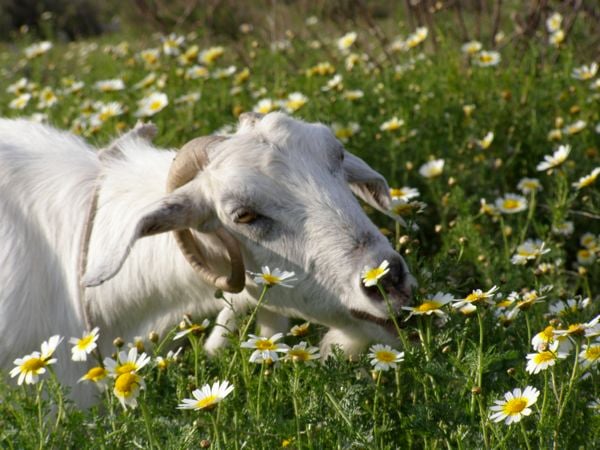 Not only were there burrows in the neighborhood,
but goats, sheep, and cows as well.
Later we sat on the hotel's terrace to sip a beer as we contemplated the stunning scenery. We were served fuzzy green fruit-like pods—badem (raw almonds). We sampled them, three bites of something much like a crisp, tart plum, a local specialty. Not bad, but not great either. One was enough.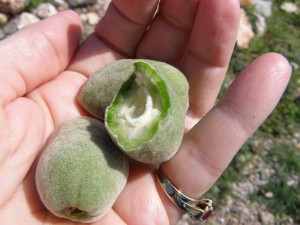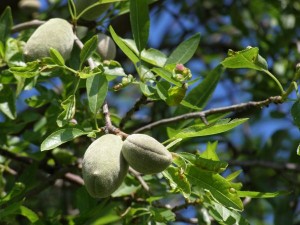 "An almond in the hand is worth two on the bush? Actually, tree…"
That evening we drove into town, wandered by too many not-yet-open-for-the-season restaurants, and found a little family-owned locanta where we enjoyed a bowl of mercimek soup, bread, and salad. Perfect.
Datça's harbor, with boats awaiting summer crowds
The patter of rain on my balcony thwarted my plans for an early morning walk. Sigh… We've had SO much rain in Turkey! Oh, well. Whatever…
Breakfast was at 8:30, and I emerged with a bag of Starbuck's and my French press. I can't abide Nescafe, the Turkish proxy for coffee. What we learned, though, after a delicious breakfast, is that the Aşina makes a kick-butt cup of tea (with a hint of cloves). YUM!!!!
The Aşina pre-season breakfast nook
In spite of the rain, we headed off in our silver Fiat to explore the area, also known as the Reşadiye Peninsula. I'm glad I forgot my driver's license, because the road was harrowing, at best. Of course, the vistas were mind-boggling. Gorgeous.
The Datça Peninsula's mountains are dotted with olive and almond trees.
As we neared Knidos, our hoped-for destination, the rain became a deluge. We stopped at a little hotel that Janet had found on the Small Hotels site, the Chateau Triopia.
Chateau Triopia, Culinarium, Hotellerie, Vinotheque..~ Hmmm…
We dashed through their stone gate, up the stairs, and around to the hotel restaurant. "Cay, var mi?" I asked, hoping for a few dry moments in their charming restaurant. (Little did I know that they would refuse payment—Turkish hospitality.) We enjoyed a chat with manager Suavi Bey, as well as his Turkish staff. As the sun emerged (momentarily), we toured their mountain-top inn, and we were entranced. It features stone construction, replete with mosaic art as well as lovely, antique-furnished apartments. What a spot! (We went back to stay later in the week.)
My travel buddies, Janet and Jenny on a Triopia balcony
The Chateau Triopia—a lovely mountaintop inn.
After our visit, we drove down the mountain to the sea road (Sahilyolu) and enjoyed a delectable lunch at the Dostlar (friends) Restaurant on the seaside at Palamut Bükü. The rain had abated, so we walked the beach, drove the shore road, and took another walk in a tiny village called Hayit Bükü. Charming, all!
The Datça Peninsula's rainy-day coastline

Our rainy day was a success, and we headed back to the Villa Aşina for a welcome glass of wine beside a crackling fire they'd prepared in their carved marble fireplace.
The Villa Aşina's marble fireplace
On Monday (after French toast and Turkish breakfast), we explored Eski Datça, the old city up on the hill above Datça. Entrancing. Ancient stone buildings and cobbled streets are a standard; apparently building there requires a special permit from the government, archeological excavation, and construction that matches the rest of the city. Hence, a well-preserved city.
A typical Eski Datça street
A tempting Eski Datça Entryway
Inside view of a silversmith's shop in Eski Datça
A curious Eski Datça rooster…
…and a less-than-curious rooftop kitten
That evening we chatted with some Turkish musicians who recommended a restaurant on Datça's harbor, the Kirmizihan Şarap Evi (red inn wine house). When we arrived, we learned that one of them had stopped in to let the owners know they should treat us well and not overcharge us, as we were schoolteachers from Istanbul. Works for me! We had a scrumptious meal of mezes (appetizers) and balik çorba (fish soup). Yum. Double yum.
Well, we've left Datça and are settled into the Chateau Triopia, where we're happy as clams. The sun is out, and memories of yesterday's rain are behind us. Does it get better than this? I don't think so.