I'm in Addis Ababa, Ethiopia, volunteering at an orphanage for the Children's Home Society. It's been a real eye-opener, let me tell you.
I don't have any photos of the children in the Care Center because they don't allow photos for confidentiality and security reasons. It makes me a little sad, as I've already grown more than fond of these little people and would love photos to remember them by. Many of them will be adopted soon, but others have been in the orphanage for years. It's hard to find families that will adopt siblings or children with disabilities, sweet as they are.
Me with the Children's Home Ethiopia Care Center in the background–nice digs!
I'm enjoying my mornings with the children–I teach ages 5-10 (16 kids), and about a third of them can write their names. Most know the alphabet, so I'm trying to find ways to stimulate the ones who are ahead yet not leave the others behind. I taught them  the "Hokey Pokey", and they love it. The oldest boy, Samuel, always says, "One more time, please." They're supposed to call me Miss Ann, but they always call me Mama. What's THAT about? A ploy to get me to bring one of them home? Tempting, but I'm a little old to dive into parenthood again. I'm working on learning their names–a real challenge with only a few that are familiar. Asnakech, Konjit, Sintayehu, Tadiows, Ashenafi…guess which are girls. (at the end of the post)
My little darlings hard at work (photo OK because no kids are recognizable)
The other day after my class I sat in on an interesting session. A laughter therapist visits every week to lead laughter play with the older children–all 29 of them. He gets them all giggling and laughing within minutes, then has them tell repeated stories, go through familiar physical antics, etc. It was amazing to watch. He told me that this particular orphanage has the best facility and the best care of all the orphanages he visits–which are many. I'm amazed at how happy and well-adjusted these children appear to be. Their nannies are warm and caring women, yet they manage the behaviors effectively. The older children help out a lot, too—apparently a cultural thing.
Some kids posing for me on the street–typical boys!
The orphanage and the guest housing where I stay are in the embassy district. The contrast between the wealth of the embassy homes and the poverty surrounding it is shocking at best. I walk less than ten minutes to the orphanage each day, then back to guest house for lunch. Then I walk to the Children's Home Society offices in the afternoon, where I'm mostly editing extensive reports on each child (written by the social workers). I'll also be working on scripts for DVD's  about the country and each child's personal background. A unique DVD is prepared and sent home with each adoptee. I'm truly impressed with all they do here.
This is the Children's Home office building–7 floors. I had a small office on the sixth floor-92 steps up.
Children's Home Society has done a phenomenal job of giving back to this country for sharing their children through adoptions. They established the orphanage in 2003, and with the help of these adoption funds they've founded a clinic/hospital for mothers and children (a 50-bed facility), they've established three tuition-free schools for poor children, and they also monitor the care and nutrition at rural orphanages from which they pull adoptees. CHSFS employs over 400 Ethiopians.
A small street market near the Care Center. Can you see why it seemed out of place for me to take a morning walk with my water bottle and ipod? I couldn't face all the beggars.
Me and my friend Matt posing with tej, the local honey wine. Tasted a little musty to me.
There's one other volunteer here, a doctor from the U of M. We get along well, and it's nice to have a buddy. Matt left a wife and 15-month-old son back home, so he's particularly distressed about the exorbitant cost of internet here. It's quite slow and very expensive, so we won't be skyping or blogging. We paid $108 for just two hours of internet, though most of that cost was the usb satellite connection. They have dial-up here in the guest house, but it seldom works. The internet is a government-owned monopoly, and it seems unfair that such an impoverished population should have to pay so dearly for internet–and slow service at that. It's only for the wealthy.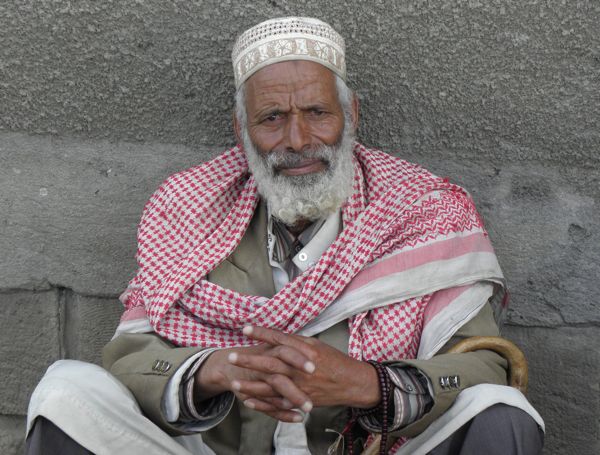 An elder sitting against an embassy wall
The last thing I need to say is that I'm really struggling with the poverty here. Though it's not pervasive, I see it every time I go out. Yesterday I was approached by about 12 beggars. It's hard to walk by and ignore them, so I've done two things. I decided to keep small amounts of money handy to give those who ask for it, and I've found an alternate route to the office so I don't have to walk by the clusters of beggars outside the church. I'm told that I shouldn't give money where there are many beggars because I'll be deluged. I just feel so badly for them when I have so much and they have virtually nothing. One person advised that I give to service agencies rather than to individuals, and another gave me a phrase to say that means "God protect you."
A beggar on my daily walk home–I gave her a small bill every day (very small–6 cents), and she was always appreciative.
Names: Ashenafi and Tadiows are boys–the others are girls (all wonderful).