I've been here a week and a half now, and I'm settling into a routine, though never without adventure. The food here is sensational (though I've had one intestinal blip—fresh tomatoes in a potato salad, I think), but other than that I'm happy and healthy.
Last weekend Matt and I explored the city—miles of it—on foot. We took a mini-bus to Mexico (a central square) for about 12 cents, then hoofed it. Our first stop was for macchiato (see photo) for about 35 cents each, then we hiked about an hour to another spot where we stopped for lunch of injera, which is a huge thin pancake (about 18 inches across) made from tef, a highly nutritious grain grown only in Ethiopia. It's spread on a large tray and dolloped with different dishes and sauces. You rip off a bit of injera with your right hand, then scoop a bit of a dish or two into it, then enjoy it. My favorites are the vegetable dishes, but there are some mighty delicious meat stews and lentil dishes that I've tasted as well.
The 12¢ macchiato.
A delectable meal of injera with numerous toppings. YUM!
Many Ethiopians eat injera for every meal, but unfortunately many of them survive on one meager meal a day (if that). The poverty here continues to affect me deeply.
At any rate, our lunch of injera, beer, and a machiatto cost us a whopping $2 each (or was it $3?) We spent the rest of the day touring some fascinating churches and exploring new areas of the city, finally landing at the Addis Ababa Restaurant, where we indulged in a meal of injera with tej (the local honey wine—tasted a little musty to me, but we choked it down, stalwart drinkers that we are).
Matt and I were joined by two women on Saturday—Bea, a pediatrician from Madison, and Beth, a public health nurse from Minneapolis. They've both been very involved with international adoptions, and Bea has volunteered here in the past, so she's been a great Addis guide. She's introduced us to some fine restaurants and other sites. Today she's taking us shopping before she and Beth return home escorting a baby for someone in Iowa. We'll miss them.
Our past few days have been an incredible adventure. We took a Children's Home Society bus to Hosanna to visit the their orphanage and school in that very poor city. Hosanna has a population of 100,000, most of whom are incredibly poor. The drive down was beautiful, and it gave us a true picture of Africa. Most of the traffic we encountered was foot traffic—both people and animals.
Though most of the street traffic was human, we saw the occasional herd of four-footed creatures.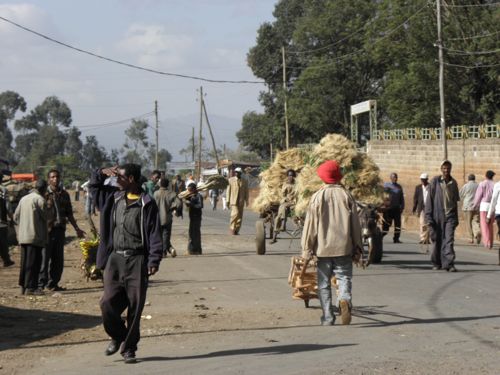 A city street in Hosanna—foot traffic predominates everywhere, as there is 1 car per 1000 people in Ethiopia.
We left at 6 A.M., and along the way we saw hundreds of school children walking to school, many barefoot with dirty ragged clothes, but all dressed in a colored vest or sweater, their school uniform. Many walk miles to school each day, so tardiness is overlooked. Just getting there is a huge accomplishment. Statistically, only 33% of boys and less than 20% of the girls in Ethiopia attend school, one of the lowest rates of enrollment in the world. When I saw what they go through to attend, I can understand why. Many are kept home to work.
We stopped often along the way for numerous cows, goats, burrows and sheep on the road, many being driven to market or traveling to find water, a scarce commodity in the area. We saw a few trickling, muddy rivers, and I assume there were occasional wells. Water has to be transported long distances to the orphanage and school in Hosanna.
Though carts were a rare sight, this one carried numerous water jugs, managed only by a small boy.
Most of the homes we passed were mud huts built with eucalyptus poles. We saw a number of "lumber yards" along our route, but none had lumber—just piles of eucalyptus poles. Many of the mud huts were rectangular (averaging about 12 X 16 feet) with corrugated metal roofs, but we saw hundreds of more traditional round huts with thatched roofs. In the city, most of the homes were square huts with corrugated roofs.
A country house–rather nice, mud over eucalyptus poles (you can see them on the outside)
A city house–mud over eucalyptus poles, with the orphanage up the road.
After checking into our hotel (the nicest one in Hosanna—quite new and very clean for $11 a night), we headed to the orphanage. While the doctors and social workers did check-ups and met with the staff about water and nutrition issues, I stepped into the room for 6 month to 18-month-olds. There were eight beautiful babies in there with two very loving nannies who welcomed me with broad smiles. Each baby has his/her own little wooden bed sitting on the floor, except for the oldest (about 15 months, I think), who was toddling around and slept in a crib with high sides.
The exclusive Lemma International Hotel in Hosanna–$11 a night
The view across the street from the hotel—note the man on the left gesturing to me not to take photos.
Most of the babies were very responsive and enjoyed being played with and loved. These children are well cared for, let me tell you. Oh, how I wished I could take photos, but it was not to be. 10-month-old Bereket laughed and laughed yesterday as I pulled her to her feet, and she cried her little heart out when I left her. Oh, my goodness. I learned all of their names, and watched as one little girl took some of her first steps. These are some lucky children.
The new Mussi Children's Home Orphanage in Hosanna, for babies up to 18 months.
This morning I met the parents of one little girl I'd played with. Unfortunately, They'll only get to meet her and go to court to be interviewed, then they go back to LA to wait until all the paperwork is done. At that point (probably six months from now), they'll return to bring her home. She'll be walking by then, I'm sure.
Nearly all of these orphans are developmentally delayed, as they've come from incredibly difficult circumstances. Most arrive malnourished, and many have been neglected. Their stories are harsh—I'm editing their background reports as a part of my work here in Addis, and it's not pretty. The good news is that they're now cared for and loved.
These children asked me to take their photo. I wondered if the little girl attended school with the baby on her back, though she isn't wearing the red sweater/uniform, so probably doesn't attend school.
In the afternoon we visited the "sister" orphanage for children from 18 months up, and that was a little more chaotic. I managed to organize "Ring Around the Rosie" with them, did activities like "hands up, hands down," etc, and a few more songs, but mostly they wanted to hang on me, turn on my indiglo watch, and hold my hands. They had lots of toys, but I could see they were a real handful for their three nannies—I think there were probably 20+ children there, and more supervision would have been great for them. Of course, I think I made things more chaotic just by being there. I tend to do that. Someone has been teaching them gymnastics, because many of them called out "Mama!" so I would watch them as they performed somersaults, handstands, headstands, and cartwheels. One younger girl went to the wall and walked her feet up the wall with her hands on the floor—too sweet. I was there about an hour, and by the time I was done, I was BUSHED!
No photos of the children, but these happily-employed ladies were hanging the children's laundry in the yard of the orphanage.
The second day I visited the Hosanna School, which is funded by adoptive parents from the U.S. It is a tuition-free school exclusively for children from food-insecure homes (one meal a day or less), many of whom are orphans living with relatives or at the orphanage. It's a lovely little school in the outskirts of Hosanna, and presently 215 children ages 4-15 constitute 7 classes. They're divided by academic skills rather than age, so there can be a 5-year range in one classroom. Each year they'll add another class of students.
Teacher! I know the answer!—the Hosanna School for children of food-insecure families
A young boy quite pleased with his exam score
The behavior of the students was impeccable, and each class stood when I entered to welcome me. "Welcome to our school, Guest. We are happy to meet you." I interacted with them a little, then just observed and took photos. The bright classrooms and caring teachers were truly impressive. The students tend a huge vegetable garden that supplements their daily lunch with fresh produce.
One of the younger classes just after greeting me. The little girl on the left had a sore on her neck and wanted to hide it.
The Hosanna School is proud of this library, which is in dire need of books.
This precious lunchroom poster says it all. These children get two meals each day as well as an education.
Again, I have to finish by saying that I'm incredibly impressed with the service of the Children's Home Society in Ethiopia. They've impacted thousands of children and created hundreds of jobs for Ethiopians. I've been told by many that they are the best adoption/service organization operating in Ethiopia. Unfortunately, because the government is clamping down on adoptions and because of the state of the economy, their income flow is greatly compromised, so they're forced to make some cuts. We all hope more volunteers and more donations will help them through this crisis.

This little boy doesn't get to attend school—too much work to do. Note his oversized boots.