Let me tell you, I highly recommend you consider adding a Blue Cruise to your List of Things to Do. We just finished a 5-day cruise along the Mediterranean coast of Turkey from Fetiye to Demre, and it was WONDERFUL!

On the last day of school, I met my son Dustin and his sweetheart Aly at the airport—hugs and tears abounded. We waited another hour for my friend Susie from Grand Marais, who was delayed in the lost luggage department (her suitcase hadn't gotten beyond Paris). She managed without it for four days, poor thing. When it finally arrived in Fetiye on Monday, she paraded it around the hotel pool, and we celebrated with Appletinis. If you know Susie, you understand.

We spent one night in Istanbul, doing the Quick-Tour, which included dinner on a rooftop restaurant, the Basilica Cistern, the Blue Mosque, a ferryboat ride on the Bosporus, and a trip to the Grand Bazaar. Needless to say, we were ready for the peace and quiet of an airplane ride to Fetiye.
We stayed at the V-Go Hotel, which is a backpackers paradise. The terrace dining room had a beautiful view over the bay, the food was great, it had a pool, and the rooms were air-conditioned. What more could we ask? The weather was HOT! It rained one afternoon, which cooled things down a tad—but just a tad.

After two nights in Fetiye, all 16 travelers had arrived and we were transported to the Sevi 5 (Sevi=love). It was a well-loved boat with lots of beautifully kept wood, both inside and out. We were all relieved to see thick sleeping mats laid out on the deck for us, certain we would never be able to handle the heat in our rooms below. Some people slept down there, though, and said it was fine with the breeze blowing through all night.

I won't bore you with all the details, but I'll mention a few highlights from the trip. The food was incredible, though we had been concerned at first to learn that our chef, Soner, was only 19 and this was his first summer as a cook. Every meal rated a ten.

We mostly sat around and laid around and swam and slept and read. It was tough, let me tell you. The best days were the Five Swim Days. Even the Floridians found the Mediterranean waters more than comfortable, and we had some serious cannonball contests off the top deck. The company was delightful: 5 teachers from Koc, three young couples, and more young singles. We all got along and grew to know each other well through sharing meals, sleeping side-by-side, and playing together.

One day during lunch the captain called us to the bow, where three or four dolphins were cavorting with the ship. It was a delight to see them racing along, jumping, then falling back to repeat the performance. What a thrill to see them just feet away!

On July 4th Soner made us a watermelon man, complete with sparklers. The holiday had nearly gone unnoticed, so we appreciated the effort. It tasted great, too, replete with fresh fruits of all kinds. There was never a shortage of fruit (or beer) on board.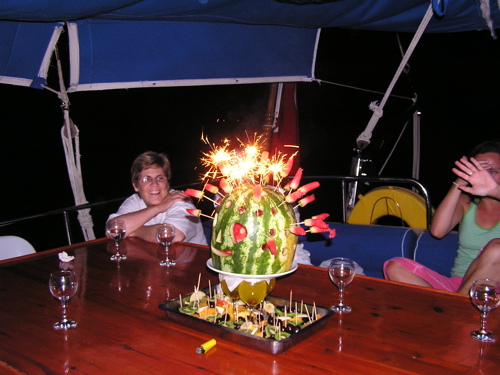 In addition to many stops at harbors for swims, we visited a few villages. One was Kas (Kosh), which had an ancient Roman theater and many tombs carved into the hillsides. Another small town's picturesque hilltop castle overlooked the nearby islands of Kekova. Our captain told me the town was called Castle Town. Figures. When we got off the boat, village women with baskets of embroidered scarves guided us up the streets through a maze of small shops and up to the castle. A woman named Serefe guided me all the way, pointing out items of interest. Between her limited English and my limited Turkish, we learned we are the same age. Her life has been far harder than mine—I'm always aware of how fortunate I am. Of course, she lives in Paradise, and she knows it.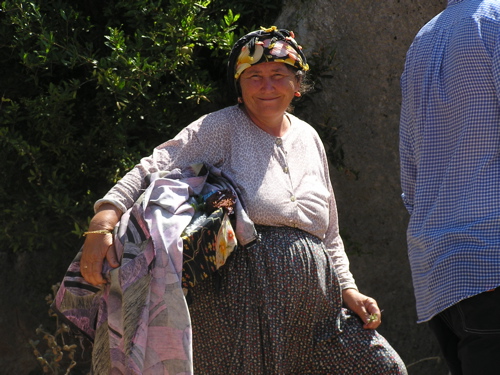 On our last night we all dressed up to go to the Smuggler's Inn Pirate Bar. We were picked up by a barge-like motorboat, the local water-taxi, which held 30 people. It delivered us to the bar, which was a thatched-roof affair tucked away in a tiny cove across from a rocky crag. It was AWESOME! Totally different from anything we'd ever seen. It took a while for everyone to warm up, but eventually everyone was dancing and sweating up a storm. It never did cool off that night.
Well, all good things must come to an end, and we all waved Captain Atilla, First Mate Orhan, and Chef Soner goodbye and hopped onto a service bus to be delivered to our next destinations, which were many.
We all shared a magical, relaxing week that I'm sure none of us will forget. As I suggested, put this one on your list.