The second leg of my summer travels was a 9-day trek with four other women across the Mediterranean and Agean coasts of Turkey. My goodness—what an adventure!
After bidding farewell to many of our Blue Cruise mates, we took off. We five were dropped off at the foot of Mount Olympus at Bayram's Treehouse Resort near the beach—my friend Sue from Grand Marais, Jana and her friend Beate from Berlin, and Shelly, a Minneapolitan teaching in the Czeck Republic.
MY BUDDIES AT BAYRAM'S
The first night we took a bus up to the top of Mount Olympus to see the Chimera, flames that come straight from the rocks, 24/7. The hike to the top was dicey in the moonless dark, much like a rock- strewn portage. Our friend Christy (traveling on her own) was the only one who thought to bring a flashlight, so the rest of us relied on the beams of our followers. The hike up was well worth the sweaty effort, though. We emerged on a rocky field dotted with campfire-sized flames emerging straight from the rocks. It was both eerie and fascinating, obviously the object of myths.
A SWEATY SUSIE AT THE CHIMERA
The next day we explored the ruins of Olympus near the beach and lazed away the heat of the day ina shady spot, reading and marveling at the pristine beachfront. That night after dinner we walked back to the beach in the dark, using my tiny penlight to guide us. Dumb. Beate twisted her ankle badly. After soaking her ankle in the frigid mountain stream, she hobbled back to Bayram's, where we found a first-aid trailer. The doctor fixed her up with sauve, an ankle wrap, an ice pack, and ibuprofen. He offered us a drink, then walked across the stream to buy us beers. Go figure!
Next stop: Antalya. It was hot, over 100 degrees. We stayed at at the Dedekonak Pension, managed by a charismatic young surfer named Mike. He memorized our names immediately and made us feel very much at home. We followed his recommendation for a lunch spot, where we sat outdoors in the shade near an ancient castle enjoying Antalya's incredible vista of mountains jutting from the Mediterranean.
SUSIE AND ME AT HADRIAN'S GATE, ANTALYA
Monday was my birthday, and Jana had champagne, mini-cakes, a candle, and gifts all set out for me in the pension courtyard. What a sweetheart!
BIRTHDAY BREAKFAST CHAMPAGNE
Afterwards we piled back into the car for the four hour drive to Kalkan. It's a charming town, and it took us a while to locate the Balikci Han. Once we found it, we were PLEASED—too lovely for words! It was clearly the gem of our trip. When Jana went to park the car, she returned with five iced lattes for us, complete with a handsome waiter carrying them on a tray. My second birthday treat.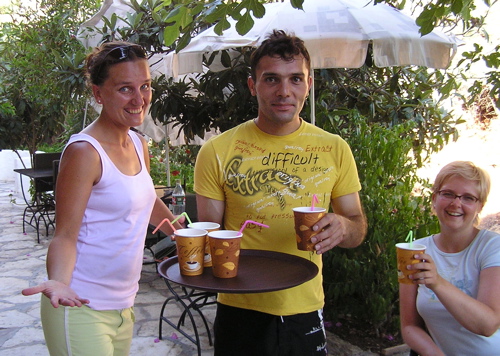 JANA'S COFFEE SURPRISE DELIVERY
The Balikci Han (fish peddler's inn) has all of six rooms, and it sits at the edge of Kalkan's old town, just a half block above the swimming beach. The rooms are charming, with hand-embroidered silk bed-coverings, antique furniture, and lovely beaded lamps and light fixtures. The breakfast tables were on a tree-shaded terrace.
As soon as we got settled, we hit their amazing beach. The water was both hot and cold, changing temperature every stroke we swam. We discovered that a frigid mountain stream empties into the bay at that beach.
We had a DELICIOUS dinner at the Kaptan's Restaurant, just across the block from our hotel. Since the waiter had helped us carry our luggage to the hotel, this was a natural choice. We shared mezes and entrees, and everything was delicious, especially the cigara borek. It was the BEST!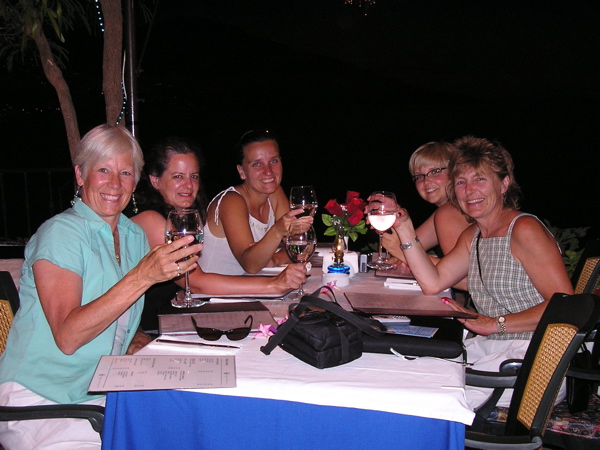 A BIRTHDAY DINNER TOAST TO GREAT TIMES TOGETHER

The next morning we drove to Saklikent Gorge. Once we passed the tourist booths and paid our small entry fee, we followed a wooden walkway hanging along the cliff above the river. It was a bit odd to see a huge Turkish flag strung across the gorge far above us—but this is Turkey.The walkway ended at a maze of Turkish-pillowed "booths" perched over the water. There must have been 15 of them, as well as tables and chairs set along the rocks.
We forded the icy, rushing water beyond the restaurant area, and were amazed to continue along a mere trickle of warm water As we continued up the gorge, the formations became more and more amazing. It was spectacular. The entire mountain is marble, so it's amazing to think of how many years it took the river to wear away this phenomenal gorge.
JANA AND SHELLY IN THE SAKLIKENT GORGE
On our way to Akyaka we stopped at Kayakoy, a city deserted after the 1923 population exchange. When the Turkish Republic was established, Greek Christians were deported to Greece, while Muslims were brought back. It was a painful time for many towns, where Christians and Muslims had lived in harmony for centuries. Kayakoy, frozen in time, is a testament to the lifestyle of many centuries.
Akyakya, our next stop, is an interesting little tourist town where all the buildings follow a similar design, mostly two stories with intricate woodwork ceilings and eves. Lovely! Once we settled in, we decided to scope out restaurants up the river behind our hotel. A man invited us in for tea or coffee, which Sue fanagled into a glass of wine for each of us. Go figure! After dinner we threw fish scraps into the river, which was soon writhing with eels under the restaurant's floodlights. Unbelievable!
The next day we took a boat cruise to five beaches on the Gokova Bay, including the famed Cleopatra's Island. Antony developed the island for Cleopatra with a small city (now ruins) and a beach with imported sand from Egypt. The beach sand, which supposedly has healing properties, is protected. The grains are rounded rather than granular, so it's funny to walk on (underwater), sort of a combination of mud squishy and sand loose. You can't sit on it, and there's a huge fine for taking any away. There were probably 15 or 20 security guards. Many people sat in the water below the roped-off beach, smearing sand on their bodies, faces, etc. Amazing. Our next swim spot had a 100-foot cliff, which some men dove from. It was frightening, but they all survived.
CLEOPATRA BEACH
On Friday we headed for Selcuk, stopping on the way at the Dilek Peninsula, where we had another picnic, swam, and lay in the sun. Life is rough in the swamps!
Selcuk (on the Agean) felt like home to me, as this was my third visit. The Bella Hotel was charming as usual. The staff remembered me from last summer, but they particularly remembered my son Ross and my dog Libby. Hmmm…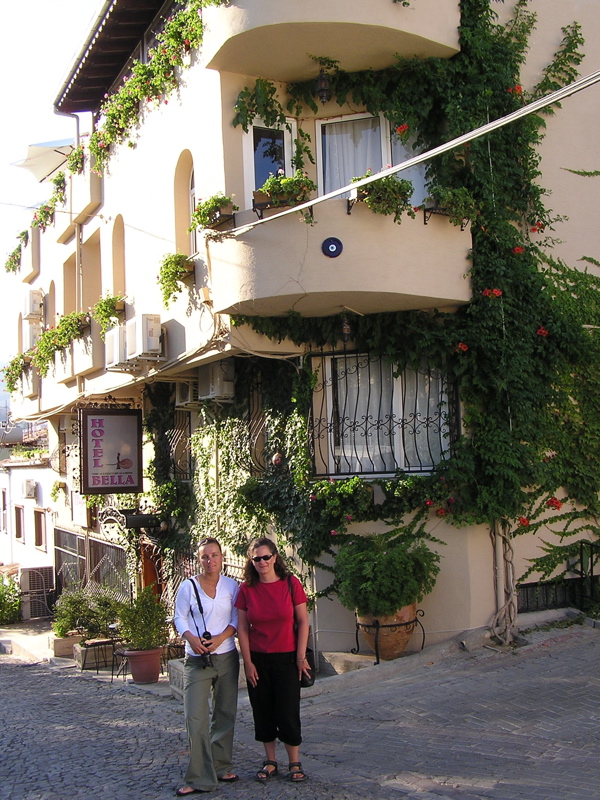 JANA AND SHELLY AT THE LOVELY BELLA HOTEL IN SELÇUK
We relaxed on the terrace restaurant/bar and enjoyed a lovely dinner. Saturday we drove up to Şyrince (SHEER-en-jay), a quaint mountain village which charmed everyone. Our favorite spot, though, was the little man who sits in a tiny shelter carving wooden spoons from cedar branches. We chatted with him and took many photos, though I lost them with my camera the next day. Oh, well. Fortunately, I'd downloaded most of my photos earlier. I've gotten great mileage out of that camera, and it's given me wonderful memories of my adventures in Turkey. I bid it a fond farewell along with Turkey.