We had three more days in Istanbul, and our arrival was daunting, at best. Our driver, Sabahattin, performed valiantly, but the Sultanahmet traffic was chock-a-block. We spent nearly an hour to go three blocks. At least it felt like it. Five of us hopped off the bus about four blocks from our hotel so we could arrange rooms before luggage and other travelers arrived.
We had less than half an hour to gussy up for an exclusive dinner Tom Olson had arranged. And oh—what a dinner! We weary travelers looked pretty classy for our trip to the Mikla Restaurant, rated #38 of the top 50 restaurants in the world. Yup, the world. It's on top of the Marmara Pera Hotel near Taksim and absolutely fabulous. We started with a quick peek into the nearby Pera Palas, a Neo-classical hotel that dates back to the 19th century. We oohed and ahhed at its fabulous decor: heavy draperies, glittering chandeliers, and ornate carved wood. Ataturk stayed there, as did Agatha Christie when she wrote Murder on the Orient Express. It's just been renovated, and it's a masterpiece.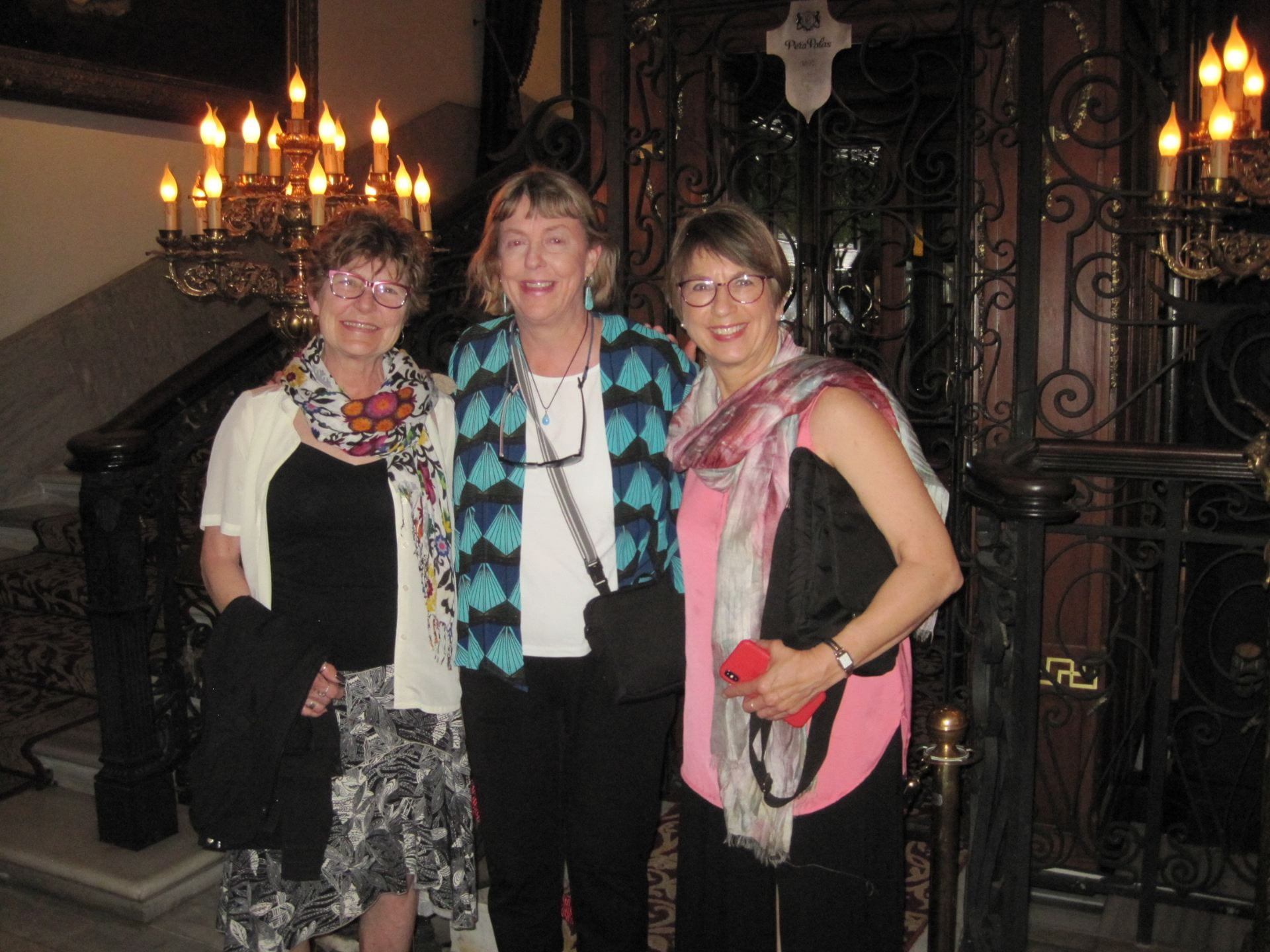 We were early for dinner, so we imbibed in a glass of wine before boarding an elevator for the top story. We were led through the restaurant to an open terrace overlooking the Golden Horn, the Bosphorus, and the Marmara Sea.
My dopey movie of the Bosphorus from the top of the Marmara Pera
If the view wasn't enough to knock us off our feet, dinner was beyond compare. We were served numerous hors d'oeuvres like a whole-grain cracker topped with seasoned hummus and thinly-sliced radishes, and an anchovy baked onto a wafer-thin cracker with a heavenly sauce. Oh, and the bread—my goodness! Their whole grain bread was sumptuous and crusty with heavy olive oil for dipping.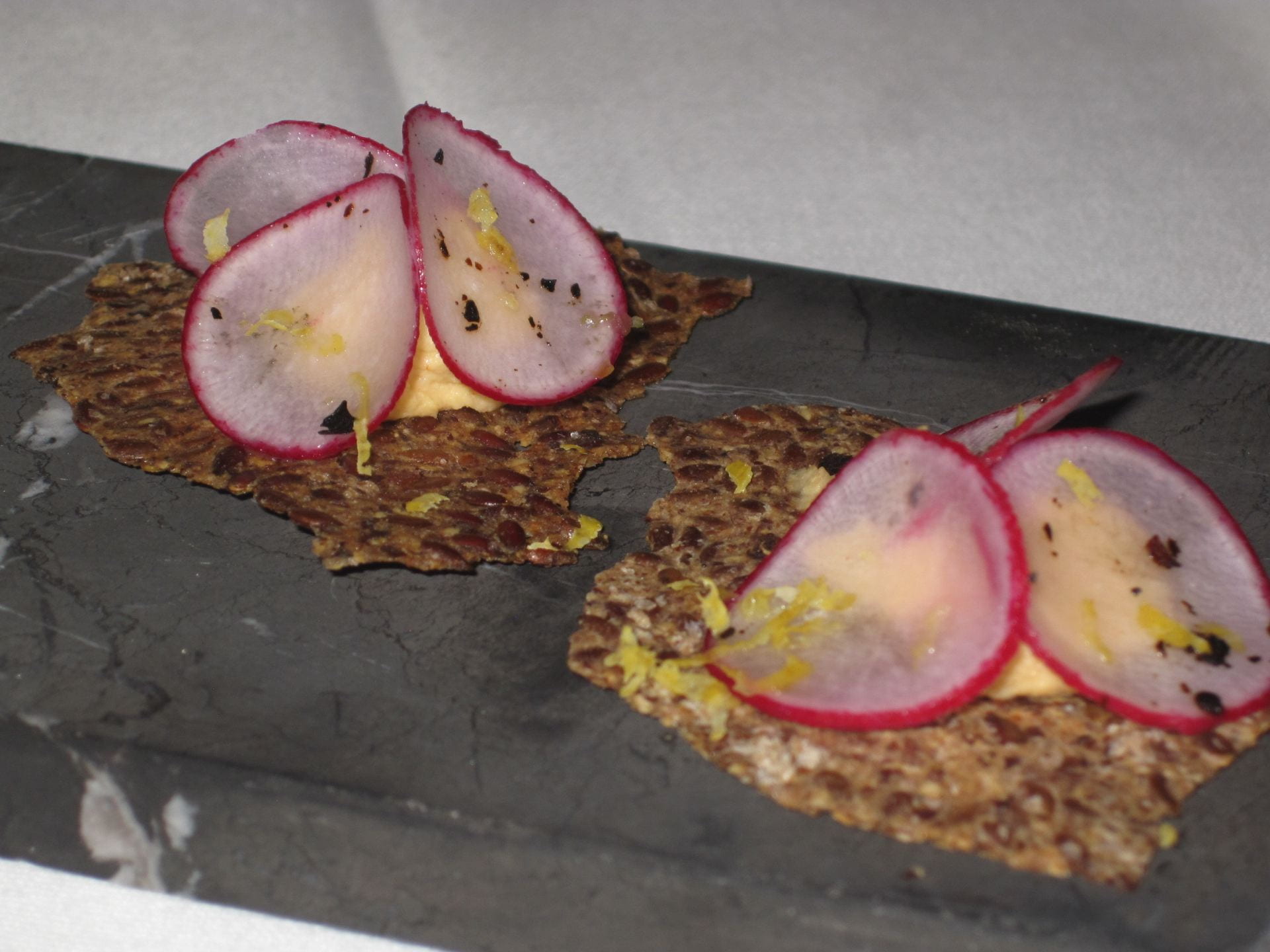 My first course was a 6-inch prawn served with seasoned seaweed, a tart/sweet red sauce and"şeker bean" hummus. YUM!
For the second course Susie and I shared a beef rib steak, rare, served with chard, mushrooms, artichoke, asparagus, and a reduced wine sauce. Oh, heaven! We couldn't eat it all and hope the remains went to a worthy devotee.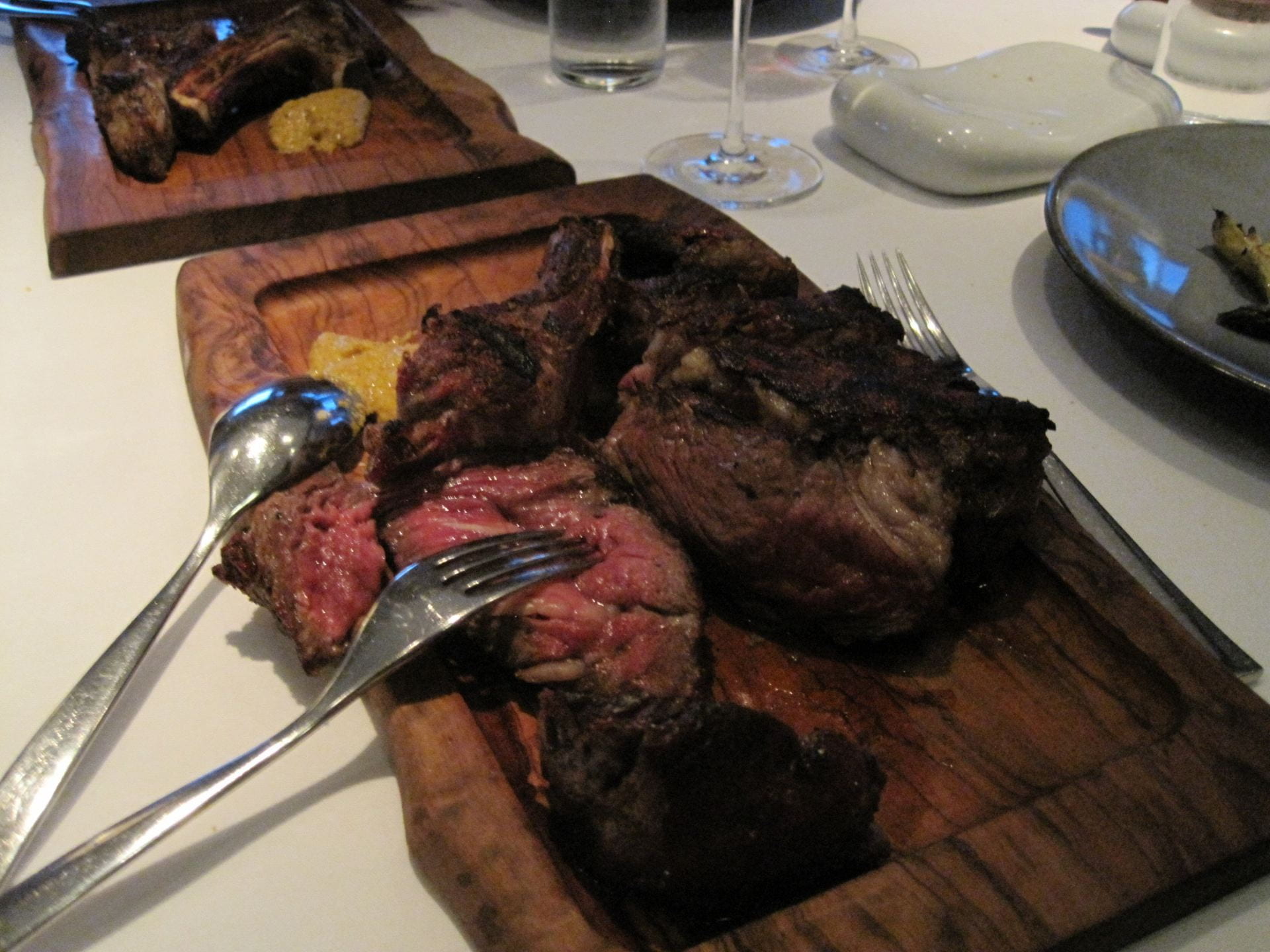 My dessert, recommended by the waiter, was Buffalo Yogurt: a dollop of mint and molasses-flavored yogurt topped with strawberry sorbet and sugared walnut crumbles. It was a clear winner (we tasted each other's desserts and mine was the best).
I give Mikla an easy 11 out of 10. Thanks, Tom!
The next few days I breezed small groups through three of my four walks, and I'll share a few highlights. First of all, I know all too well that prices are higher in the Grand Bazaar because those 4000+ shops have a high overhead. I bought Turkish towels there anyway. At least I checked with a few vendors to get the best prices, and my friends followed suit. As we trekked the back streets behind the bazaar, we found the same items at a third of the price. Blush…
Rondi and Jane struggle to choose the finest Turkish towels in a Grand Bazaar shop.
We also stumbled across a man using  a funny little machine that looked like a coffee grinder. Actually, he was squeezing the oil out of black cumin seeds. They resemble poppy seeds or black sesame seeds, and the press puts out a core of black, hardened hulls pressed together into a tube. We were fascinated. The man explained that the oil (which looks like coffee) is good for your skin and for fixing stomach problems. He tried to sell some to us, but we passed.
I was excited to show my friends the Rüstem Paşa Mosque, but it was closed for renovation—BUMMER! I brought them down to a little spice wholesaler I know just below the mosque, where we all bought a number of spices.
Ulve's son charged us 30 lira ($5) for a kilo of pul biber (a favorite Turkish spice like shaved pepper, but not so strong), and later I found it at a spice market near our hotel for 160 lira ($27) a kilo. More than five times the price. That's why you should bargain in Turkey. It didn't quite make up for the cost of our towels, but heck—I did my best.
Jini waits patiently outside while we shop for spices.
The next day we discovered a new museum in the Beyazit Hamam, which had been closed many years for renovations. It was damaged in the 1999 earthquake, and it took twenty years to fix it up, but what a find! The foundation of the hamam included recycled marble bits from the Forum of Theodosius (which ran along that stretch), including an upside-down soldier.
Can you spot the upside-down soldier in this foundation?
The museum itself had room after room of artifacts from old hamams, and the original sinks are still in place, three or four to a chamber. It was fun to think of sultans, harem slaves and community members lounging in these rooms, dumping hot water over themselves and indulging in soap suds massages.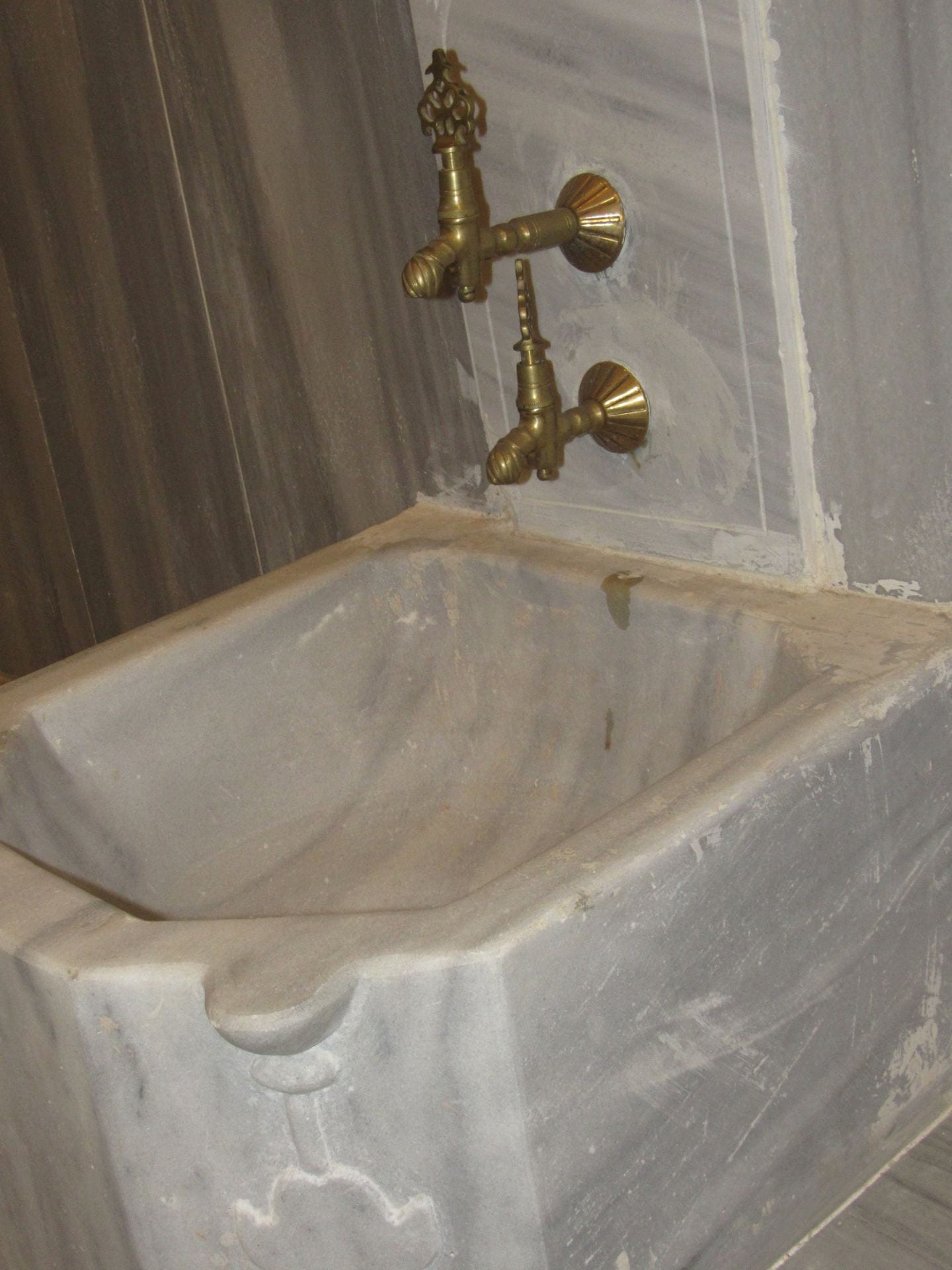 We wandered on to the Istanbul University gate, which was festooned with Turkish flags. I think nationalism is building again, hopefully in favor of secularism. Everyone we talked to has absolutely had it with the present regime. Enough said.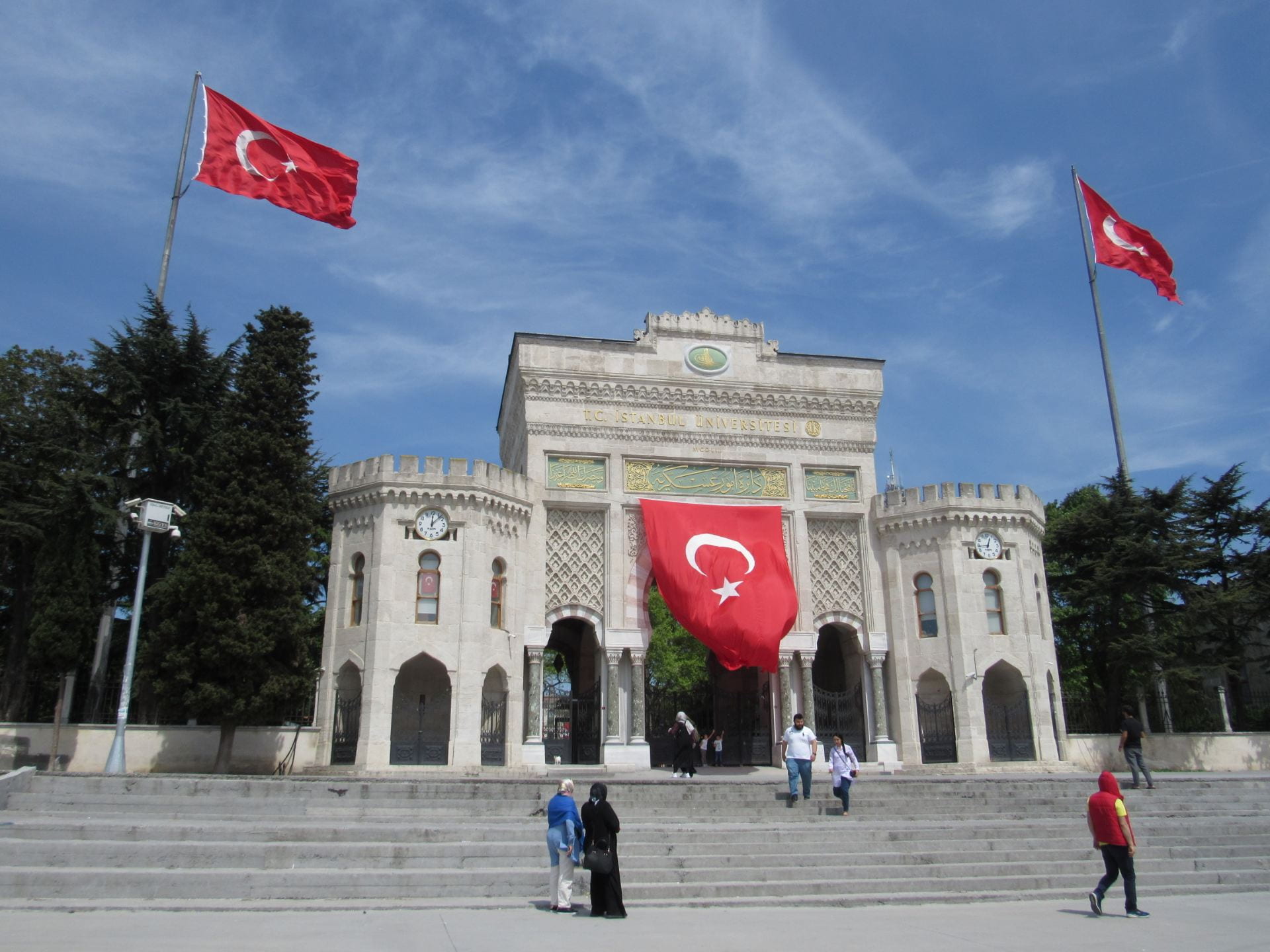 Our final adventure on that trek was a visit with Recai, the owner of a little shop in the bookstore han (Sahaflar Han). He's in my guidebook, but I didn't recognize him because his tidy black beard is now gray, but he welcomed us warmly, insisting that we have a cup of tea and chat.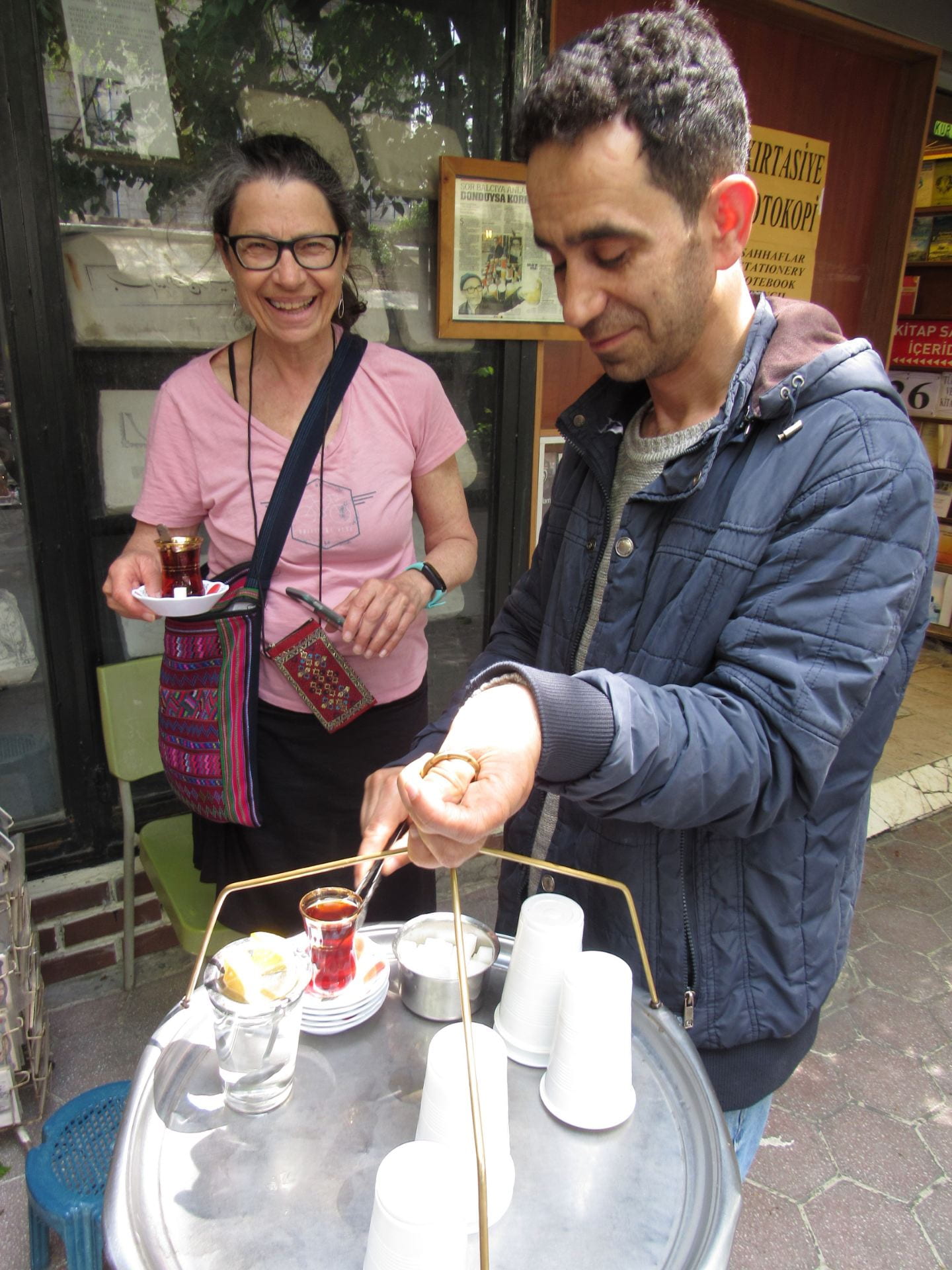 It was a real hoot for us, and the man from the next shop, Fuat, brought Sue, Jini and me a bottle of water. Of course, we bought a few things from Recai—why not?
After lunch and a rest we trekked up to the Süleymaniye Mosque, the largest in Istanbul. It was closed many years for renovation; what joy to finally visit this expansive structure. An interesting note: ostrich eggs hung beside the 2000+ oil lamps to attract their soot, which was scraped off to make ink for the Sultan's calligraphers.
Another note is that the famed architect Mimar Sinan designed this edifice and used to sit in a corner loudly slurping tea. When asked why, he explained that he was testing the acoustics of his creation. Sinan designed over 300 structures between the ages of 50 and 98. His tomb lies beside this mosque.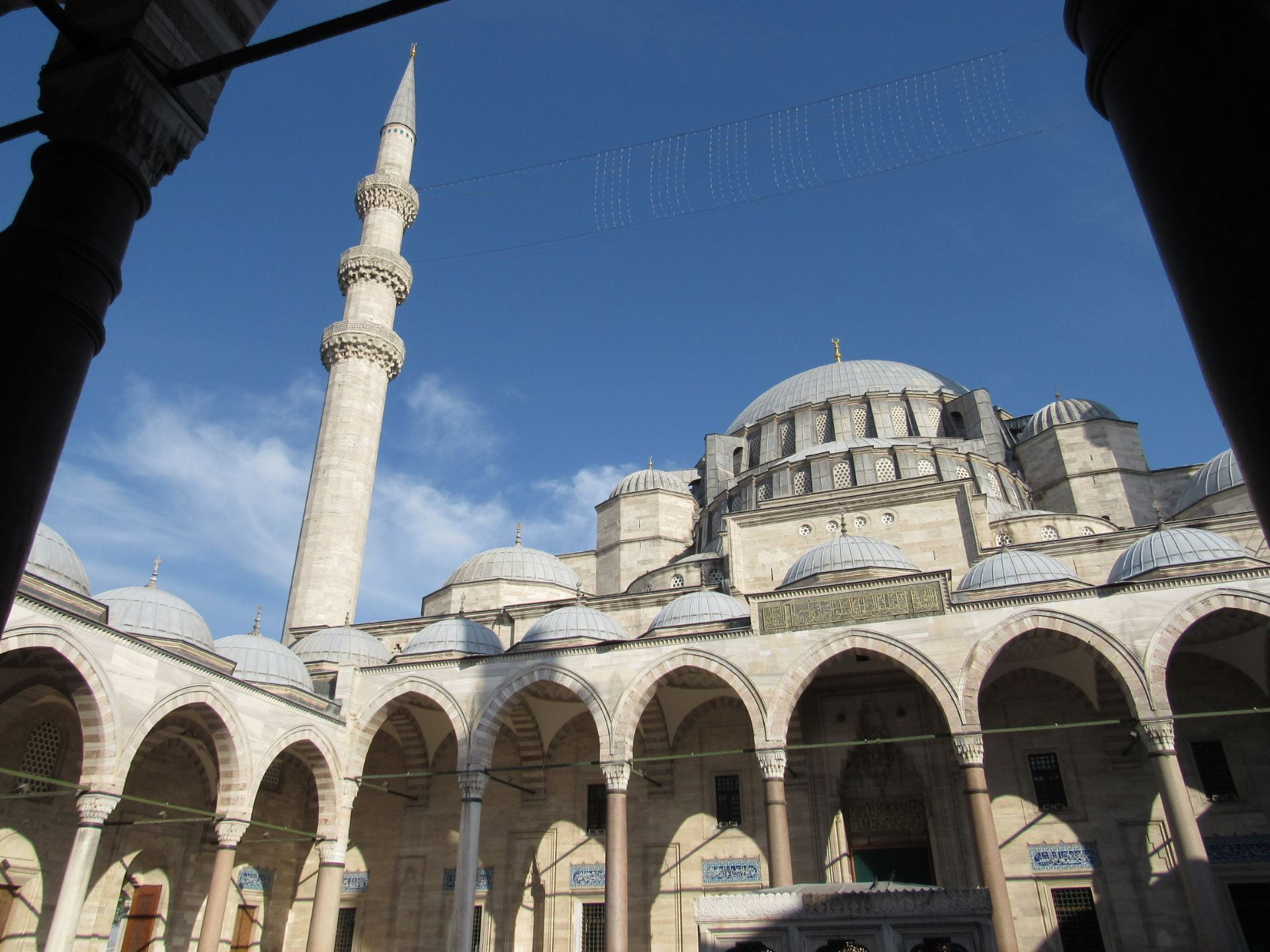 We finished with a cup of ayran (a salted yogurt drink) and a shared bowl of fasuliye, a white bean dish with onions, peppers, tomato and spices. It not only offered us a delicious treat, but a needed break for our sore feet.
Fasuliye, ayran and bread. Yum!
It was hard to say goodbye to our travel compatriots, but Jini and I are staying on for yet another week at a friend's apartment on Burgazada, one of the Princes Islands. More on that later.