I'm done. Yesterday was my last day of school, and it was easily the warmest send-off I've ever had.
.
My adventure started last weekend with a Friday dinner shared with Minnesota friends, Susan and Waverley–fascinating women. We knitted, sipped, ate, and chatted our way into the late evening.
.
Saturday morning dawned drizzly. Sigh…
Istanbulites forge on into the drizzle (and snow)
My friend David trekked over from the Asian side and we headed into Sultanahmet for one last trip. I needed to pick up some spices, interview a bag-seller for the third printing of my book, and pick up three glass lanterns for my porch. I bargained a good price for lanterns in the Spice Bazaar, and after the obligatory cups of tea in the shop, we headed back out into the blustery day. The cold air penetrated to our bones as we wended our way to the Hamdi Restaurant for a "farewell lunch" of Iskender (pide with doner, tomato sauce, melted butter, and yogurt–YUM). As we indulged, I noticed snowflakes in the air–the first I'd seen this year. Such fun. Minutes later the power went out. Luckily, we were near a window and it didn't affect us all that much. Soon the power came back on, and we ordered tea as we chatted, continuing the slow process of warming up after being chilled to the bone.
.
We forged out to finish our spice shopping, but when we got to my spice dealer, his shop was dark. He tried his scale, but to no avail. It needed power—Istanbul has gone digital. "Maalasef," he apologized. There were a few shops in the Spice Bazaar with generators, so that's where we headed. Maalasef. (I prefer frequenting the shops outside the bazaar.)
One of the many vendors just outside the Spice Bazaar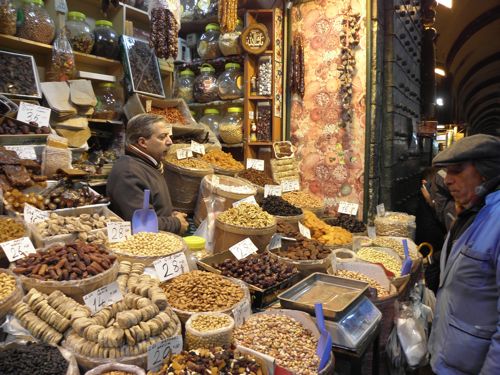 "I'm about done," I said as we completed our purchases of salep and pistachios. "Let's head home."
"Do you think the trams will be running?"
"Oh, no—electric trams." Another sigh.
We walked along the tram line long enough to verify that our main line home was out of commission.
"How about a ferry?" I suggested. "We can take the ferry to Kadiköy, then take another one back to Beşiktaş."
"If the ticket machines are working," David replied. "We might as well try."
.
Snow swirled around our heads as we climbed the overpass to the pier. The first station was roped off–closed. Oh, no! We kept walking and found our way to the Kadiköy station, which was operational. Apparently they had a generator. Whoopee!
The ferry to Kadiköy was packed–and quite modern
Our roundabout route from Europe to Asia and back to Europe again took nearly three hours, but that included an hour in the Iskele restaurant.
My buddy David toasts to winter in Istanbul.
We were serenaded on the second ferry ride, a welcome diversion.

That evening our friend Güler joined us for dinner in my apartment–leftovers, sadly, but we managed well. She informed us that the entire city had been without power that afternoon. That's a city of 15 million people. Whew!
.
Sunday David and I roused early to ferry across the Sunny Bosphorus (Hooray!) and met my friend Julide, who had offered to show us the Beylerbeyi Palace.
David and I after a delicious Turkish breakfast at Beylerbeyi.
We started with a Turkish breakfast in a poolside gazebo, then wandered the grounds before the English tour finally started.
Julide poses with David outside the palace…
…then escorts us up a few garden terraces to the outdoor pool, just below the Bosphorus bridge.
We were accosted by a guard as we meandered around the pool, but since we'd entered on a walkway with no barriers, Julide talked our way out of an arrest. 🙂
The contrast between the 19th century palace and the 20th century bridge is stunning.
The palace, a summer palace built after Dolmabahçe, was stunning, and Julide walked us through the charming waterfront community of Beylerbeyi, where we again stopped for tea. When I asked for the bill (it was to be my treat), the patron insisted that our tea was complimentary. Only in Turkey.
The sweet Beylerbeyi Iskele (ferry station)
Fishing boats moored just outside our little restaurant
Cyclamen (Ataturk plants) bloom optimistically outside a Beylerbeyi restaurant.
The snow kept coming, and Monday evening brought a few inches that stayed on the ground–well, at least the trees. I took my camera with me to school, just to record the event.
Snow below my apartment…
…snow on the Bosphorus at sunrise…
…and snow at Robert College (two students pose with me–Yasemin and Pelinsu)
My last day of school was a tear-jerker—literally. This has never happened in all the years I've taught over here, but I had students crying all day long. Pelinsu, an exuberant girl in my core class (10 hours a week) had started crying the day before, and she was in full weepy-mode when I got to class on Thursday. She sort of led the charge as her friends joined in sobbing.
Though I did my best to console Pelinsu, the tears kept coming.
I cheered them up with some word games, then we went down to the lush Faculty Parlor to celebrate our semester together. I supplied cheesecake and chips, hoping to ruin their lunch. Which I did. Mine, too.
.
Everyone grinned when they produced a gift they'd bought for me, gathering eagerly as I opened it. My first Oscar! YILIN EN İYİ ÖĞRETMENİ —THE YEAR'S BEST TEACHER. Gosh.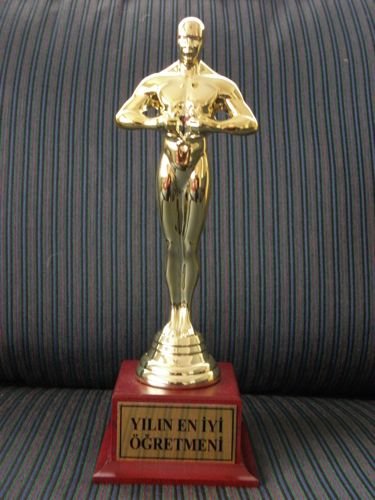 Who could resist loving these kids, huh?

During the flag ceremony I was applauded (at least by my three classes) and presented with yet another gift–a silver salver engraved with my name and the Robert College insignia. Along with that I received a card from each of my classes with touching notes from every single student. More tears—mine this time. Hugs abounded after the ceremony.
.
Fellow teachers topped off the day with a round of adult beverages at Bizim Tepe, the Robert College Club adjacent to the school. And there's MORE—dinner with Erica, a woman who's reached out warmly while I've been here.
.
So, as I said, I'm done.
.
I'm all packed up to move back home, but first I'm traveling with my friend Sandra to the Far East—Taiwan, Hainan (China), Hong Kong, and Thailand.
.
Not too bad.