I've had a rare insider's view of Turkey this week, although certainly not by choice. In fact, if I could have avoided it, I would have done so wholeheartedly. It's been a rough week.
Last Sunday I woke with an ache in my lower back. Had I slept wrong? My Grand Marais guests Dominique and Sophie were heading across the Marmara Sea with me to visit the hot springs at Termal, so I shook them awake and hiked down the hill with Libby to find a taxi. I felt fine on the ferry crossing, although Sophie was a little nauseous from the wild seas. Our friend Gizem met us with warm hugs on the other side, announcing that the ferries were cancelled for the rest of the day. Sigh… That meant a bus ride home to Istanbul—AGAIN!
Sophie and Domique outside the Grand Bazaar
By the time we got to Termal, my back was pretty sore and pains were shooting down my thigh. Oh, for a massage! After soothing myself in the hot waters of the hamam for an hour, I hit the massage table. It was a pummeling treatment, but I thought it helped. That is, until I stood up.
I found temporary relief in Termal's warm outdoor mineral pool.
The long and short of it is that the pain was becoming so intense that I could barely walk. Gizem's mother gave me a pain-reliever she uses for back problems, which seemed to help. The three-hour bus ride around the Marmara was barely tolerable. I hobbled off the bus at Harem and hailed a taxi for home, worried about Libby's 12-hour cross-legged wait. Poor baby. Needless to say, she was thrilled to see me.
My friend Amy agreed to take Libby for a few days, and she also accompanied me to the emergency room of the American Hospital, a private hospital in Istanbul where most of the staff speak English. Bless her heart.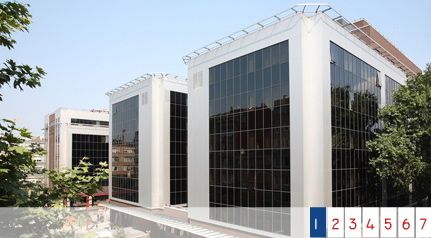 Amerikan Hastanesi–the American Hospital, from their web site
The doctor there gave me a shot of pain-killer. Nothing. They stepped up to the opiate level, which mildly eased the excruciating pain in my thigh. Was it sciatica? He didn't think so, as it was the front of my leg. He sent me home for a few days of bed rest with a some pain pills and four prescriptions. I thrashed through the night, each relief-seeking movement bringing throes of agony. Oh, my. I went back to the hospital for an appointment with my orthopedist, Dr. Onur, on Wednesday morning (doctors here are called by their first name, like Dr. Mike). He brought me to Dr. Nazan, the physical therapist, and after an excruciating exam, she ordered a series of MRI tests on my back and neck. By 3:00 I was back in her office with results—time for surgery. I was shocked. Surgery? In Turkey? I couldn't imagine.
My MRI, showing at the V where the disc had hernaited into the nerve cavity, cutting off the nerve. ARAUGHHH!!!!
Be assertive, I told myself. Insist on a flight back to the Mayo Clinic in Minnesota. I had always promised myself that any major surgery would be done there, as my parents were firm believers in the Magic of Mayo.
Then reality set in. It wouldn't be easy to set up, and there was no way I could manage an overseas trip with the pain I was in. It just wasn't an option. I e-mailed a friend who'd had a complicated back surgery in Istanbul, and he responded promptly with laudatory praise. He said his American Hospital surgeon "used techniques which aren't yet available in the States. I haven't had as much as a twinge of discomfort since the operation – I feel rejuvenated by it, in fact." My school director at Robert had also had back surgery similar to mine, and he assured me that his procedure went smoothly and well. He had every confidence in the system.
I was convinced.
Dr. Tunç, my neurological surgeon, explained that they could repair my problem with microdiscectomy, a fairly non-invasive procedure that would remove the herniated tissue compressing my nerve. The recuperation time would be only a few weeks, and the pain would be alleviated immediately. Whew!
Thursday I madly prepared lesson plans, and Friday morning I called a cab to the hospital in time to check in at 7:30. There was a possible surgery slot at 10:00 AM, and a certain one at 3:00. They immediately settled me into a room, where I adopted the fetal position, curling my spine to lessen the pressure on my nerve.
The room was nice. It was a private room with a high-tech hospital bed, a brown corduroy couch, and a cherry upholstered straight-backed chair with a matching side table.
Nice digs–$300 a night, double occupancy, including meals (and wireless).

I had a small refrigerator, built-ins for my clothing, a wide-screen TV, and a massive bathroom supplied with hotel-type toiletries. My sixth-floor picture window overlooked the rooftops of Nişantişi, on the European side of Istanbul. It was gorgeous. (I later saw that my room was a very basic one. Many of the rooms were suites, with a separate living room area for guests as well as the main hospital room. Pretty posh. I think the American Hospital has only private rooms.)
Room fee also includes toiletries…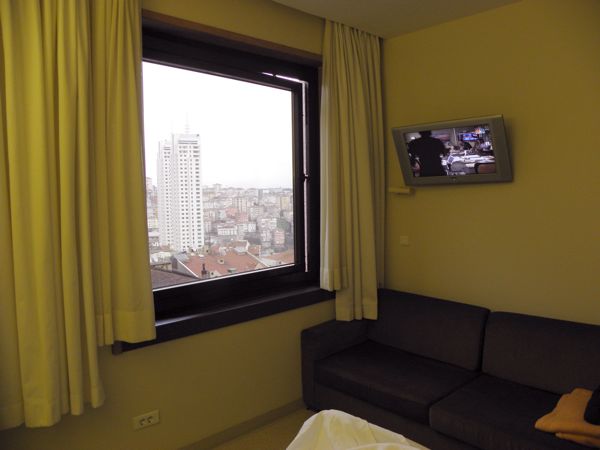 …and a great view.
But then, there was the waiting. No food, only tiny sips of water, and too much pain. As with childbirth, I promised myself it would soon be over. My nurse Tuba did her best to interview me about my medical history. Her English was limited, but we managed.
Most of the staff spoke English, and my minimal Turkish was enough to "chat" with orderlies who wheeled me to various pre-surgery tests. I was too miserable to read, but occupied myself with an audio book. My greatest fear was that they'd make me lie flat for the surgery, but I was "feeling no pain" long before that happened.
~
"Ann Marie! Ann Marie! Ann Marie!" Through a haze I saw smiling faces welcoming me back to reality. A nurse removed my oxygen mask. "I'm so cold!" I said, shivering uncontrollably. Suddenly warm air enveloped my body, soothing me  as it was blown beneath my blankets. I drifted back off for a few moments, then realized they were wheeling me back to my room. NO PAIN!!!!
I was groggy, but elated. My legs were stretched straight out for the first time in a week. Without pain. I grinned as my new nurse, Nurgül, gave me a sip of water and took my stats. "When can I eat?" I asked her.
"Only small sips of water, and no food until 10:00," she said, "because of the drugs. They will make you sick." It was 6:00. I hadn't eaten in 24 hours, and I was famished.
Nurgül brought me a tray around 9:00, dear heart. Two ceramic bowls—one with bland chicken soup and the other with chilled pear juice. Manna from heaven. At 11:00 an orderly brought in kahvaltı, a Turkish breakfast of cucumbers, white cheese, and bread. Solids. Yum.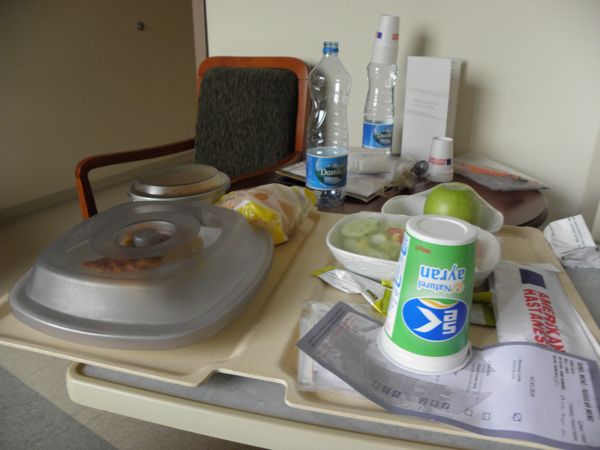 My last meal in the hospital–a bit more substantial!
I slept through the night, except for the usual nursely interruptions for stats, and woke at 7:00, energized and ready to go home. Well, not really, but I was thrilled to be pain-free.
I was surprised when the caterer (dressed in vest and bow tie) brought me two meals. "Arkadaşım yok," I infomed him. (I don't have a friend.) The Turkish hospitals assume that you will have a refakatçi, a friend or family member who stays in the hospital with you. The fees at Amerian Hospital include a bed and meals for that person. In fact, each evening an orderly came in and offered to make up the couch into a bed for my imaginary friend. I declined. My friend Amy told me that the Turks had the highest survival rate of all injured European soldiers during wartime, and it's thought to be because of this refakatçi system. Makes sense.
On Saturday my energy continued, fortunately, because I had visitors. First was Berk, a student from my core English class, with his mother and sister. They brought me a certificate for flowers that waited for me in the flower shop on the main floor. Apparently the hospital doesn't allow flowers in the room. HUMPHH! Dangerous microbe-laden carnations? Strep dahlias? Oh, well. Another difference that I didn't much care for.
Get well (Geçmiş olsun) notes from my LP1 Students
I was also visited by two couples from campus, each bringing me a soy latte from Starbuck's HOORAY! Three girls from my core class (Bala, Esin, and Ekin) brought another flower certificate and a huge box of scrumptious chocolates, which I happily shared with visitors, nurses, and any staff who came into my room.
Well, I got better, although after that first day I had little energy. The doctor said it was because my liver was working overtime to clear my system of the many drugs I'd been taking in the past week. Then there was some minor leg pain—rejuvenating nerves, he said. OK. That I can manage!
Tuesday afternoon my friend Sandra offered to accompany me home after her eye appointment. I picked up my pain medication, which cost all of $1.90. Needless to say, I didn't bother with my credit card or even a receipt. Drugs are SO much cheaper here than in the U.S. One of my prescriptions cost me $6.50 last week, and when I looked up information about it online (the accompanying flyer is in Turkish), I saw that it sells for $150 in the States. What gives?
I'm glad Sandra helped me home. It was an uncomfortable, jostling ride, and she hauled my bag and wilting flowers up into my apartment.
Me back home with my consolidated bouquet–smells WONDERFUL!!!
So here I am, pretty much out of pain, recuperating nicely, and duly impressed with the Turkish medical system. I'm even more impressed with the kindness of all my students and friends who have visited, called, run errands, and brought groceries for me.
Lucky me, huh?