New Zealand: it's all I expected and more. Oh, my goodness.
I arrived an hour late Friday night (my fourth flight on this trip—all of them delayed). I flew Jet Star, an economy airline. Stress ECONOMY. Carry-on only, limit 10 Kilograms (that's 22 pounds, my friends). I bought myself a huge "purse" to hold my 4-pound computer, my one-pound camera, and my one-pound Kindle, among other sundries. A checked bag costs an additional $160. NOPE! No complimentary anything on the four-hour international flight from Melbourne.
I was greatly relieved to see Mike and Annie's beaming faces to welcome me—such good friends to be waiting for me long past their bed time.
We drove through clean, comfortable Christchurch (which they assured me I'd love), then settled into our lovely suite, complete with a mega-TV (wasted on us.) Of course, the Australian Open did prompt Mike to tune in tennis. Go Serena!
Pink-rimmed beonia
Through the leaves of a fern tree

Saturday we woke early to trek into the city, which was hosting the International Buskers Festival—GREAT fun! We meandered through Hadley Park, the third largest city park in the world (behind London's Hyde Park and NYC's Central Park). It includes a stellar botanical garden—hence, I have countless flower photos. Amazing. Near one of its splendiferous fountains we came across our first busker of the day, a goofy-looking man who entertained hundreds with balloon-antics.
Balloon Busker
If you ever go to Christchurch, go at the end of January for this charming festival. We spotted another busker after lunch, a striking woman garbed in a plasticized wig and traveling costume. Mike dropped a few coins into her hat, she gave him a few coy winks, and he joined her robotic antics. We were nonplussed when she collapsed at his feet, but he bent mechanically to assist her re-coiling recovery.
Mike with the traveling costume robot busker
We whiled away our day with museums, buskers, and the Christchurch Cathedral. (I paid a kings fortune for lithium batteries nearby—live and learn.)
Christchurch Cathedral
Dinner at a Burmese restaurant with Mike and Annie's friends topped off a delightful day in Christchurch. Yes, I'd return, for sure.
Sunday we rose with the sun to board a train for a 4-hour scenic trip across the mountains to Greymouth on the West Coast. We chatted, marveled at the scenery, lunched, and snoozed on the ride. The best views were from the very chilly open car, but our cushy seats couldn't be beat. It all seemed spectacular at the time, but the vistas we enjoyed afterwards tempered my enthusiasm about the train. We rented a car in Greymouth and headed straight up the coast—breathtaking views at every turn.
Me and Annie at our first breathtaking shoreline view
We had to discipline ourselves not to stop at each pullover. We did the tourist thing at the Paparoa National Park, where rocks have been formed in horizontal layers like stacks of pancakes, supposedly caused by something called stylobedding, whatever that is. At any rate, it was spectacular—and very hot.
Soon we were crossing the mountains again, an inevitable occurrence when you leave the west coast. They call their mountains the Southern Alps; some are snow-capped, but not many. We stopped again at the Buller Gorge Swingbridge, where Annie and Mike took a zip-line ride across the gorge as I shot photos as I swung on the bridge. We were all a bit jealous of the kayakers below, but our time would come.
We spent a buggy night in a little mountain chalet near Motoueka, then headed across more mountains (hair raising pin-turns) to Takaka, a darling little city replete with hippies, artsy shops, and funky restaurants.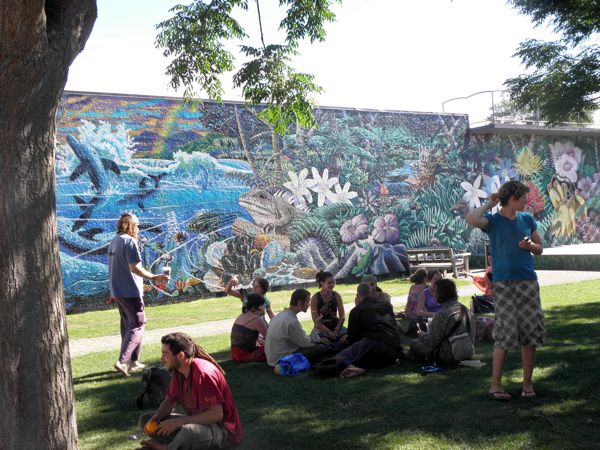 Takaka's Hippie Park
After a berry smoothie, a savory muffin (YUM!) and a strong cup of coffee, we headed to Golden Bay Kayaks. Good call. We rented sea kayaks and headed out, happy as clams. Happier, in fact. On our little tour we saw spotted shags (birds), a colony of pied shags (more birds), a fur seal (who cavorted near our kayaks), a blue penguin (a VERY lucky find), and Australasian Gannets—a first sighting for my bird-watching buddies. What a day!
Annie and Mike setting out on Golden Bay
Our seal cleaning his whiskers near our kayaks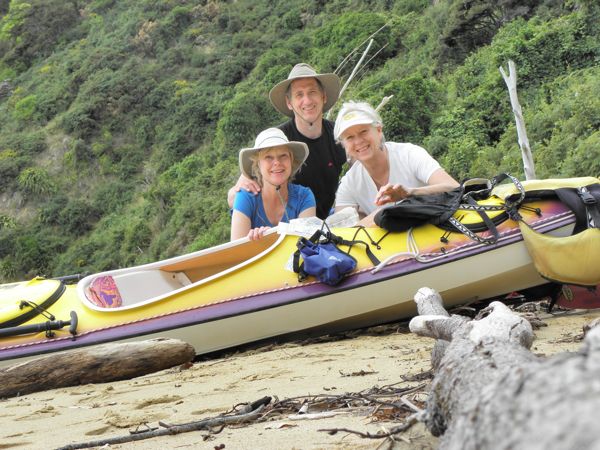 The inevitable posed kayak photo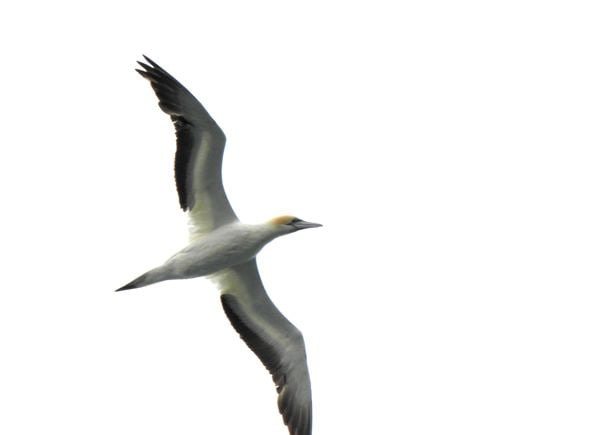 The graceful Australasian Gannet—quite a diver, too!
We stopped about an hour for a picnic lunch, and when we returned to our kayaks, they were 100 feet from the water. Wow. The tide on Golden Harbor was amazing. We paddled back to return the kayaks, then drove to our bach" for 3 nights (short for "bachelor")—a lovely summer home on the beach. When we arrived, the tide was out and our bach's  beach consisted of nearly a mile of muddy-looking ribboned sand. Low tide. Because of the the full moon, the tide rose a record 5.3 meters, and as the bay was shallow, it receded over a kilometer from the high tide shoreline.
Low-tide sunrise (photo by Annie DeBevec)
After dinner we found a spit where birds hang out at low tide—scores of black swans. Mike stayed near shore birdwatching, while Annie and I picked our way through "rising tide" streams to the water's edge. It took us a half hour to get out there, and we scared up a bevy of swans. (Sorry, Mike.) As we stood at the water's edge, the rising tide pushed us back about a foot every 30 seconds. The setting sun over the tide streams was breathtaking, and we also discovered a many-legged starfish stranded upside down in a small pool. He was still alive, wriggling his tiny tentacles in search of sustenance, no doubt.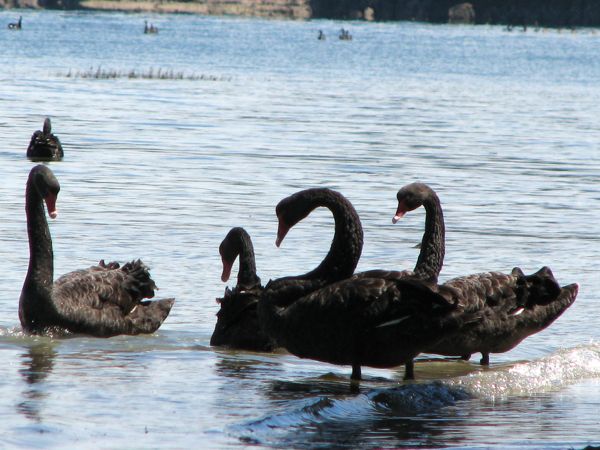 Black Swans (photo by Mike DeBevec)
Tuesday we hung around the "bach" (short for "bachelor shack") until noon. Annie and I took a swim down the shore at high tide—in water that was surprisingly over our heads within feet of our rock stairway. The water was warmer than any lakes at home (NE Minnesota). Afterwards we headed for Farewell Spit, a long spit of land north of Golden Bay, including the northernmost point of the South Island. A 3-hour trail snakes along rolling cliffs across the top of the island, and Mike decided to do the whole hike. Annie and I opted for a truncated version, indulging in an hour on the magnificent Wharariki Beach, where we saw a bare-butted little girl, a few other tourists, a family of fur seals, and a whimsical pair of black oyster catchers.
Bare-butt beach babe
Black oyster catchers in tandem

We could have stayed there all day, but our goal was Cape Farewell, the northernmost point of the island. We barefooted our way through a stream along the far edge of the beach, then painstakingly dried our sandy feet and donned tennis shoes. There's nothing worse than hiking with sand between your toes, believe me. We headed up toward the path, only to discover that we had to ford a stream, the same one we'd been walking. DUH!!! We scratched our heads, laughed at our folly, then removed shoes and socks to wade across. Begin again. Another life lesson.
Annie donning shoes–the second time around
The hike was grueling at best, with straight uphill climbs and vertical descents along the ridge. The path meandered from white post to white post, sometimes disappearing in the grasses. Our hearts went out to Mike, who would be doing the same for three solid hours. The vistas were spectacular—one after the other, and we soon realized we were sharing the fields with sheep and cows as we picked our way around their offal. On our last vertical descent we scared a handful of sheep down the hill. Our final destination (after an hour and a half of hiking) was Cape Farewell. We lifted the fallen sign for a few photos, exhausted. Below us were spectacular rock formations and another family of fur seals.
Cape Farewell—the northernmost point of the South Island
We headed down the gravel road back to the car in late afternoon heat. We were late to meet Mike, who had been waiting over twenty minutes. Oops. He'd hiked three hours with no shade, little water, and no hat. As we passed a rushing stream, he jumped out of the car, dropped shoes and shirt, then lay moaning in pleasure as the rushing water cooled him. We were all wiped, but happy.
Burgers on a wood grill finished the day. Another fabulous day in New Zealand.
Wednesday Mike hiked further out Farewell Spit while Annie and I drove back to Golden Bay Kayaks to paddle the day away. Though nothing particularly eventful happened for any of us (except sunburn—the sun here is fierce), it was another spectacular day doing what we loved.
Annie kayaking through a rock tunnel
We reconvened at the "bach" for cocktail hour and a scrumptious homemade pizza, celebrating our last evening on Golden Bay. Annie and I trekked out for one last "scourge" of the tide flats, this time in sandals that could weather the many criss-crossing rivulets of receding water. We discovered countless starfish (with countless legs) and hundreds of sand dollars in the waning tidepools. Hopefully the tide would be turning soon to save them from the fate of some less fortunate ones who had provided dinner for plovers and gulls.
One of our many-legged starfish
Thursday morning I lingered over coffee, trying to delay our inevitable departure. Charlie the border collie stopped over for one last visit; the little stinker catches tennis balls mid-air. Amazing dog. Indefatigable. His owner must have steel biceps with all that ball-throwing.
The time came, though, that we had to head out on the long trek back to Christchurch. In between breathtaking scenery and winding stomach-wrenching mountain roads I read aloud from a fascinating new novel, The Help by Kathryn Stockett. We were soon entrenched in this story of a young woman writer who attempts to relate the stories of black housemaids in Mississippi in the 60's with a backdrop of John Kennedy, James Meredith, and Martin Luther King, Jr. Stockett portrays her story through the voices of a number of women—the best attempt at this technique since Barbara Kingsolver's Poisonwood Bible. But I digress.
After an eventful week together, it was hard to say farewell to Mike and Annie and their stunning New Zealand, but I have a feeling we'll all be returning. It's just too amazing not to.