I'm sitting in the Melbourne airport, and just hugged my niece Laura goodbye. She's off on a 12-month round-the-world adventure with her friend Yvette. Oh, my. What an exciting thing to do at 23. Their itinerary includes 16 flights (paid for) on a budget of $40 a day. Hmmm… I think they'll be trading weight for adventure.
I, on the other hand, still revel in the memories of a week with my Australian family. It started with my brother Dave, who lives in a western suburb with his elder daughter, Jodie, who spent her sophomore year with me in 2002. She's a cheerful, eager, and talkative companion. We spent the better part of four days together, touring the city, the Melbourne Zoo (which was fabulous), and the Yarra Wine Valley (with Laura and Yvette). It's been a full, fun week for me, and I leave knowing that everyone is doing well. That feels great.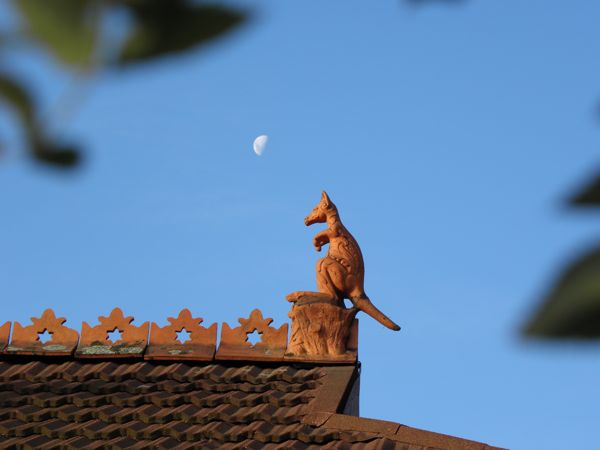 A rooftop ornament on my first night in Melbourne
I ran into problems getting here; my flight from Istanbul was delayed by two hours, so I missed my connection in Dubai. Flying experience has taught me not to stress over these inevitable bumps, so I relaxed in the Dubai airport as I waited six hours for the next flight out. Sigh… I watched a movie, caught up on e-mails, and nibbled on a fruit cup. I was re-routed through Singapore, and the good news is that they upgraded me to business class for the final leg of my trip. My goodness. Not only did I enjoy champagne, juice, and a mixed nut dish as we waited to take off, but my seat was soon fully reclined into a bed, with the kind addition of a mini-mattress to soften my already-cushy bed. The stewardess gently woke me for a four-course dinner, so much food that I had to refuse dessert. Within minutes I was fast asleep again until she woke me for a breakfast of yogurt, croissants, cheese, juice, and coffee. Heaven! I don't think I've ever enjoyed a flight more, although I slept through the majority of it. OK, so I did feel a bit guilty as the other passengers walked through, but not guilty enough to offer anyone my seat.
Dave was there at the airport to pick me up, and he brought me to a nearby coffee shop for a morning java. I was thrilled to learn that the previous week's hot spell had abated and temps would be in the 70's, perfect for me. We got back to his house where his trusty terrier Soot met us, and soon Jodie roused to welcome me. We all chatted until it was time to pick up his 17-year-old son, Josh, who I haven't seen since he was six (my last trip to Australia). We picked him up at his mother's house, then headed in to the Vietnamese Lunar New Year celebration on Victoria Street. It was mobbed, but fascinating. Dave's daughter Laura (who lived with me a full year) met us with her grandmother, Anse. After wandering the streets for a while, we stopped to indulge in spring rolls with an oddly-flavored sweet three-color bean drink. It was actually quite nice.
My nephew Josh, me, neices Laura and Jodie, Anse (their grandmother), and my brother Dave.
Jodie had spotted a booth with snails, so we headed back there. Although she coaxed us all, she was the only one willing to suck the little buggers out of their shells. They were a bit green and brown and looked very unappetizing to me. She's a brave girl. Of course, she's been to Thailand and Singapore a few times, so maybe she acquired a taste for them over there. She loved how they "sang" as the woman scooped them out of the big pot.
Delectable snails …and Jodie enjoying them
We got home late, and I slept through most of the night, though I woke to hear Josh playing his guitar well into the wee hours. It was lovely—softly comforting in this strange new place. It brought back memories of my older brother Steve playing the guitar up in his room as a teen. I loved it.
Monday we went into the city to explore the musems, art galleries, and parks along the South Bank of the Yarra River. Melbourne's architecture ranges from Victorian posh to post-modern extravaganza. Though there appears to be little planning, the buildings merge into a fascinating array of styles.
Architectural contrasts: viewing the old through the new
Josh and Jodie with a Gargoyle busker
That evening Josh headed back home to prepare for an audition, and Dave, Jodie ended up dining at their favorite Turkish restaurant—normal fare to me, but a treat for Dave and Jodie. I'm really here for the company, so my needs were fulfilled.
That evening we took in an Australian movie: Bran Nue Dae. It was a zany musical about an aborigine teen escaping from a Catholic school, filled with slapstic humor, music, and coincidence. Very light, very fun, and very Australian.
Tuesday was Australia Day, which traditionally marks the landing of Captain Arthur Phillip at Port Jackson (now Sydney), claiming Australia for the British Empire. We began our celebration with eggs benedict (a personal favorite), then a trip to the Melbourne Zoo. I saw my first kangaroo (as far as I can remember) and thoroughly enjoyed the aviary and the new seal enclosure.
Kangaroo resting at the Melbourne Zoo:
One delightful feature of this zoo is poetic phrases from a famous poem called "I Love a Sunburnt Country" painted onto "outback relics" posted throughout the zoo. "The stark white ring-barked forest, all tragic to the moon.", "an opal-hearted country, a willful lavish land.", with more of Dorothea MacKellar's poem written on a rusting mobile that swings overhead near the zoo entrance.
We particularly enjoyed the zoo's new seal enclosure, where we watched the staff training a seal to be comfortable with a "fin tournequet" which would be used later to draw blood. Much of their training is geared towards making animals familiar with the intricacies of physical exams, such as looking in their ears, holding their mouths open, etc. Very wise. The seals, of course, enjoyed showing off for their small audience, perhaps as much as they enjoyed the fishy treats tossed to them after each trick. Impressive.
Ever seen a seal flipper tourniquet?
How about these sweet seal-watchers?
We joined Laura and Yvette for dinner at a charming pub, where we all tasted roasted kangaroo meat. It was delicious—lean, but rich. I opted for a salmon dinner, though, happy just for a taste of Laura's kangaroo.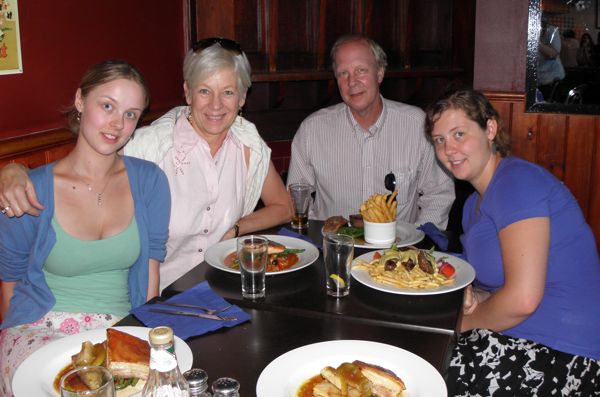 Jodie, me, Dave, and Laura at the pub
After dinner we drove down to the beach, where we all walked out a long pier to see tiny fairy penguins that hang out on the rocks. There were quite a few people there, all with rose-colored flashlights. Luckily, there was also a wildlife specialist who kept on top of the few thoughtless tourists who tried to take flash photos in spite of clear warnings. After that we settled on a grassy lawn to enjoy carrot cake that Jodie had baked for us. Not exactly the usual Australian BBQ picnic, but it worked for us. DELICIOUS!
Then came the hand-off. I hugged David, Jodie, and Tom (Jodie's boyfriend) goodbye and hopped into a car with Laura and Yvette for the second half of my Melbourne stay. The girls were staying with Yvette's mom, Pam, the last few weeks before their world-tour departure, and Pam had prepared a five-star room for me, complete with fresh lavender, lace, and fresh, fluffy towels. Lucky me!
Wednesday morning we woke early for a tour to the Yalla Wine Valley. HOORAY! We picked up Jodie along the way, then drove the hour-and-a-half into a lush, mountain-ringed valley. Our first stop was at the Yering Farm Winery, a quaint pastoral setting that overlooked orchards, cows, fields, and mountains. Though it felt a little selfish to taste without buying, we somehow managed. Lots more wineries ahead! By the end of the day, we'd visited 7 wineries, a dairy with mouth-watering cheeses, and a trendy restaurant. Some of the wineries also had exclusive restaurants and/or art galleries. At one we climbed up to a roofop gazebo overlooking the entire Yarra Valley. Stunning!
Our gregarious hostess at Coombe Farm Winery
At around four we abandoned our wine-tasting and headed out to visit Laura and Jodie's Aunt Mary Ann, who I'd met a few times in the States. We clambered out of the car to strains of Michael Nyman's theme from The Piano, and Mary Ann didn't notice us until the end of her piece—and our enthusiastic applause. An accomplished pianist, she has recently settled in Australia with her gregarious musician husband Alex and their two little boys, Atsin and Ki. Our visit there included a walk along the mountain near their home, wine, hors d'oeuvres, and mouth-watering fish burritos. I was touched by their warmth, their enthusiasm, and their idyllic life.
Laura with her little cousin Atsin
Thursday was my last full day in Melbourne, and I had arranged to meet teacher friends who were attending The Australia Cup Tennis Tournament in Melbourne. It was a treat to see them after 2 ½ years; Louise is enjoying her retirement, while Al has taken on a12-week teaching stint in China, so they're soon off again. I have to admit, it's hard to resist the pull of international adventures.
Yet another posed photo–the semi-retired teachers, me, Al, and Louise
After we parted, Laura and I headed for a tour of the Parliament building, which was interesting mainly because of our animated host. We chatted with him after the tour, getting more of a feel for the state politics of Victoria. We hopped on a free tourist tram that circles the city, only to stop just a few blocks later. "Please get off the tram, and if you can help us, please give us a push." WHAT??? Yes, the conductor sorted the willing into groups, and about a dozen of us pushed the tram back under its electric wire. Apparently the connection had slipped off. Not a common occurrence, but fun.
Yup, we actually got to push a Melbourne Tram!
Then Laura toured me through the State Library of Victoria, the most incredible library I've ever seen, with endless computers, quiet reading rooms, art displays—and a beautiful glass dome. Heaven for any bookworm, art lover, or computer geek. After that we went to the beach at St. Kilda, where there's a sweet little amusement park (Luna Park) that must date back at least a century to when the community was a resort outpost. After sharing a gourmet smoked salmon pizza, we wandered through a botanical garden before heading home.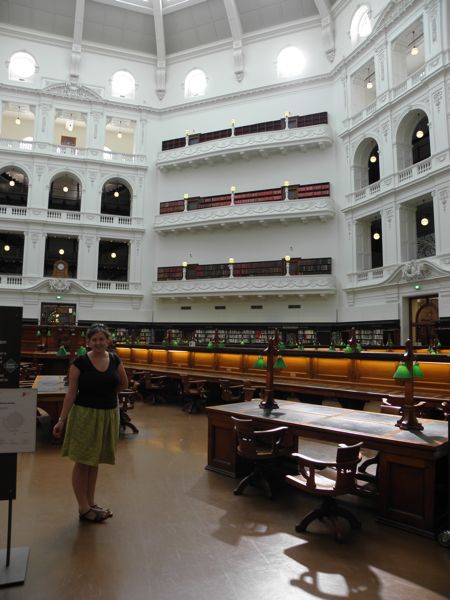 This is one classy library reading room, huh?
And the dome above the reading room
There we relaxed with Yvette and Pam over Yarra Valley wine and cheese.
Today: breakfast, organizing, sorting, packing, and off to the airport for our individual adventures. Bon Voyage to Laura and Yvette as they explore the world, and Bon Voyage to me as I trek to New Zealand to meet Mike and Annie.
I almost envy my own life. Of course, home sounds mighty good, too. It always does.