I've been nearly a month in Istanbul now—and my knees are FURIOUS!!!!
I live at the top of the village of Arnavutköy, an enchanting old settlement on the Bosphorous. It's an Ottoman version of San Francisco. The streets leading up to my apartment vary from 25-degree to 45-degree inclines. I kid you not. In fact, some feel even steeper.
This lovely house shows the slant of the Arnavutköy streets.
About half the streets are just stairways. The one leading down in front of my building has 203 stairs, and that still leaves about 4 steep blocks to the waterfront. I've been walking Libby down to the Bosphorous twice a day—something we'll have to give up until my knees rebound.
This is the switchback road that goes AROUND the 203 steps below my apartment.
On the other hand, every walk through the village means reveling in the picturesque views of wooden Ottoman houses, many of which have been renovated. Renovated, I might say, at great cost. (One has pounded tin siding—very cool!) And that against the backdrop of the glittering Bosphorous.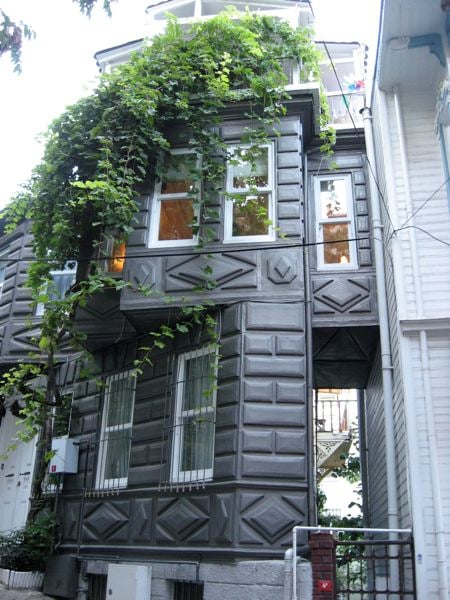 The amazing tin-sided house.
Unfortunately, many of these old houses are rotting on the vine, so to speak. Apparently they have uncertain ownership or disputed titles. In the States, homes with back taxes go into public auction, while in Turkey they just crumble. Real estate in Arnavutköy is at a premium, though, so more and more are being snapped up and redone. Good thing.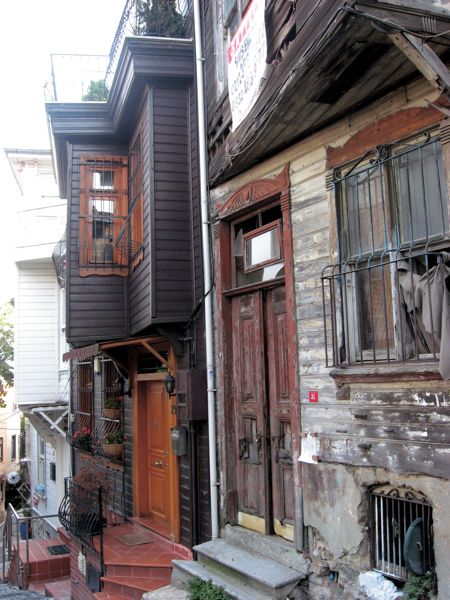 A renovated Ottoman house beside a crumbling one.
Back to my cranky knees…
In addition to the steep hills below me, I'm only about halfway up the hill, and I have to walk up to school each day. That trek isn't TOTALLY uphill, but mostly. I go down a short block, up a STEEP incline, up a long, gradual incline, down a bit, then through a security gate and up about 20 steps to the main school road. From there it's another 50-yard climb up to the school buildings. 24 more outside steps get me to the main entrance, and then another 70 get me to my attic office. I do between 300 and 450 stairs each day just in the building. No wonder my knees are crabby.
Robert College's Gould Hall in it's full national holiday regalia.
After a week of pretty distressing aches, I called my friend Dr. Mike, who has tended my ailing knees for years. "Well," he said after asking all the pertinent questions, "First of all, your knees need a rest. Stop climbing stairs and hills for the next few weeks." Right. I shared this suggestion with a few fellow teachers, and the response was a hearty  guffaw. Rest? Not an option at Robert.
Robert College is old and gorgeous, but it's located on a very steep hill, and there's only one elevator—not in my building. That's just the way it is. So—I went out tonight and bought myself a hot water bottle. Made by Kraft, no less. "This hot water bottle is made of natural rubber," is printed on its neck. Smells like it, too. The price was actually 6.75 lira, but the druggist didn't have change, so he gave it to me for five (about $3.50). At least some things are going my way.
A lovely renovated house facing the Bosphorous
So—I'm sitting in my lovely Arnavutköy apartment, knees propped up on my new, blue, eau-de-rubber hot water bottle, listening to Debussy and typing my woeful tale.
But guess what? I'm happy as a clam.
As my father always says, "Things work out."