I have a confession to make. I have a habit of skimming official e-mails. Consequently, I often miss attachments, addendums, and sometimes very important information. A case in point:
I have been trying for weeks to meet with my editor, Zarife, about marketing my new guidebook, Istanbul's Bazaar Quarter~Backstreet Walking Tours. Zarife has a new baby and only works from 11 to 3, so our hours don't mesh. When I learned that we would have the day off on Tuesday, I thought it was perfect. We arranged to meet at 1:00 at the Çitlembik offices, near Taksim Square.
You may have heard that the International Monetary Fund meetings were held in Istanbul this week. So had I. In fact, I received an e-mail from the American Consulate warning us to avoid the Istanbul Congress Center in Harbiye for the duration of the meetings. OK, fine. (I should have read on, but I didn't. In fact, I wasn't even sure where Harbiye was.)
So, just before noon on Tuesday I hopped a bus to Taksim. I was pretty surprised when they re-routed us around the Beşiktaş area, but I figured that must have been where the convention was. No problem.
Traffic was backed up, and I checked my watch. Time was getting tight. Much to my consternation, the bus stopped just above the Beşiktaş arena, about 10 blocks below Taksim. Everyone got off the bus and started walking. Hmmmm…
I should have figured all was not well at that point, but I forged on with the rest of the people from the bus.
As we trudged up İnönü Caddesi, police stood at intervals guarding the traffic-free street. Soon I saw broken shop windows, a completely smashed bus stop, an overturned security booth, and a smoldering fire in the middle of the street.
I saw broken shop windows…
…a smashed bus stop near the Technical University…
…and workers trying to clean up the fiery mess left by protesters.
Suddenly a mass of police in riot gear charged up the street. Oh, my goodness! I snapped some photos, trying to look inconspicuous (a difficult task for a tall, white-haired Nordic woman).
Police charging up the street in riot gear
As I approached Taksim Square, things seemed to be settling down. Maybe I could still make it to my meeting. I had ten minutes.
As I came around the corner, a column of police dragged struggling, yelling protesters toward the square from İstiklal (the main walking street below Taksim Square).
Police escorting unruly protestors to waiting police vans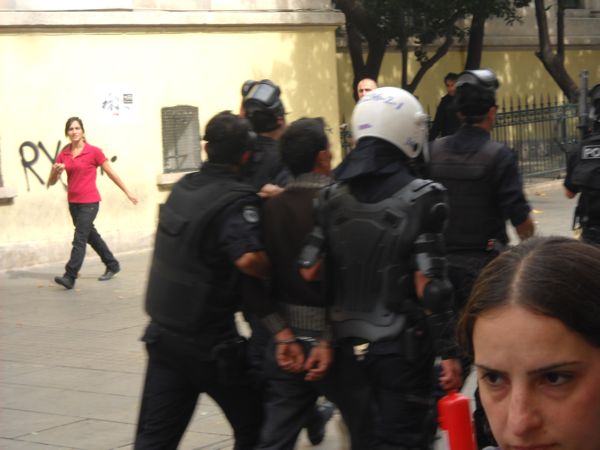 a handcuffed protester
Oops—maybe not so safe, after all. I hoped against hope that the demonstrations were over so I could make my way down İstiklal to Çitlembik. As I turned down the street, people were milling around while shopkeepers stood behind locked doors. Further down I spotted turmoil in the crowded street.
Now what? Maybe I could circumvent the demonstration by going over a few blocks and walking down Şıraselviler Caddesi. I turned right and headed down there, then saw even more police on that street. ARAUGHHH!!! I was caught between a rock and a hard place—demonstrations seemed to be everywhere.
Oops–not that street either! They're EVERYWHERE!!!!
Tear gas stung my eyes, so I ducked into a building where I ran into a young woman. Nothing like a little anxiety to break the ice. She was a tour guide and was supposed to be at the airport meeting a group of 40 Spanish tourists. "I can't get there," she said. "I'll have to call the bus driver and have him bring them here to me."
"Not a good idea," I countered. "This is the LAST place you'd want to bring a group of tourists. See if you can get to Sultanahmet and have him meet you there."
I called my publishing office to cancel my meeting. I knew I'd never make it through another 20 blocks teeming with demonstrators and riot police. What a DOPE I am!
It turned out that Zarife lives about two blocks from Taksim Square (away from the protests), and when she had headed out for the office, she saw the protesters and went straight back home. (She hadn't known my new cell phone number.) She gave me directions to her apartment, and I headed off with my new friend. Whew! We had to cross near Taksim Square again, but there were scores of police to protect us—and they did. We were really in no danger. I waved goodbye to the tour guide and headed off to find Zarife's apartment.
After some calming tea and a good strategy meeting, Zarife directed me to a safe metro stop, where I hopped on a metro away from the fray–to Levent. There I grabbed a cab to my quiet, peaceful village of Arnavutköy, where I picked up a few fresh vegetables at the street market. Ah, tranquility! Thank goodness for small pleasures.
Construction workers tap cobblestones into the streets of Arnavutköy.
Arnavutköy's peaceful Tuesday bazaar. Ah….
~            ~
By the way, I later learned that there were 10,000 police on Istanbul's streets to protect the IMF's 15,000 visitors. The Turkish police are often a presence in Istanbul, and this time their vigilance kept the protests under control, quickly impeding the illegal activities of hundreds of protesters. And just think, if I'd read my whole e-mail, I would have missed the whole thing (which would have been JUST FINE).