Teaching at Koç (pronounced "coach") is similar to teaching just about anywhere. I have motivated kids and lazy kids, bright students and slower ones, and everything in between. For the most part, though, I have to say that Turkish kids are wonderful. They're warm and respectful (for the most part), though a titch chattier than their U.S. counterparts. Usually it's an endearing feature, though. Turkish charm. I teach both 10th and 11th graders, and right now I'm enjoying it.
Yağiz, me, and Pinar
My juniors just finished a whirlwind poetry survey, and now we're diving into a lengthy media unit—the businesses behind it, the advertising that promotes it, and the social propaganda that pervades it. This is a weighty and interesting unit, to say the least. We started with a PBS video called "Merchants of Cool," which investigates the researchers behind marketing to teens, the group with more discretionary income than anyone else on the planet. Not only do they spend over 150 billion dollars a year (in America), but each teen filters over 3000 discrete advertising messages a day. EVERY day! Unbelievable.
So—I made it my mission to document how that translates here in Istanbul, this ancient, beautiful city. Actually, the real truth is that I needed an excuse to go into the city last Sunday. The sun was finally out after three weeks of clouds and rain, and the weatherman had promised a full day of sun. How could I resist? After a leisurely Turkish breakfast with a friend at the Marmara Café (egg, tomato, cucumber, cheese, olives, and bread), I headed out, camera at the ready.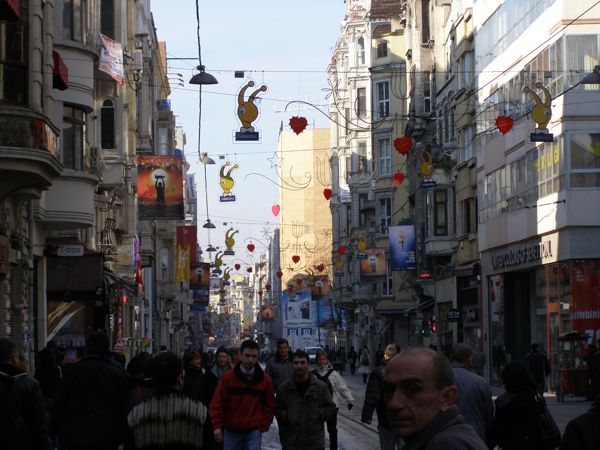 Istiklal Caddesi, early Sunday under hanging decorations and Turkcell bugs
İstiklal Caddesi (Liberty/Independence Street) is a mile-long pedestrian street that may well be the busiest street in the city. It's about 30 feet wide and paved in marble blocks, with a quaint red tram clanking up and down its center. Early on Sunday morning Istaklal is relatively quiet, but by noon it's mobbed.
Decorations are strung overhead year-round, with both seasonal symbols and ads hanging from them. In past years red coke bottle cut-outs graced the skies (embarrassing to Americans), but now it's the Turkcell logo—some kind of a cutesie little bug. In case you're wondering, Turkcell is the major cell phone company here.
Everywhere I looked, I found ads: neon ads on storefronts, ads painted on metal roll-down doors, banners, billboards, and entire buildings covered with humongous ads—even over the windows!
Istiklal's neon signs
a roll-down door ad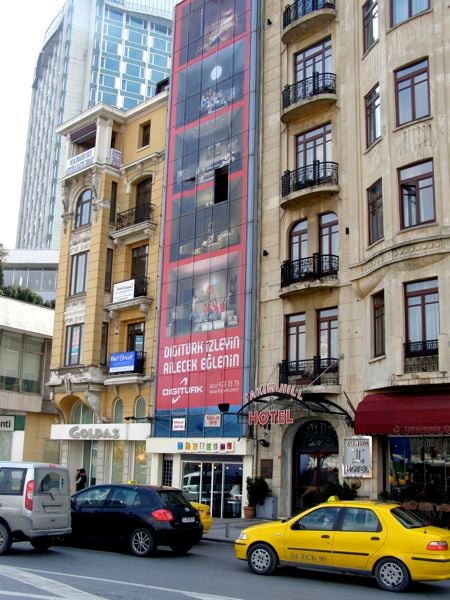 The full-building "billboard" ad
Everywhere I looked, there were ads, ads, ads. I took a bus to Ortaköy, a magical spot on the Bosphorus, and even the handles on the bus (for standing passengers) sport ads. Imagine!
…and even the "handles" on the bus!
While wandering the weekend arts market in Ortaköy, I came across a group of young men promoting Nescafe (something they love over here) with yard-long  pillow-like Nescafe envelopes. When I explained that I was taking photos for a media and advertising unit, they were happy to pose for me. AND—I came away with a pocketful of Nescafe Cappucino envelopes (little ones). Go figure!
A Nescafe Marketing ploy—cute guys!
I'm particularly intrigued with the contrast between the old and the new here; it's no surprise that glitzy ads compete with the city's historical sites. Photos say it best, I guess.
Turkcell bugs invade Ortaköy.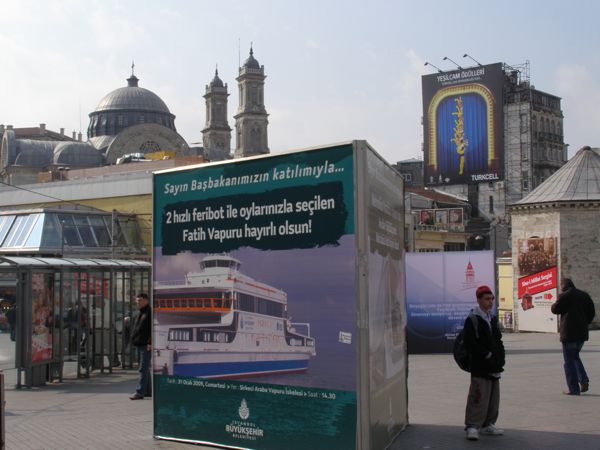 Can you find the Russian Orthodox Church behind the ads?
Unfortunately, the advertising here is mostly clutter—just visual noise—while the lines of Istanbul's centuries-old buildings are striking and awe-inspiring. Gosh, which do you think will endure?