After waving my own precious houseguests goodbye last weekend (Pat and Phil Kruse— lovers of history, adventure, good food, and rakı), I headed south. I spent the weekend with a Turkish family in Gemlik, a city nestled in the mountains north of Bursa on a picturesque bay of the Sea of Marmara. My young friend Uygar Yilmaz's parents, Neziye and Hakki, have a charming apartment perched on the hill overlooking the sea, and they showed me the best of their community, their family, and Turkish cuisine. I may never eat again!
It took me longer to get there than I'd hoped—five hours to travel 60+ miles (105 km). Well, the long and short of it is that after a bus ride, a ferry ride, and three more bus rides, I finally got to Gemlik. My hosts were worried about me, expecting I'd arrive hours earlier. No matter—we sat down to a 10:00 (delectable) dinner of çorba (soup), dolma (stuffed vegetables), fried artichoke hearts, salad, bread, and dessert. Oh, MY! I felt a bit like the dolma I'd just devoured.
Neziye entertains us with her ud, her songs, and a poem about her sons.
After marveling at Neziye's incredible artwork, wearing Uygar out translating for us, and being serenaded by Neziye singing and playing her ud (a rounded 10-stringed instrument), we finally headed to bed in the wee hours.
My favorite of Neziye's paintings of women of the world
Our day started with a delicious gözleme breakfast (with, of course, olives, tomatoes, and cucumbers). After cleaning up (they never let me help), we all hopped in the car for a tour. We started at Küçükkumla (Little Sandy Place), a seaside village where we strolled along the seaside. As I was snapping photos of the myriad roses that graced every garden, a woman leaned across her gate to offer me one. How sweet! And how very Turkish. I was given roses by three women this weekend: Neziye (when I arrived), this woman, and a young English teacher who practiced her English with me on the bus. She said the rose reminded her of Mohammed. Hmmm…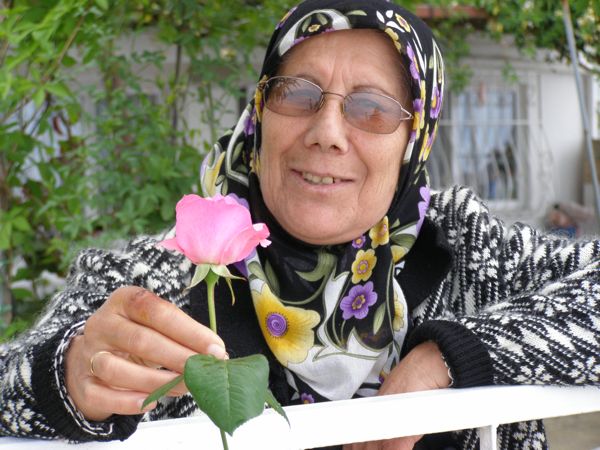 A profferred rose
From there we drove to the workshop of Dr. Tankut Öktem, a famous and recently deceased sculptor. An impressive collection of bronze-looking statues line the roadside, nestled in the trees. Students continue his work, and inside the warehouse-sized workshop they were building a huge fiberglass image of Ataturk's face—probably 15 feet across.
Uygar poses next to one of Öktem's many sculptures.
Next we drove up to Umurbey, a small mountain village above Gemlik. There we visited an outdoor restaurant where each table is housed in its own small cabin perched on the side of the hill, complete with a built-in mangal (barbecue). We could see for miles in every direction. Further up the mountain Neziye and Hakki have land with fruit trees, olive trees, and a small garden. Retired teachers, they've always had time off in the summer to tend their garden. (Teachers can retire in their 40's in Turkey—with an unenviable pension.) Uygar said that most Gemlik residents have a plot of olive trees on the mountain.
Uygar and I then hopped on a bus to Bursa, where I got a royal tour. We saw the Silk Han (Koza Han), the Great Mosque (Ulu Camii), the Covered Bazaar, the Green Mosque (Yeşil Camii), and the famous tombs and clock tower on Tophane, a lovely citadel that overlooks the entire city.
The Ulu Camii, decorated with amazing calligraphy

The Koza Han (silk bazaar)
Let me tell you, by the end of the day we were BUSHED! Luckily, my grey hair got me a seat on the bus for the long ride home. (Uygar's mother had advised me to grow out my hair and dye it. And stand on the busses? No, thank you!) I was surprised to see that the vast majority of women in Bursa were scarved. Much different than Istanbul!
Neziye had a delicious meal waiting for us when we got home, after which we rolled ourselves into bed. What a day!
After breakfast, Uygar and I took a long stroll along the waterfront, then returned home for yet another impressive Turkish meal, this time with friends. (I tried to keep up with their Turkish conversation, but fell dismally short of comprehension).
a small marina along the Marmara shore
Then, a bus ride home, thanks to Hakki's fast talking. He was a real hero, given the waiting crowd and only one open seat (which I got). Turkish busses are nicer than Greyhounds; the inside is more like an airplane than a bus, and a steward (quite handsome, dressed in white shirt and tie) serves soft drinks and tea with cookies or cake. The only problem is that there's no rest room, so you have to hold it. Luckily, there was a rest room on the ferry. Whew! Otherwise busses make a rest stop every three hours or so. It's a matter of careful planning (which I often forget).
Well, there's my weekend Banging around Bursa with the Yilmaz family.