Ah, Kapadokya! (Capadoccia) It was a glorious five days, although the sunshine was intermittent and we were a bit short on sweaters. I trekked there with three friends from the States: Sue Nordman (her fourth trip to Turkey), Annie DeBevec (second trip), and Annie's daughter Jess (first trip). After exploring Istanbul for a few days, we headed to Cappadocia's lovely Kelebek Hotel, with rooms renovated from original cave dwellings—amazing. Our suite even had a Jacuzzi bath, though using it meant a totally doused bathroom. Oh, well.
We stayed more than busy, mostly hiking and eating, with a bit of shopping sprinkled in. Jess and Susie came home with gorgeous rugs, both beaming after their purchases at Sultan's Carpets, owned by everyone's friend Mehmet.


Mehmet, our favorite rug dealer, displays his wares
Our first day we took a tour of the area, a geological wonder. Water and wind have carved amazing limestone and basalt formations of nearly every size and shape into a maze of valleys. We visited an underground city built by Christians for protection from invading armies of Romans and Muslims. Meandering through tiny passageways down about four stories, we were told that it went down many levels further—unbelievable! We saw underground stables, kitchens, sleeping rooms, and wineries—everything a community might need for months spent underground.
Susie, Annie, me, Ali, and Jess rest our weary legs in the underground city
After that we stopped for a delectable meal of soup, bread, and a traditional lamb stew slow-cooked in pottery (which was cracked open to serve). YUM! Afterwards we visited a ceramics factory, then explored two more sites with a variety of rock formations.
Sun shines over the amazing natural sculptures of Cappadocia
A Cappadocia fairy chimney
We finished our day with a hike down through the Rose Valley, named for the rose-colored stone along its rim. It felt a bit like the Grand Canyon, only smaller. Our guide, Ali, showed us the numerous cave homes and hermitages carved into its rock formations. The hike was challenging—a welcome change from walking Istanbul's streets. That night Annie and Jess succumbed to exhausted sleep while Susie and I went dancing.
The little niches are pigeon roosts, used to collect droppings for fertilizer.

The next day we wandered Göreme, shopping, eating, and getting haircuts—serious haircuts. Sue and I came away feeling a bit like guys, but it'll grow back. Later that afternoon we explored a valley behind our hotel, discovering chapels, rooms, and more hermitages. Though we had resisted using the word "phallic" on the previous day's tour, it finally emerged. It was inevitable, I guess. We gradually climbed nearly to the rim of the valley, and we had a bit of a harrowing trek back down. We made it, though, laughing all the way.

Exploring among fairy chimneys behind our hotel
On Wednesday we opted for another hike—this time along the Ihlara Valley, again with our friend Ali. The Ihlara Valley was quite different from what we'd seen, with a picturesque stream running along our 7-kilometer hike. Ali led us up rocky precipices to hidden churches and hermitages we'd have never discovered on our own. I tried to envision it hundreds of years ago when it was bustling with activity.
Remains of an ancient cathedral in the Ilara Valley
Near the end of our hike we ran into villagers gathering wood and working in small garden plots before we happened upon a lovely river's-edge restaurant, where we enjoyed a delicious meal in the welcoming sunshine.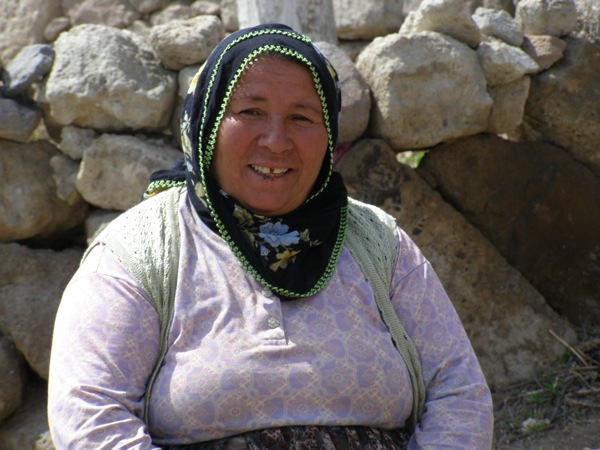 A hard-working woman we met along the Ilara Valley
We finished the day with a tour of Selime Kalesi a high maze of carved-out rooms and chapels that date back 1200 years (This castle monastery may be the largest religious structure in Cappadocia). I'm sure many died from slipping off the precipices that surround this amazing castle carved into the mountaintop. It was a bit scary at times.
Climbing up into the Selime Kalesi, a mountaintop monastery.
The rain just started as we headed home for a glass of wine with some Koç School friends in the hotel's cozy lobby.
On our last night we took in a Turkish Night extravaganza, a bit fearful of mediocre food and entertainment. We were the first to arrive, four women alone in the huge dining hall, even more uncertain of what lay ahead. We decided to make the best of it. Well, we were thrilled to discover that the food was fabulous and the entertainment even finer. We saw an abbreviated Mevlana Ceremony (whirling dervish), a belly dancer, and a phenomenal troupe of folk dancers (probably five or six different performances, each with more amazing costumes and spectacular footwork.) We could barely keep up with our meal, which was served course by course throughout the evening. Afterwards, we danced well into the wee hours. Lucky us!
I DO love Turkey, and what joy to share it with friends.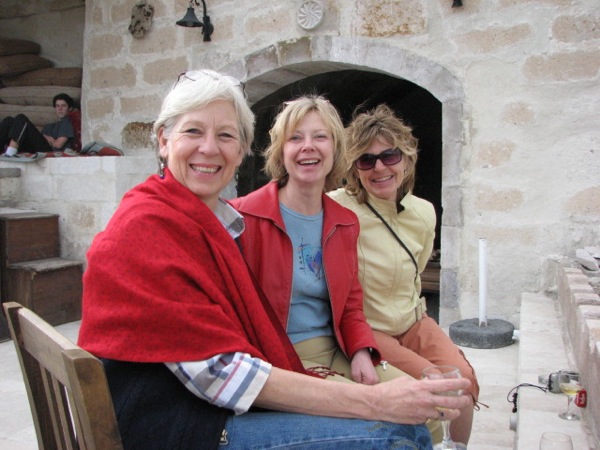 Three happy campers on the Kybele terrace: me, Annie, and Susie. Such larks!